Seussical
by Red Mountain High School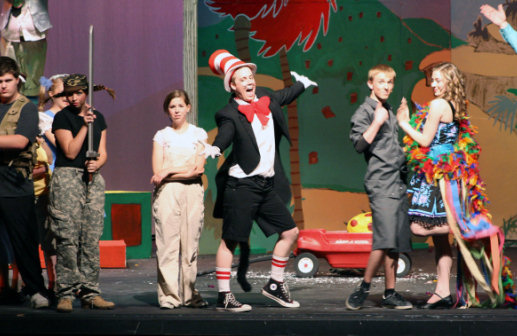 You know you're in for a unique production of Seussical the Musical when the Mayor of Whoville and his drunken wife kick off the pre-show entertainment with a reading of Green Eggs and Ham. Even the light operator gets in on the pre-show fun when two girls walk up to peek into the orchestra pit, and suddenly the house lights go down and the spotlight shines on the orchestra pit peekers. Such is the mood of this creative and hysterical romp through the mind of Seuss directed by Nate Jones and Joey Johnston at Red Mountain High School in Mesa, Arizona.

This popular musical by Stephen Flaherty and Lynn Ahrens adapts the story of Horton Hears a Who while throwing a bunch of other characters in with him, all narrated by The Cat in the Hat and a curious little Seuss reader who gets tagged with the name JoJo and finds himself thrown into the stories as well. Those stories open in the Jungle of Nool with a falling speck of dust on which helpless Whos are "calling for help." Actually, in this production, they're making blood-curdling screams.

Horton hears the Whos and saves them, then gets an earful about who the Whos are – an introduction that includes the Grinch reading his Christmas tale (the appreciative Whos applaud the Grinch, hurting Horton's ears), a cautionary sidebar about all their Truffula Trees being cut down (the Mayor acts like he's hacking down his wife whose arms are raised like branches). They finish up their intro with an emotional plea – an almost intimidating plea – to be protected. Which the loyal Horton agrees to do, putting the dust speck on a clover and noting that "a person's a person no matter how small." That causes the mean monkeys known as the Wickersham Brothers to taunt Horton with the sappy line, and causes the mean ol' Grinch to be so overwhelmed that he blows his nose into the Mayor's sleeve. But all is not going to go smoothly for the grateful Whos, for the jungle animals think Horton is the biggest blame fool, and they are going to take his Whos, and us, for a ride.

The show is double cast. On opening night, Luke Gless led the proceedings as the mischievous Cat in the Hat. He comes in and out of the story at will, having fun with the characters and the audience – a role that gives gifted comedians lots of chances to be fun and imaginative, and Luke takes advantage. In this production he becomes the Mayor's cat named Pickles who later gives the Mayor and his wife an instruction book on how to raise a child ("Oh, thank you, Pickles!" says the wife). As a German plastic surgeon, he just makes a series of guttural German-like sounds. He's also a Southern auctioneer, the bringer of a melodramatic "terrible storm," a funky orchestra director, and delivers an anguished plea to "the almighty Seuss" for the safe return of JoJo (with Robin Wagner turning in a nice performance as the young boy who gets in trouble for thinking to many "thinks").

In the Jungle of Nool we have Justin DeLong as the loyal nice guy Horton, a role he performs with a good understated humor that includes shaking poppies to see if the Whos will scream, doing some stretching exercises before sitting on
Mayzie's nest for what he hopes will be an hour or two, balancing on the egg with one leg as part of the circus act he gets sold into, and reacting with wonder to all the things Gertrude McFuzz did to try to help him. Who is Gertrude McFuzz? You probably didn't notice her. That bird next door with the plain, one-feathered tail. But you can't help but notice Katie Wilson as a lovable and humble Gertrude with an amazing voice and stage presence who goes to incredible lengths, as does her tail, in an effort to catch the eye of Horton the Elephant. Not very successfully (when she shows off her new long tail to Horton, he absent-mindedly uses it as a scarf to stay warm).
Speaking of "amazing," that brightly colored bird is Amazing Mayzie LaBird, and Mariana Bortoluzzi lives up to her name with a great comic style as she kicks her egg up to the nest to plant herself for her nest scene, then as she tries to use her little lies and feminine wiles to convince Horton to sit on that nest, and finally in the scene when she encounters Horton months later – a scene that ends in her surprisingly touching rejection of her egg and the life she might have had. Rounding out the jungle creatures are Kristin Bassignani as a sassy Sour Kangaroo, Cera Fletcher as her sassy Baby Kangaroo, Mikey Jones, Rex Fletcher, and Ian Mchardy as the cool bad-boy Wickersham monkeys, and a half-dozen bird girls who help narrate our tale with flair.
Then, if you believe Horton, there are all those little Whos led by the Mayor (Ricky Mason) and his Wife (Sarah Sandorff). The two of them are a riot together from the pre-show to the end. When they get ready to surprise JoJo with the news that they are sending him off to a military academy, Mom is hiding the sword behind her back and then pretends to run Dad through the gut. Mom as a hilarious drunk, at the Christmas party mumbling about her son "MoMo," being careful not to spill her margarita glass. Until the news comes that her son has been lost in war, the mood instantly changing as her glass falls to the floor. Both Mayor and Wife trying to protect their citizens when their dust speck is sentenced to be boiled in a hot, steamy kettle of beezlenut oil.
Elsewhere in Whoville, Robson Cluff is a psychotic General Ghengis Kahn Schmitz, costumed like Napoleon, who is truly in a murderous rage with those who spread butter on the bottom of the bread instead of the top, and who is determined to have his soldiers ready for that battle, criticizing how they each could have been better prepared, popping one on the forehead and telling him he could have had a V-8. Porter James is great as the emotional aforementioned Grinch who has to compete with a pushy Cindy Lou Who (Alexis Brimhall) who keeps wanting to grab the microphone so that she can tell the Christmas story. And the Whos are terrific as a group, whether screaming as they fall or rejoicing in the Grinch's tale ("I love beast!" one excited Who shouts out when the Grinch carves the roast beast), or coming wearily out in bandages and on crutches after their dust speck crashes, or trying to look charming during the trial just in case any of the animals can see them, or desperately trying to get everyone to make noise so that they may be heard – including trying to get the audience to make noise. Can you blame them?
Visually, Set Designer David Romaine uses several strategically placed, super-large Dr. Seuss books, and Ryan Peek's costumes are fun and quirky. Opening night still had a few timing issues, but nothing disastrous. The directors and actors clearly had a great sense for this show, and it showed in countless ways. Fishes pestering JoJo in McElligott's Pool while the Cat chases bubbles, having Horton and JoJo high-five each other after singing the Alone in the Universe duet (Horton into the clover, JoJo into the air above him), Horton getting seasick and puking into the orchestra pit (the must promptly stops for a moment). Dr. Seuss inspired us to use our imaginations, and it's clear this group was inspired to many great thinks.

Performs April 2 - 5, 2008.

Rob Hopper
National Youth Theatre

~ Cast ~

The Cat in the Hat: Luke Gless, Rudy Ramirez
Horton the Elephant: Justin DeLong, Josh Hainsworth
Gertrude McFuzz: Katie Wilson, Quincy Zimmerman
Mayzie LaBird: Katy Bulkley, Mariana Bortoluzzi
Sour Kangaroo: Kristin Bassignani, Emily Hainsworth
Baby Kangaroo: Cera Fletcher, Kordi Fillipone
Bird Girl #1: Breanne Guymon
Bird Girl #2: Lora Bruton
Bird Girl #3: Sarah Lytikainen
Bird Girl #4: Erin Lake
Bird Girl #5: Rebecca Wagner
Bird Girl #6: Alison Campbell
Wickersham #1: Mikey Jones
Wickersham #2: Rex Fletcher
Wickersham #3: Ian Mchardy, Michael Gordon
JoJo: Robin Wagner, Jorgen Hansen
Mr. Mayor: Ricky Mason, Casey Karapetian
Mrs. Mayor: Sarah Sandorff, Emily Nissen
General Ghengis Kahn Schmitz: Robson Cluff, Taylor Kerby
The Grinch: Porter James
Max, Grinch's Dog: Ricky Mason
Cindy Lou Who: Alexis Brimhall
Yertle the Turtle: Kyle Beyler
Who's/Cadets/Jungle Creatures/Hunches/Fish:
Alana Brimahall
Leisha Wallace
Rachel Marcano
Meagan Wheeler
Breanna Bennett
Victoria Frierson
Rachel Werle
Mckenzi Luther
Brianna Pantilone
Rachel Padgett
Valerie Ramirez
Allyson Joy
Alexandra Lester
Chelsea Mleynek
Jackie Felman
Nathan Hitchcock
Jerrika Jones
Brooke Selman
Lauren Hughes

Directors/Choreographers: Nathan Jones, Joseph Johnston, Nikki Fox
Scenic Design: David Romaine
Light Design: Ryan Peek
Costume Design: Brittney Johnson
Music Direction/Orchestra Director: Joseph Johnston, Vincent Wedge