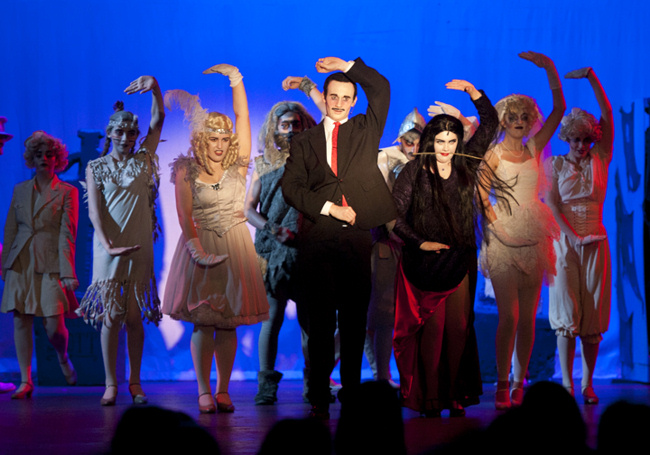 Rancho Buena Vista scores another hit with the high school world premiere of "The Addams Family". This show takes us to the later years of this iconic ghoulish family, where Wednesday falls in love with Lucas, a normal Midwest fellow. Hijinks ensue when the in-laws get together to discuss the marriage. The show cleverly integrates an ensemble of dead ghostly Addams Ancestors. And other than Cousin It, all of our favorite characters are there: Uncle Fester with his illuminating mouth light bulb; Lurch, the growling major-domo; Thing, the scampering Hand; Grandmama (whose mother is she?); Wednesday the sullen sadist; Pugsley the torture loving scamp; and of course Gomez the lover and his lovely wife Morticia.

Director Mark Scott was simply masterful with his vision and pacing of this new show. His use of the ghost ensemble with fabulous choreography from Renee Kollar-Bachman, was masterful. Corey Carpenter as the Bride was a particular standout amongst the white-clad ghouls!

Uncle Fester (Hayden Royster) and Gomez (Wyatt Smith) kind of shared the M/C role of moving the story along. Both were superb! Royster's hilariously goofy comedic interpretation was second only to Smith's suave king of innuendo performance. Mackenzie Scott as Morticia was a good complement to Smith, but Catherine Lynch's Wednesday stole the show. Her singing, acting and dancing were triple-threat captivating. Normally, I bristle when a girl has to play a boy, but Kaylee Bender captured me with her portrayal of Pugsley. My biggest laughs came every time that Pugsley screamed when being tortured, while simultaneously exclaiming joy! Andrew Dorward as Lurch was tall and perfectly guttural for his role, but then he astonished us with slick dance moves and operatic areas. Bravo! Shannon Morrissey was just what we would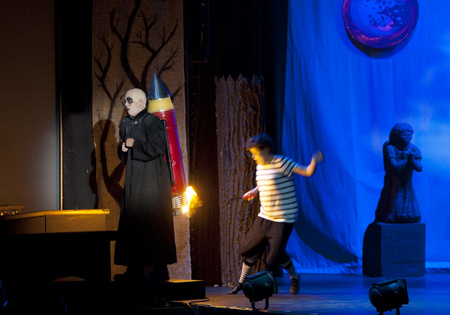 have wanted out of Grandmama, and Teddy Blessing was perfectly awkward as Mal. But, how did she do it? With all of these out-of-world wacky characters, Grace Marshall was probably my favorite performer of the show. She was hilarious as Alice!!! It was not until a few hours later that I remembered Grace from a show that I directed many years ago. Grace, you have come so far! I only wish that I could claim that something that you learned in Bye Bye Birdie made you the fabulous performer that you are today!
On the technical side, Mary Ann Pinamonti's and Viki Strand's costumes were literally out of this world. Lyndon Pugeda's Musical Direction turned these youngster's into a professional harmonic singing troupe. And big kudos to the crystal clear sound team (Ceja and Fernandez).
Performed March 13 - 19, 2014

Scott M. Kolod
NYA Judge

~ Cast ~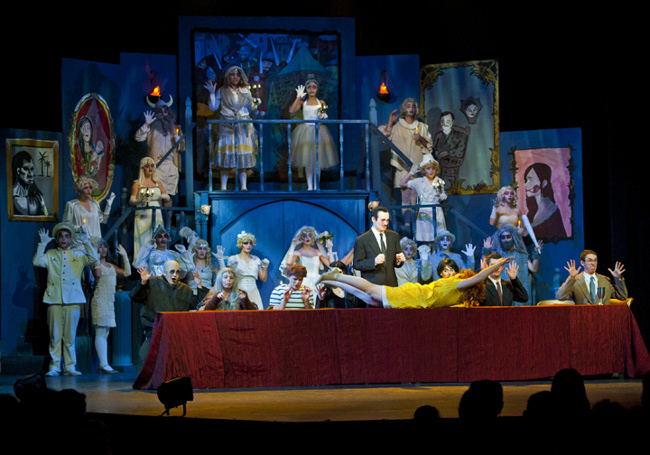 Add Artist Page

Gomez Addams: Wyatt Smith
Morticia Addams: Mackenzie Scott
Wednesday Addams: Catherine Lynch
Uncle Fester: Hayden Royster
Pugsley Addams: Kaylee Bender
Grandma: Shannon Morrissey
Lurch: Andrew Dorward
Lucas Beineke: Matt Bolden
Mal Beineke: Teddy Blessing
Alice Beineke: Grace Marshall
Bride: Corey Carpenter

Flapper: Paola Antonio
Saloon Girl: Molly Baggett
Indian Squaw: Katie Blessing
Flight Attendant: Kaylee Royster
Courtesen: Natasha Castellon
Conquistador: David Melendez
Caveman: Chase Manriki
Soldier: Dixon Janda
Gambler: Rey Guzman
Grim Reaper: Oscar Sowell
Monster: Nolan Hoeft
Thing: Ryan Orr
Ancestors:
Ryan Orr
Jenna Kern
Zoë Jones
Emmie Leese,
Erin McDannold
Evin Glaude
Emily Sorger

Directed by Mark Scott
Choreography by Renee Kollar-Bachman
Musical Direction by Lyndon Pugeda
Costume Design by MaryAnn Pinamonti and Viki Strand
Lighting Design by Curtis Mueller
Technical Direction by Jim Malone
Stage Manager: Mia Mendez, Matthew Black
Assistant Stage Manager: Jessica Dixon
Assistant Directors: Sydney Purvis, Rachel Cogdill, Jessica Pinelo
Sound Master: Violet Ceja
Assistant Sound Master: Justin Fernandez
Lighting Master: Anthony Sims
Spotlights: Camrie Rounds, Adelaide Hiatt
Properties: Lexi Hamilton, Ellie Preece, Jimmy Perez
Head Make Up: Sydney Purvis
Make up: Jessica Ramirez, Fabiana Bommino, Selia Katsuyama, Cassie Koga, Blair Stuka, Katie Meinershagen
Costume Crew: Brenda Vu, Michelle Chapman, Christine Cavarlez, Hollie Beneke, Mark Tellez, Makayla Mcelfresh
Running Crew: Caleb Fishinger, Sara Ghopeh, Josh Tremain, Fabian Oros
Scenic Artists: Josh Tremain, Jimmy Perez, Ryan Orr, Lexi Hamilton, Sara Ghopeh
House Managers: Hannah Stewart, Missy Lipinski
Construction Crew: Fabian Oros, Jared Goodale
Production Assistant: Anthony Carrasco
Marketing Assistant (Poster, Program, Web/Digital Marketing): Wyatt Smith