Into the Woods
by Prescott High School
Life is full of trips into the woods – dangerous places where there are no sure-and-fast answers, confronting challenges that will make us stronger. If they don't kill us. Stephen Sondheim and James Lapine's brilliant musical uses the power of fairy tales, weaving several Grimm tales together into a happy ever after ending with familiar moral teachings, and then delving into new moral ambiguity and uncertainty in the second act as we explore what happens after happily ever after. In some cases, we literally have to travel into the woods to see Into the Woods – in this case it's the woods of Prescott, Arizona where lies Prescott High School and their talented cast and crew ready to take us deep into the forest filled with both grave dangers and great humor.

The woods around of Prescott are nice, but the woods inside the theatre are fantastic. Tracey Johnston, Louise Nelson, and the school's advanced technical theatre students have blended real trees with faux trees and stumps, topped off with the mystical-looking tree used for Cinderella's dead mother and a magic beanstalk that grows, all combining for woods that appear both real and surreal. The royal family can go riding through the forest sitting astride the prince's mighty two-dimensional steed with seats built into the sides. The three houses for Cinderella, Jack, and the bakers' look great (the baker's roof resembles a pie). Characters stand in the real trees (with the help of harnesses) to help them fight giants. And a backdrop of misty woods sets it all off.

It is around a Baker and his wife that the story revolves – a barren family cursed by the witch next door for a crime committed by the baker's father believed to have been killed in a freak baking accident. In order to lift the curse, they have three midnights to bring to the witch a cow as white as milk (Jack's beloved pet), a cape as red as blood (Little Red Riding Hood), a slipper as pure as gold (Cinderella's shoe), and hair as yellow as corn (Rapunzel has plenty to spare).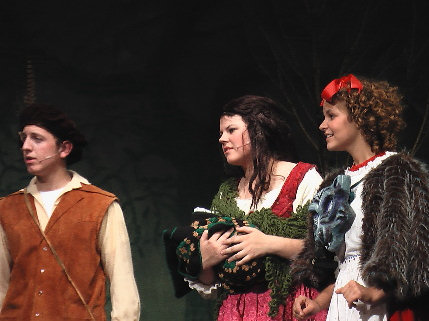 Caleb Chunglo and Caroline Marolf star as the baking couple, and they play off each other exceptionally well in portraying an authentically happily married, romantically playful couple with the occasional stresses and arguments of everyday life. Caleb's baker has a nervous streak in him, literally jumping into the arms of his wife when he gets spooked in the woods by a Mysterious Man (played by another good Caleb – Caleb Campbell). Caroline has a terrific voice, knack for comedy, and strength of character (literally – she can pick up a cow and carry it off with one hand). She shines brightly in her "Moment in the Woods."
They are hassled and tortured by a humorously nasty, old Witch who transforms into a nasty, beautiful Witch. She can shoot flames out of her staff (much to the discomfort of the Baker and his Wife) and can fly through the air quite skillfully (an experienced flyer – Nicole St. Germain was flying about as the good witch Glinda a couple years ago at nearby Young Star Musical Theatre). Nicole's strong voice makes for a good rendition of the ominous Last Midnight.
The cast is very strong down the line. Carly Jonovich is a rip as Little Red, tossing her curls back and forth as she skips along blissfully unaware of any dangers in the woods, furtively stealing sweet breads intended for Grandma, casually theorizing that Grandma may already be dead (accompanied by a 'big deal' shrug – again blissfully unaware of death and dangers, until she gets swallowed by a big, bad wolf!). Keith Bunger is the Wolf who can scarcely contain himself, so excited is he at the prospect of a two-course meal (Granny and Little Red). He's also got a good howl and snore. Savannah Martin has a lovely voice for Cinderella, singing a tender version of No One is Alone, and becoming quite confused when the Baker's Wife demands her slipper so that she can have a baby. Billy Reed is a royal riot as Cinderella's Prince with great expressions, body language, fear of blood, and fear of other strange things in the woods. When Jack's mother (Ruby Crews) comes rushing in making a spooky screaming noise, Billy goes pale and draws his sword on the old lady – nervous but sort of ready. He delivers the amusing duet Agony with his brother prince (Jacob Clark) who goes pale at the idea of finding dwarves guarding the glass coffin of a woman he is intrigued by. That's after he begins losing interest in his crazy princess Rapunzel
(Alley Harlan), a princess driven mad by her over-protective mother – the Witch. Nolan Sturdevant is Jack who is very kind to his pet cow Milky White, but isn't quite so endearing to those Giants in the Sky, but he does a nice job singing about them.

Other good performances come from Isaac Benson-White as our Narrator, Michael Sterlacci as the prince's steward, Emily Estes as Cinderella's vain, selfish, but pragmatic Stepmother and her two daughters (Olivia Bedard and Addie Robertson) who aren't nearly so happy at the beginning of Act Two as they claim to be (having had their eyes pecked out at the end of Act One). The fairy tale is punctuated with a few funny little sound effects by Matthew Kiesling such as the strange sound the cow makes when he/she dies, and when the Witch's cursing staff peters out (at which point she angrily breaks the staff in two and stomps off stage). Directors Louisa Nelson and Matthew Kiesling and their cast and crew have put on a production that captures the humor and drama of Into the Woods both in character and visually, better equipping us for our trips to Prescott or whatever woods we may encounter.

Performs April 17 - 19, 2008.

Rob Hopper
National Youth Theatre

~ Cast ~
Narrator: Isaac Benson-White
Cinderella: Savannah Martin
Jack: Nolan Sturdevant
Baker: Caleb Chunglo
Baker's Wife: Caroline Marolf
Step Mother: Emily Estes
Florinda: Olivia Bedard
Lucinda: Addie Robertson
Jack's Mother: Ruby Crews
Little Red Ridinghood: Ellie Gibbs/Carly Jonovich
Witch: Nicole St. Germain
Cinderella's Father: Cody Desjadon
Cinderella's Mother: Molly Druce/Alex Harlan
Mysterious Man: Caleb Campbell
Wolf: Keith Bunger
Rapunzel: Molly Druce/Alex Harlan
Rapunzel's Prince: Jacob Clark
Granny: Victoria Cook
Cinderella's Prince: Billy Reed
Steward: Michael Sterlacci
Giant: Victoria Cook
Snow White: Molly Druce/Alex Harlan
Sleeping Beauty: Ali Baker

Director: Louisa Nelson and Matthew Kiesling
Student Assitant Director: Victoria Cook
Musical Direction: Matthew Kiesling
Student Assistant Music Director: Vincent Mickleborough
Choreography: Caroline Marolf, Carly Jonovich, and Ruby Crews
Stage Manager: Andrew Aaserud
Set Design: Tracey Johnston, Louisa Nelson & Adv. Technical Theater Students
Light Design: Josh Bradbury
Costumes: Louisa Nelson, Debbie Hammer, Carly Jonovich, and Keith Bunger