Chicago
by Pleasant Valley High School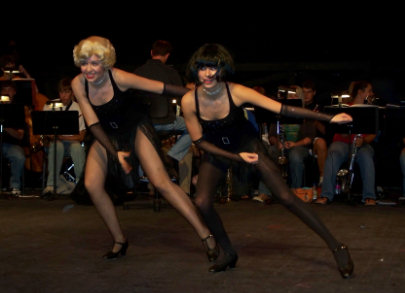 The 2008 Thespian Festival has arrived in Lincoln, Nebraska, but it opens in 1920s Chicago. A city where murder is a form of entertainment. A place where Roxie Hart and Velma Kelly turn their murder sprees into fame and cash and All That Jazz. And Chicago came to Lincoln via Pleasant Valley, Iowa.
Christina M. Myatt directs Pleasant Valley High School's current production in which, as she emphasizes in the program notes, everyone has an angle to get ahead and are unscrupulous in their attempts to better themselves at the expense of anyone else. Sam Pauly is Velma Kelly, who early on is getting all the publicity as she tries to get out of jail and go from a second-rate nightclub entertainer to a megastar thanks to the notoriety surrounding the murder of her husband and his lover (the latter being Velma's late sister and co-star). Sam Pauly has good style and a great voice for the role, kicking it off by leading a smooth, jazzy rendition of All That Jazz and really shining in a dirge for the demise of Class in society – a terrific duet with the prison Matron, with Kelsey McCauley displaying remarkable period vocals, maturity, and a seemingly natural tough-as-nails persona as the Matron.
And then there's Roxie played by another Kelsey. Kelsey Francis stars as the unhappily married young woman who goes from sleeping around (they buy you dinner) to fooling around (they don't buy you dinner) to murder (they die after you shoot them a few times). Kelsey Francis has strong personality, stage presence, and vocals as she craftily moves herself from death row inmate to sympathetic con artist. Thanks in large part to the lawyer who specializes in such transformations, with Spencer Hering turning in a good performance as Billy Flynn – especially as he acts as puppet master to Roxie and the reporters in We Both Reached For The Gun. Roxie can bring it humor-wise as well, with a nice flair for melodrama in a well-done trial scene.
The cast as a whole does great work with the tone of the show and the Bob Fosse-inspired choreography, whether they are dancers in the jazz club, or women on death row, or marionettes/reporters (highlighted by Taylor Truster who, in his first musical, gives a hilarious cameo as reporter Mary Sunshine), or as Billy's gals who deceptively strip him in All I Care About (Is Love) and who razzle dazzle us with a nicely toned down Razzle Dazzle.
And that pretty much sums it all up. Overall a strong production with the orchestra, placed center stage, doing a good job with the memorable musical score by John Kander and Fred Ebb.
Oh, I almost forgot. Roxie's husband. What's his name? Andy or something. No, Amos. Or, as he calls himself, Mr. Cellophane, with Cody Luebken successfully gaining our sympathy as the nice guy everyone uses, walks over, or just completely ignores. Yes, Chicago can be a tough town. But Lincoln is a great one in which to spend a week seeing some of the best high school theatre performances of the past year at the Thespian Festival.
Performed June 23, 2008.

Rob Hopper
Executive Director
National Youth Theatre
~ Cast ~
Roxie: Kelsey Francis
Velma: Sam Pauly
Billy: Spencer Hering
Amos: Cody Luebken
Matron: Kelsey McCauley
Mary Sunshine: Taylor Truster
Fred Casely: Ryan Gould
Fogarty: Morgan Hoke
Master of Ceremonies: Aaron Hewitt/Kyle Woollums
Hunyak: Madison Jensen
Mona: Hannah Kurth
Liz: Kathleen Walter
June: Regina Pauly
Annie: Brittney Carpio
Kitty: Lucille Carver
Ensemble:
Amy Bay
Lucille Carver
George Coin
Ryan Gould
Aaron Hewitt
Morgan Hoke
Kari Paul
Alyssa Phelan
Abby Soenksen
Taylor Truster
Alex Watson
Rachael Wilkinson
Daniel Witcik
Kyle Woollums
Stefanie Zock

Director: Christina M. Myatt
Technical Director: William Myatt
Orchestra Director: Drew Anderson
Assistant Director: Jeff Ryder
Stage Manager: Laramie Cobler
Choreography: Christina M. Myatt adapted from and in the style of Bob Fosse