South Pacific
by Patrick Henry Musical Theatre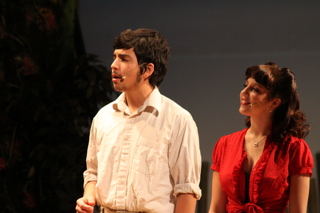 James A. Michener's Tales of the South Pacific inspired this groundbreaking Rodgers and Hammerstein musical that challenged the widespread attitude at the time regarding interracial marriage, bluntly saying You've Got to Be Carefully Taught how to hate. And it did so in a lavish setting, an exotic group of Pacific islands when World War II could have been won by either side, and a remarkable score that includes Some Enchanted Evening, I'm Gonna Wash That Man Right Outta My Hair, and Bali Ha'i.

Director Christine Carr and Patrick Henry High School tackled this classic with several good voices and performances. Michael Sanchez is the widowed Frenchman, wealthy middle-aged plantation owner Emile de Becque, who falls in love with young Ensign Nellie Forbush (Brittany Hopkins), a southern woman from Little Rock, Arkansas who doesn't know about Emile's young Polynesian children by his late wife. Michael Sanchez can be both amusingly charming in his reprise of I'm Gonna Wash That Man Right Outta My Hair and delivers on the poignant ballad This Nearly Was Mine. Brittany Hopkins has a lovely voice and a cute, cockeyed-optimistic personality needed for the character of Knucklehead Nellie with good expressions that work great for the vaudevillian Honey Bun.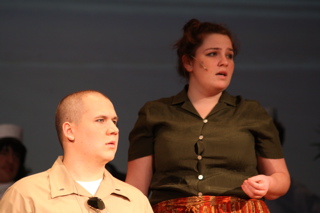 Other major players on the island include Lt. Joseph Cable (Nico Lam) who flies in to take on a hazardous mission and finds himself falling at least partially under the spell of Bali Ha'i and its beautiful, graceful resident Liat (Danielle Sanchez), leading to Nico's sonorous love song Younger Than Springtime. That relationship the result of an introduction by the singular Bloody Mary, the local entrepreneur who knows what she wants and goes after it, with Delaney Moghanian capturing the character with impressive stage presence, personality, and use of voice including her hypnotic Bali Ha'i.

Elsewhere, Alejandro Albanez, Conner Alvarez, and Kevin Wright form a memorable trio as Luther Billis, Stewpot, and the Professor – three Seabees who might not be the brightest, but are definitely resourceful in their efforts to forge a living out in the South Pacific. Alejandro does a great job as a reluctant drag queen in Honey Bun, soon feeling so comfortable in his new guise that he is distractedly fixing his coconut bra. The three of them adlib often, making fun of everyone but themselves. Their camaraderie is solid throughout. Other good performances come from Jacob Poston, Mark Mcfarland, and an ensemble of Seabees (Nothing Like a Dame) and nurses (I'm Gonna Wash That Man Right Outta My Hair), not to mention the added nuns who try to make sure that never those two groups shall meet. Conductor Matthew Kalal, Music Director Carol Fleming, and the school's orchestra make sure the show's immortal musical score creates an enchanted evening for the audience.

Performed February 4 - 14, 2009.

Photos by Raymond Sanchez

Rob Hopper
Executive Director
National Youth Theatre

~ Cast ~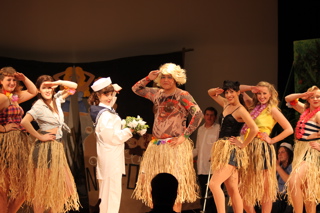 Ngana: Avianca Torres
Jerome: Adrian Torres
Henry: Jackson Vencill
Ensign Nellie Forbush: Brittany Hopkins
Emile de Becque: Michael Sanchez
Bloody Mary: Delaney Moghanian
Temana: Michelle Fowler
Stewpot: Conner Alvarez
Luther Billis: Alejandra Albanez
Professor: Kevin Wright
Lt. Joseph Cable: Nico Lam
Capt. George Brackett: Jacob Poston
Cmdr. William Harbison: Mark McFarland
Sgt. Kenneth Johnson: Aaron Albanez
Seabee Richard West: Joshua Reed
Seabee Morton Wise: Josh Naughton
Seabee Joe Bottoms: Adam Recht
Seaman Tom O'Brien: Jake Abell
Radio Operator Bob McCaffrey: William Willowsby
Marine Cpl. Hamilton Steeves: Landon Abbott
Seaman James Hayes: Ryan Dietrich
Lt. Genevieve Marshall: Alexandra Blair
Ensign Connie Walewska: Jessica Hasselbar
Ensign Janet McGregor: Kelsey Pepin
Ensign Bessie Noonan: Allison Cummings
Ensign Pamela Whitmore: Emma Mills
Ensign Rita Adams: Abby Barraza
Ensign Sue Yeager: Julie Felios
Ensign Lisa Minelli: Masha Lozhico
Ensign Cora MacRae: Julia Stine
Ensign Dinah Murphy: Emily Okerlund
Ensign Judy Hassinger: Aisha Mahler Salinas
Liat: Danielle Sanchez
Lt. Buzz Adams: Evan Reed
Natives/Nuns/Pilots:
Natalie Boyd
Celeste Zapanta
Margo Flitcraft
Hilary Leong
Elivia Freeman
Christy Villanueva
Evan Reed
Joseph House

Producer/Director: Christine Carr
Music Director, Rehearsal Pianist: Carol Fleming
Orchestra Conductor: Matthew Kalal
Choreographer: Aisha Salinas, Sherrie Garrett
Scenic Design: John Christopher
Lighting Design: Gabriel Alan Melero, Jeff Murray
Costume Design: Alex Blair
Sound Design: Danny Stein, Matthew Kalal
Assistant Director/Stage Manager: Jenna Jahn