has won several awards and has been performed in several theaters across the country. The musical is about six students who all vie to be the winner of the Bee, along with four additional spellers who are pulled from the audience. Throughout the show we learn more about each contestant as they are called up to spell a word. With all of the comedic moments the show still offers depth, emotion, and a message. Spelling Bee's music and lyrics are by William Finn, the book by Rachel Sheinkin, and conceived by Rebecca Feldman with additional material by Jay Reiss.

Patio Playhouse is a small black box theatre in the heart of downtown Escondido. I personally love black box theatre and its intimate setting. It makes you feel like you are right there in the moment with the actors. In larger theatres if you are too far away you sometimes are not able to see an actor's expression, and for me as a reviewer and theatre lover, it is the best part of watching a show. Give me a small black box theatre, simple sets, terrific actors, and I'm a happy camper!

Patio Playhouse's Spelling Bee definitely had some terrific talent. Director Janet Frankel's casting choices and direction in this show were brilliant. Most, if not all of the actors were in their character's skin. The judges in the show are Rona Lisa Peretti (Lia Peros), a former winner of the "Bee," Douglas Panch (Chris Wollman), a Vice Principal announcer, and Mitch "Michelle" Mahoney (Jennifer Purviance), a convict doing some community service. Lia Peros' Rona Lisa Peretti introduces the spellers and the four audience members who are invited to join the other six spellers. I loved Ms. Peros' animated performance as Rona Lisa Peretti, and her vocals were nothing less than fantastic throughout the show. Her maturity and ability to connect lyrically was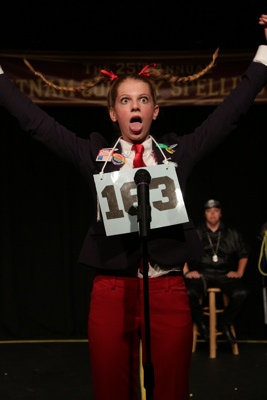 wonderful in "My Favorite Moment of the Bee." Chris Wollman's portrayal as the announcer who falls for Rona Lisa Peretti was fantastic. He was really good at coming up with oddball and funny sentences for the chosen spelling words. Jennifer Purviance's has a great belt voice, and "The Prayer of the Comfort Counselor" was fantastic. She was mostly in charge of giving the losing spellers a small apple juice box when leaving the competition.
What I do appreciate about Spelling Bee is the magnificent storytelling, done with such simplicity and hilarity, and this cast delivered it flawlessly. These young actors are top notch and really impressed me. Jessica Frenkel portrayed a somewhat insecure and adorably shy Olive Ostrovsky. Olive is an unfortunate victim of absentee parents, and with sweet and innocent expression she asks one of the audience members to save a seat for her Dad. She is the least confident of the spellers and I found myself rooting for her. Ms. Frenkel is an incredible actress and it was evident that she had tears in her eyes when she sang, "I Love You."
While Olive Otrovsky is shy and timid, our William Barfee is not. The announcer is consistently mispronouncing his last name and he must tell him each time that it's "BAR-FAY" not "BAR-FEE." Hunter Saling played an excellent Barfee: a quirky, nerdy dude with taped-up glasses and hair parted down the middle. He has a special spelling weapon, his "magic foot," and anytime he spelled a word correctly, he would say cockily, "I know." Saling is a natural actor with great vocals ("My Magic Foot").
Our over-achieving, bug-eyed, neurotic Logainne Schwartzandgrubenierre was played by Ellie Barrett. Ms. Barrett's character is the daughter of two stage Dads and she is worried about disappointing them. She developed some idiosyncrasies for her character; such as straightening her blazer each time she was called and tapping her pinned up braided ponytails once she spelled a word correctly. She was very consistent with her lisp and her reactions to other characters and situations were priceless.
Next up is red-headed Ian Laughbaum who played the whimsical and optimistic Leaf Coneybear. Coneybear actually placed third at his school but circumstances has given him the chance to compete. Mr. Laughbaum's Coneybear was costumed like a character from "That 70's Show," topped with a child-sized Superman cape. Each time he spelled a word he would immediately go into a comatose state. Truly loved his rendition of "I'm Not That Smart." Laughbaum also doubled as Dan Dad, one of Logainne's dads.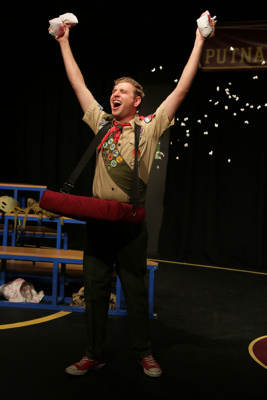 Another genius geek is Boy Scout-clad Chip Tolentino, who is a former Bee winner, played by Jayson Soloman (Mr. Soloman also plays Logainne's other overachieving dad, Carl Dad). He has great stage presence and many of his moments on stage were funny, but the funniest for me was in "My Unfortunate Erection," where he is overcome with feelings for "Marigold" who happens to be an audience member. There were moments Soloman nearly broke character, much like a funny skit from Saturday Night Live, where the actors find it difficult to keep a straight face. Overall, his performance was strong.
As the show progresses, the message becomes clear - that winning isn't the most important thing. Deep down, it really isn't for Rebecca Penner's Marcy Park who is "not all business" and makes her statement in, "I Speak Six Languages." This character is happy to throw the competition. Miss Penner holds her own on the stage and I imagine we will be seeing more of her in many more productions to come.
The company numbers were excellent, but my top two would have to be "Pandemonium" and "Spelling Montage." I also really enjoyed the Goodbyes ( the company would sing anytime a speller left the bee). All in all, a marvelous production with lots of laughs, some light tears (both joyful and sad), and a lot of personality. One of my favorites this season!
D. Jacqueline Young
National Youth Arts