Review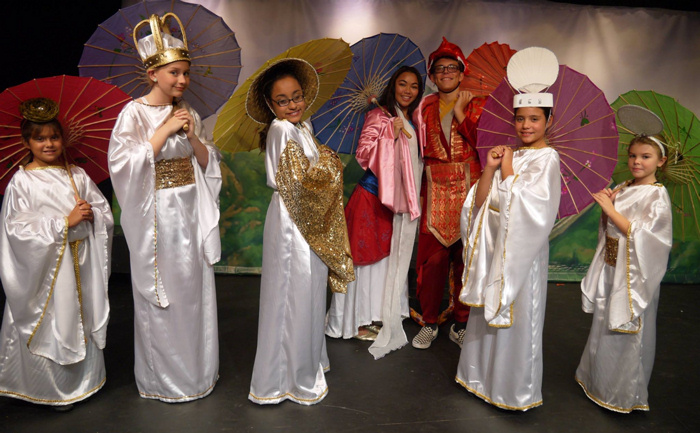 Mulan, Jr. is an one act musical based on the 1998 Disney movie and story "Fa Mulan" by Robert D. San Souci. Music and Lyrics by Matthew Wilder and David Zippel, Stephen Schwartz, Jeanine Tesori and Alexa Junge. Music Adapted and Arranged and Additional Music and Lyrics by Bryan Louiselle. Book Adapted and Additional Lyrics by Patricia Cotter.

When a war breaks out the fun loving Mulan decides to fight for her family's honor, however how she does that is unconventional.

Patio Playhouse's Mulan is directed by Mary Bright and what some readers may not know is that Patio Playhouse is run completely by volunteers. This includes Directors. Director Ms. Bright does a great job with this young cast of players.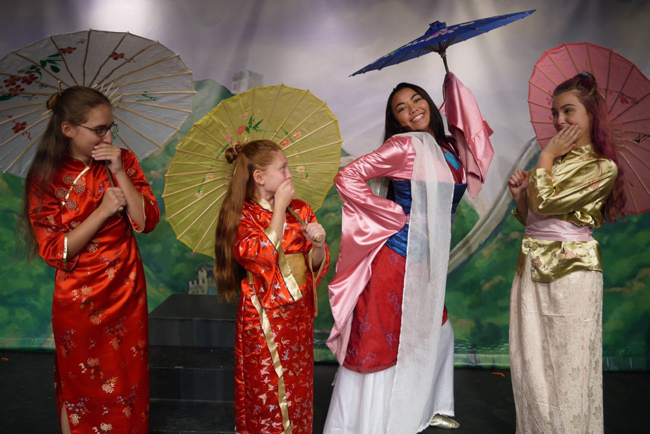 Mulan is portrayed by Ciara Atencio, who is not a stranger to the stage, makes a gorgeous Mulan with a voice to match. Her rendition of "Reflection" was what any audience member would want it to be, heartfelt and honest. The line in the song, "I'm not meant to play this part." does not apply to her.

Christian Reyes plays Fa Zhou, Mulan's father and this is his second production. Young Mr. Hernandez carries himself extremely well as the Emperor and is interaction with his daughter Mulan is believable.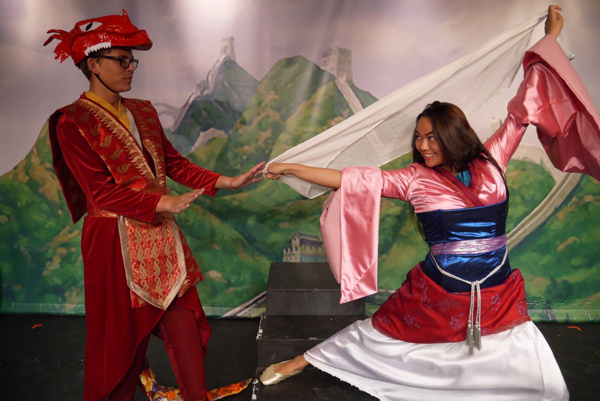 Mushu, played by Gabriel Rasmussen is fun to watch and he also has good stage presence. His moments on stage are well spent and the audience definitely appreciated these funny moments.

Andres Lagang was our Captain Shang and our villain Shan Yu was played by Nathan Cone. Mr. Lagang was a good match for Ms. Atencio as he portrayed his role in a much more serious manner. It was an ideal balance. Mr. Cone played a commendable villainous lead Hun. The Ancestors (Laozi (Belle Morelock), Yun (Jazmin Sanchez), Hong (Taylor Gonzalez), Lin (Rayne Gonzalez), Zhang (Reina Stinchcom) did well piloting the audience throughout the story.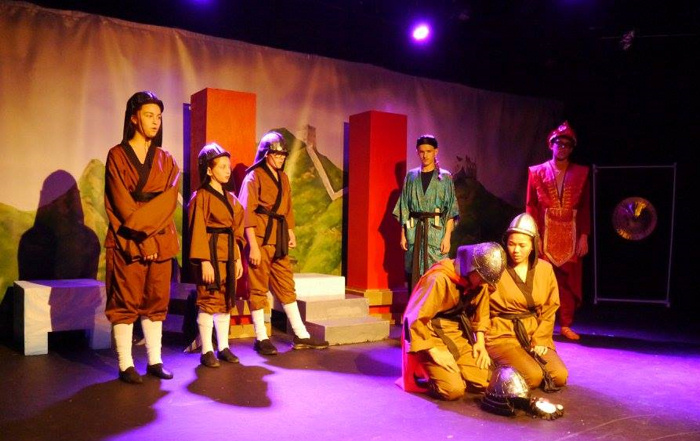 The set was simple and perfect for the stage and costumes were well put together and fitting of the time period. After the show, I learned that many of the actors are first timers. What is important to me is not so much an actor's experience, but is he or she telling the story? I'd say this Mulan cast did just that.
If you have the chance, go see Mulan at Patio Playhouse. It runs this weekend through Sunday.
Performed October 14 - 30, 2016
D. Jacqueline Young
National Youth Arts
~ Cast ~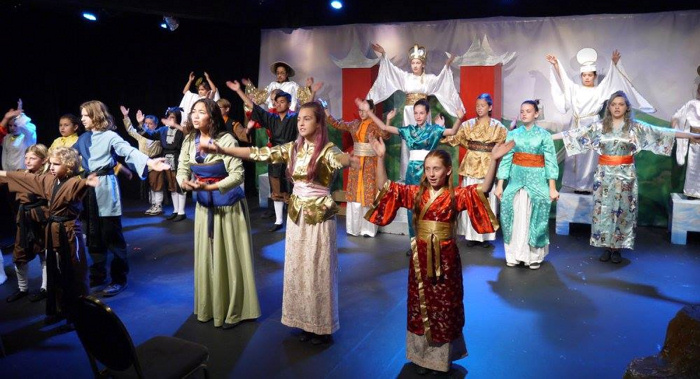 Add Artist Page
Mulan/Daughter: Ciara Atencio
Mushu: Gabriel Rasmussen
Laozi: Belle Morelock
Yu: Jazmin Sanchez
Hong: Taylor Gonzalez
Lin: Rayne Gonzalez
Zhang: Reina Stinchcomb
Grandma Fa/Mushu u/s: Savanna Saylors
Fa Zhou: Christian Reyes
Fa Li/Mulan u/s: Taylor Young
Grandma Fa u/s/Groomer/Son: Angela Hernandez
Captain Shang/Father: Andres Lagang
Chi Fu/Father: Kenny Cone
Yao/Maiden/Hair Dresser/Daughter: Paige Townsend
Qian-Po/Maiden/Hair Dresser/Daughter: Olivia Filbig
Magyar/Ling/Father: Ralph Cone
Emperor/Father: Riquelme Hernandez
Young Xiao/Groomer/Son: Abigayle White
Young Yi/Dressmaker/Son: Desiree Galindo
Liu/Groomer/Daughter: Gabriella Reichel
Chen/Daughter/Dressmaker: Sofia Dalakas
Cheongsam Salesman/Son: Harvey Cone
Shan Yu/Son: Nathan Cone
Hun Subar Tu/Son: Alia Hranek
Matchmaker/Mother: Melody White
Maid/Soldier/Hair Dresser/Mother: Audrey Cone

Director: Mary Bright
Producer: Brenda Townsend
Music Director: Julie Burlington
Choreographer: Sandy Tate
Stage Manager: Tony O'Donnell
Set Design: Mary Bright
Lighting Design: Matt FitzGerald
Sound Design: David Farlow
Costume Design: Karen Hill
Publicity Stills: Brenda Townsend




Home | Awards | Reviews | News | Actors | Headshots | Theatres | Calendars | Newsletters | Membership
Auditions | Workshops | Drama Instruction | Playwrights/Scripts | Vendors | Links | Advertising | About Us