THE SHOW:
Music and Lyrics by Jason Robert Brown, Book by Dan Elish, Robert Horn as co-librettist.
Thirteen. It's a number with many negative connotations. Possibly none more negative than being thirteen years old. Puberty, acne, peer pressure, junior high. Good times only compounded for Evan when his parents get divorced and he is moved from the bright lights of New York City to the Dairy Queens of Appleton, Indiana. Perhaps things can get a little better in "The Lamest Place in the World" if he can make some new cool friends at his new school named after Indiana's favorite son (Dan Quayle Junior High) and get them to his upcoming Bar Mitzvah. But will he lose his new real friends in the process?
THE PRODUCTION:
PANIC! Proudctions is staging their first all-youth production with an all-star creative team and group of performers. They started at the Hillcrest Center for the Arts in Thousand Oaks and are taking it to the El Portal Theater in North Hollywood for a bonus weekend. Rabbi David Shukiar gets us rolling with the singing of a prayer as various projected images of religious items appear on the screen above the stage, leading to his melodramatic opening narration. When Evan gets the news he has to move from New York City to Appleton, Indiana, Evan cries out an anguished "Nooooo!" and the projected images depict the ten plagues of Egypt.
Sam Herbert stars as said Evan with a natural personality, good vocals, and easy comedy as he strives to have both real friends and popular friends at his new school. This includes trying to feel superhero-ish as he desperately plots in All Hail the Brain, his hilarious epiphany with friend Archie in Terminal Illness, and his initially hesitant responses to his aggressive new friend Patrice. Carly Shukiar is a perfect fit as the social outcast Patrice who is genuine, sweet, fun, and hurt by the cruelty of her classmates. Amusing with her barely contained excitement over new neighbor Evan in Lamest Place in the World, touching with her Friend song, and devastating when hurt by Evan in Good Enough. Samuel Thacker finishes the trio as terminally ill Archie who is great in the Good Enough scene as well, while also masterful as a creative comedian who shines in his pre-date preparations of Getting Ready, his Terminal Illness number with Evan and aided by a chorus of nurses, and his Get Me What I Need daydream aided by a chorus of cheerleaders.
Gabriel Nunag is the leader of the cool kids as Brett, exuding confidence, limited intelligence, and humor as he revels in his popularity, limbers up his tongue for Kendra, and faces his own uncertainties about dating. The role of Kendra is double-cast between Elaine Panico and, this night, Delaney Joy. The expressionable Delaney is funny and charming as the popular cheerleader with a happy, bubbly, slightly ditzy personality who is obliviously clueless about her jealous, backstabbing friend. That would be her "friend" Lucy, and Antonia Vivino is a dynamite actress, singer, dancer, and evil villain as she plans her cheerleading-inspired revenge in Opportunity, intimidates and manipulates Brett and his friends, tutors Kendra on essential good-girl skills, and initiates the gossip cell phone chain with the help of a group of talented eager gossipers led by Madeline Gambon, Batya Conn, and Zoe Reed. Much comedy comes by way of Brett's friends (Mackinnley Balleweg, Mateo Gonzales, Liam Krainman, and Mason Purece) lamenting the Bad Bad News of the Lucy relationship and with Mackinnley and Mateo creating the semi-romantic vibe with Hey Kendra.
Theatre, television, and film star Barry Pearl (credits including Doody from megahit film Grease) directs this one, and his experience pays off with remarkable attention to detail, expert staging, and a knack for fun and clever touches. Fantastic, athletic choreography by Keenon Hooks enlivens the show, increases the comedy, and helps further define the characters and their relationships. And it never hurts working with a deeply talented cast who shine in many big numbers including the opening New York sequence, Archie's daydream dancers, amusing cheerleaders, bullying junior high students, grossed-out moviegoers in Any Minute, coming to grips with being thirteen in A Little More Homework, and cutting loose to close the show and enjoy their youth with a Brand New You.
Performed April 10-19 and May 8-9, 2015
Photos by Paul Cranmer

Rob Hopper
Facebook
Instagram

Executive Director
National Youth Arts
~ Cast ~
Add Artist Page

Evan: Sam Herbert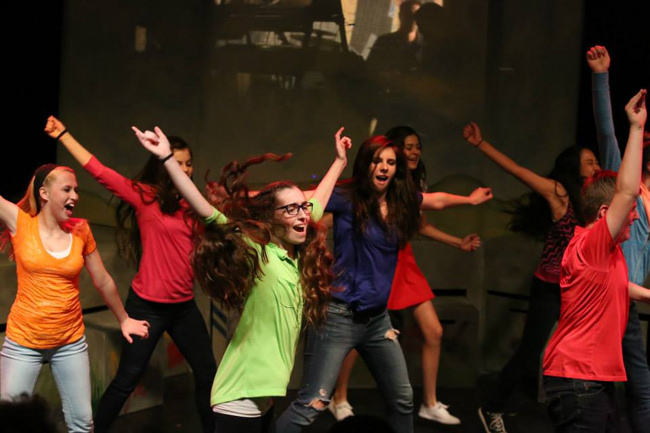 Patrice: Carly Shukiar
Archie: Samuel Thacker
Lucy: Antonia Vivino
Kendra: Delaney Joy / Elaine Panico
Brett: Gabriel Nunag
Eddie: Mackinnley Balleweg
Malcolm: Mateo Gonzales
Simon: Liam Krainman
Richie: Mason Purece
Charlotte: Madeline Gambon
Cassie: Batya Conn
Molly: Zoe Reed
Ensemble:
Tate Downing
Delaney Joy
Ally Kaplan
Jade McGlynn
Allison Martinez
Joey Maya
Elaine Panico

Director: Barry Pearl
Vocal Music Director: Diann Alexander
Choreographer: Keenon Hooks
Orchestra Music Director: Jeff Gibson
Producers: Kristi Reed, Paul Panico
Production Stage Manager: Amelia Belle
Set Designer: Rei Yamamoto
Video/Audio Design: Barry Pearl
Lighting Design: Shaun Hara
Sound Designer: Jack Haffamier
Costumes/Prop Coordinator: Kristi Reed
Production Photographer: Paul Cranmer

above photo by David Packer

above photo by David Packer