THE SHOW:
For two hundred years, everyone in this little nineteenth-century Ukrainian town has been the village idiot. According to the residents, it's the result of a terrible nurse. Or hearse? No, a curse! A curse that started when Vladimir Yousekevitc's illiterate son committed suicide after Sophia Zubritsky's father refused to let them marry, and Vladimir condemned them all and their descendants to stupidity. A curse that, two hundred years later, is to be broken within twenty-four hours, one way or another. Count Gregor, the last of the Yousekevitc line, wants to break it by marrying Sophia Zubritsky's beautiful, young namesake and distant descendant. Sophia's father, Doctor Zubritsky, wants to break it by hiring a schoolmaster from another town, Leon, to educate Sophia before the deadline. But the doctor warns Leon that if he can't do it in twenty-four hours, he too will become dumb. Instantly love-struck by his new pupil, Leon risks every IQ point he has in Neil Simon's comedy Fools.
THE PRODUCTION:
Sandra Day O'Connor High School's production is double-cast except for the role of non-fool Leon played by Rain Whalen. We join him as he quickly begins discovering and narrating the peculiar lack of intelligence found amongst all the town's residents. The first clue arriving in the form of Snetsky the sheep-loser, with Ryan Clark kicking us off with a great introduction to the situation. Rain Whalen handles the show expertly as the straight man to the outrageous villagers around him, hesitant to believe the crazy talk of curses, anxious to be the hero to Sophia, and increasingly stressed as the deadline approaches and his efforts to educate Sophia (Symphony Steckmen) are going dismally. But they are also going divertingly as the two shine in some amusing scenes, finding there's more to brains than just intelligence.
Determined for Leon to fail his student is Sam Tinlin as the wealthy suitor Count Gregor, doing a fantastic job in his turn as the narrator as he chides us for liking the hero of the play instead of him (and hoping it rains on us as we leave). Also liking the hero more than Gregor are Sophia's hilarious parents, Doctor Zubritsky and his wife Lenya. Brandon Smith and his highly animated wife Emily Sheppard are a riot with natural comedic skills and timing, playing off each other's ditzy-ness with frightening ease.
Rounding it all out are their fellow befuddled townsfolk including their aforementioned sheep-loser, Kristen Pruitt as a fish/flower seller, Morgann Hopson as the postmaster, Jayce Hale as the butcher, and Blake Lister as the magistrate. They bring the town fully to life with endearing brainlessness, with Director Toni Fioramonti's production keeping things fun and mindlessly entertaining throughout.
Performed October 3 - 10, 2013
Rob Hopper
Facebook
Instagram

Executive Director
National Youth Arts
~ Cast ~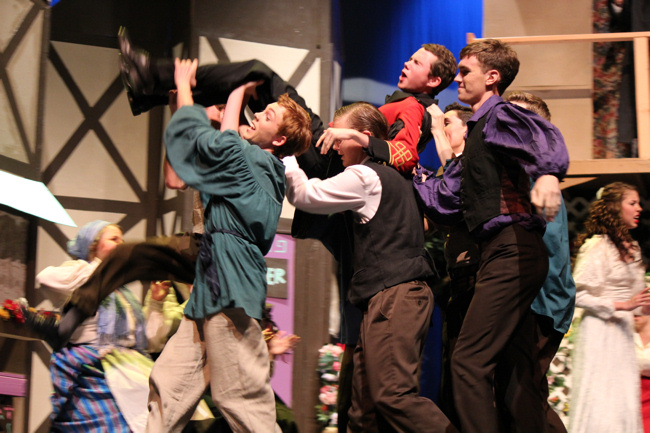 Add Artist Page

~ Cast A ~
Leon: Rain Whalen
Sophia: Symphony Steckmen
Doctor: Brandon Smith
Lenya: Emily Sheppard
Greggor: Sam Tinlin
Snetsky: Ryan Clark
Slovitch: Jayce Hale
Yenchna: Kristen Pruitt
Mishkin: Morgann Hopson
Magistrate: Blake Lister

~ Cast B ~
Leon: Rain Whalen
Sophia: Lissie Hoover
Doctor: Nathan Crowell
Lenya: Hespera Purdin
Greggor: Keegan Hughes
Snetsky: Nathan Sheppard
Slovitch: Nathan O'Day
Yenchna: Tori Niemiec
Mishkin: Madison Cichon
Magistrate: Chloe Escobedo

Director: Toni Fioramonti
Tech Director: Darrell Hudson
Assistant Director: Karson Cook
Stage Manager: Cierra Shipley
Assistant Stage Manager: Ashley Gennero
Set Design: Toni Fioramonti, Morgann Hopson
Costumer: Blythe Lambert, Mae Burke
Sound: Regina Elder, Taylor Adair
Lights: Nick Ackerman, Tim Catchngs