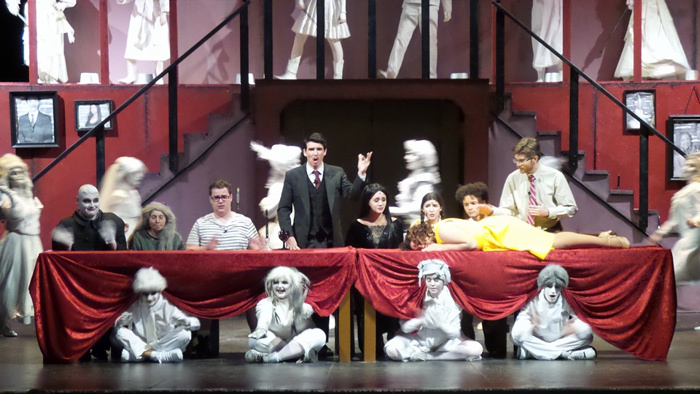 THE SHOW:
Book by Marshall Brickman and Rick Elice, Music and Lyrics by Andrew Lippa, based on the characters created by Charles Addams.
Not much can scare Gomez Addams, head of America's first family of eccentric ghouls who find rapture in the macabre. But fear does strike when an adult Wednesday tells her dad that she's in love. In love with some perfectly nice, normal guy named Lucas Beineke. And guess who's coming to dinner. When The Addams Family meets The Beineke Family, it's a night to die for. And all the Addams ancestors will rise to the big occasion, from their graves, in this entertaining musical that includes great humor, songs, and storyline.
THE PRODUCTION:
Director Toni Fioramonti and the lively cast of ghouls and departed ancestors have a lot of creative fun with this one at Sandra Day O'Connor High School in Phoenix. Bryce Craig is Gomez, deftly embracing his romantic side with his wife, his tender side with his daughter, and his macabre side with everyone. The role of Morticia is dual-cast with Olivia Hsu performing opening night, inhabiting the role with mesmerizingly languid voice, movement, and persona. The two are charming and amusing working off each other. Arielle Amrein is great as darkly humorous daughter Wednesday, pensive about whether her quirky family life and her fiancé's more conservative, but still quirky, family life can somehow work. Last year's Fiona in Shrek, Arielle also gets to reunite with an unfortunate inflatable deer, this time the deer being a crossbow victim from the local petting zoo.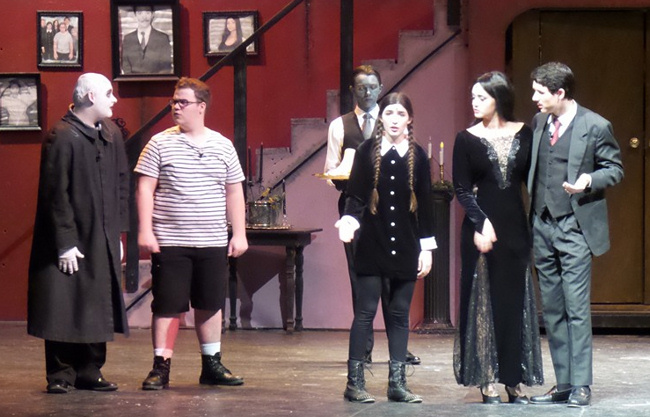 That "normal" family nicely clashes with the Addams group. The role of her boyfriend Lucas is also split, with One Griffin playing opening night as a very friendly, easygoing guy with a closeted dark side, with One and Arielle teaming up for a memorable date night in Crazier Than You. Nick Leach is good as both the irritated dad and the husband who finally lets his hair down. And Sophia Chavez is a riot as the emotional and out-of-control-rhyming poet Alice sharing a hilariously awkward hug with a surprised Morticia and topping off an unforgettable dinner party when the lid is taken off her id.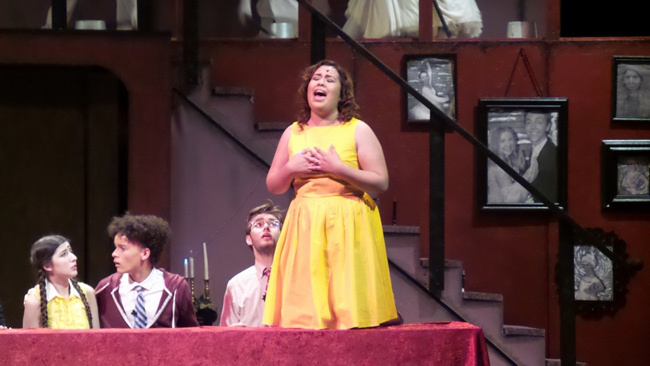 Jacob Shaffer has a fantastic take on the physically and mentally tortured brother Pugsley accompanied by great expressions and body language. Also with great expressions and physicality is Tori Niemiec as the spry Grandma relishing in the moments with her possibly adopted family and making great use of voice. Ryan Clark doesn't use as much voice as butler Lurch but is always quietly entertaining (except for some excellent grunting) and works up quite a sweat in a duel between his still blade and Gomez's athletic efforts to beat him (an ancestor ghost slowly walks up during the fight and dabs the sweat off the brow of the motionless Lurch). And then there's Brett Angwin getting his groove on as an adorable Uncle Fester surrounded by a group of ancestors who are used extensively and bring much individual personality to their various roles.
The show is topped off with good choreography by Toni Fioramonti as well as nice visuals with the sets (Tori Niemiec, Riley Fawcett, Racheal Arns) and costumes (Tori Niemiec, Madelyn Sperry, Arilyn Streety, with special thanks to Mountain Ridge High School). All of which comes together in such scenes as the great opening number, One Normal Night, and the romance of Fester that is lovingly assisted by the ancestor stars and a rolling platform upon which float Fester and his crescent moon companion.
Performed April 7 - 15, 2016
Rob Hopper
Facebook
Instagram

Executive Director
National Youth Arts
~ Cast ~
Add Artist Page

Gomez Addams: Bryce Craig
Morticia Addams: Olivia Hsu, Brooke Black
Wednesday Addams: Arielle Amrein
Pugsley Addams: Jacob Shaffer
Grandma Addams: Tori Niemiec
Lurch: Ryan Clark
Fester: Brett Angwin
Lucas Beineke: One Griffin, Moises Ramos III
Mal Beineke: Nick Leach
Alice Beineke: Sophia Chavez
Ancestors:
Madelyn Sperry
Holli Cole
Christopher Ackerman
Santana Ramos
Allissa Beadle
Hannah Shaffer
Kristen Chancellor
Kristi Hawkesworth
Riley Clark
Serenity Mitchell
Kayla Guzek
Bhavana Somayaji
Aeden Giliam
Brenna Kottman
Arilyn Streety
Daniel Bargen
Lauren Coe

Director: Toni Fioramonti
Asst. Director/Stage Manager: Emily Burns
Tech Director: Darrell Hudson
Music Director: Angela Yates
Choreographer: Toni Fioramonti, Ryan Clark
Dance Captains: Kristi Hawkesworth, Kristen Chancellor
Set Design: Tori Niemiec, Riley Fawcett, Racheal Arns
Costumes: Tori Niemiec, Madelyn Sperry, Arilyn Streety (Special Thank You to Mountain Ridge HS)