Stage Door
by Oaks Christian School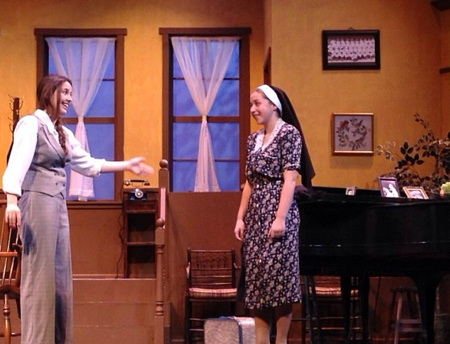 THE SHOW:
This 1936 play by Edna Ferber (Show Boat) and George Kaufman (You Can't Take It With You) is set in a large Manhattan boarding house for actresses. Quite different from the 1937 film adaptation, this ensemble-driven show gives us glimpses into a wide assortment of characters from the eccentric to the serious, the idealistic to the pragmatic. All of them trying to survive in the world of the arts, making defining career choices, artistic choices, and relationship choices along the way.
THE PRODUCTION:
We see much of the show through the eyes of Terry Randol, with Reilly Anspaugh starring as the idealistic and intelligent young actress. A versatile and always genuine actress, Reilly gets the most out of the character, keeping the story grounded whether it's her easy relationship with her fellow residents, trading some friendly sass and banter with the gentlemen who come calling, or making the emotional decisions that will determine the course of her life. Clare Stonich is Jean Maitland who delivers a strong performance as she rejects Terry's philosophy and decides to follow film instead of theater when both are professionally (and at times romantically) courted by producer-turned-film producer David Kingsley (Colton Wade). It's the same debate that threatens to drive Terry and her later boyfriend playwright Keith Burgess (Jackson Kelly) apart as he gets the chance to be a successful screenwriter. The dynamic between all four performers in the struggle between financial success and artistic success is well done.
Providing the other dramatic punch of the show is Hannah Anderson as Kaye Hamilton, fleeing an abusive husband, but then struggling and growing increasingly desperate and lost as she's unable to get work as an actress. But the most of the other characters are there for comic relief, and there are many. Christina Hilliard as the outrageous and eccentric former actress who runs the house as Mrs. Orcutt. Mariah Barnes and Brandon Somerville are a team of hilarious housekeepers. And then there are the numerous other struggling actresses in the home, just a few of whom include the amusing Maddie Lauritzen as extrovert Judith Canfield, Garianna Geiselman as a highly sentimental Louise, the comedy duo of Big Mary (short Jessica Dial) and Little Mary (tall, husky-voiced Rachel McCormick), Lauren Alexander as near-sighted and melodramatic Bernice, and the sour, expressionable Russian pianist Olga (Dominique Grund).
Director Mark Andrew Reyes and his cast add much to the show and characters through staging and nonverbal communication. The large cast works together as if they've been living with each other for years. They do it all in the great house set (Steven Hood) and in a nice variety of period outfits (Jamie Hampton) and hairstyles (Lisa Iezza and Annette Amoroso), transporting us fully into the Depression-era life of aspiring artists.
Performed November 13 - 17, 2013
Rob Hopper
Facebook
Instagram

Executive Director
National Youth Arts
~ Cast ~
Add Artist Page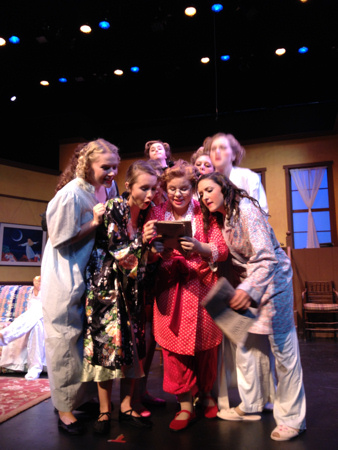 Terry Randol: Reilly Anspaugh
Jean Maitland: Clare Stonich
Judith Canfield: Maddie Lauritzen
Kaye Hamilton: Hannah Anderson
Louise Mitchell: Garianna Geiselman
Olga Brandt: Dominique Grund
Big Mary: Jessica Dial
Little Mary: Rachel McCormick
Madeline Vaulain: Sara Colbert
Ann Braddock: Malia Szyman
Bobby Melrose: Helena Mayer
Kendal Adams: Jennifer Kirchner
Bernice Niemeyer: Lauren Alexander
Pat Devine: Daniela Iezza
Susan Paige: Katelyn Dunkin
Tony Gillette: Grace Zilli
Ellen Fenwick: Peyton Corrigan
Mrs. Orcutt: Christina Hilliard
Mattie: Mariah Barnes
Frank: Brandon Somerville
David Kingsley: Colton Wade
Keith Burgess: Jackson Kelly
Sam Hastings: Malachi Rhodes
Larry Westcott: Zach Watkins
Billy: Karsten Wise
Jimmy Devereaux: Danni Niemi
Fred Powell: Blake Ryan
Lou Milhauser: Josh Gash
Dr. Randol: Joshua Becker
Adolph Gretzl: Christian Grossman

Producer: Rosalind Allen Enciso
Director: Mark Andrew Reyes
Costume Designer: Jamie Hampton
Lighting Designer: Gary A. Mintz
Scenic Designer/Carpenter: Steven Hood
Makeup/Hair Design: Lisa Iezza and Annette Amoroso
Technical Director: David L. Alexander
Stage Manager: Ryan Talbert