Pippin
by Oaks Christian School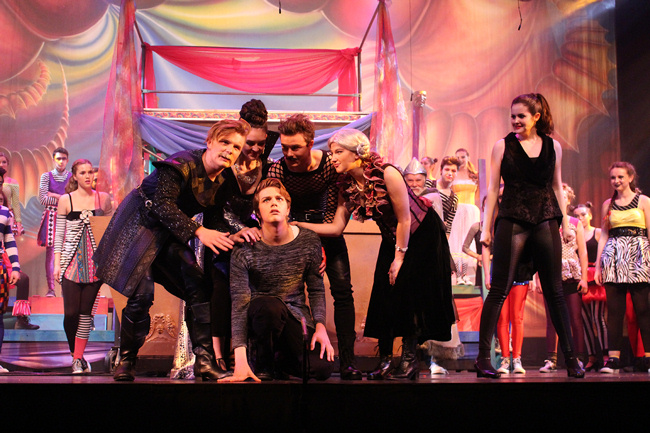 THE SHOW:
The eldest son of Charlemagne can't wait to soar up into eternal fame and claim his Corner of the Sky. And although Charlemagne thinks Pippin ill-suited to battle, Pippin is eager to bask in the glory of war. Until he participates in one. And is struck by the tragedy, the carnage, the loss. Inspiring him to embark on an idealistic campaign with the promise that all problems can be solved easily. Which leads to despair, pain, and disillusionment.
In this musical by Stephen Schwartz (Godspell, Wicked) and Roger O. Hirson that legendary Bob Fosse took to Broadway, the players assure us that Pippin's got Magic to Do with the promise of a thrilling, grand finale destiny worthy of his extraordinary life. While the young widow Catherine threatens to cause Pippin to disappear into the obscure darkness of the ordinary.
THE PRODUCTION:
Director Rosalind Allen-Enciso and the group at Oaks Christian School staged a beautiful production of Pippin based on the Broadway revival circus theme and filled with imaginative touches of their own. Beautiful costumes (Jamie Hampton) and lighting (Kenneth Milbrett) help to create enchanting visuals aided by Kelsey Alexander's choreography, touches of illusion, and gymnastics by the cast. That's a stellar cast who clearly enjoys and excels at making the magic.
Elizabeth Sams leads the way as the charismatic and confident Leading Player, commanding the stage like a force of nature. Timothy Frangos is terrific as our Pippin, from his naïve youth, to his chase after glory in war (rallying the troops by promising to build a wall and make the Visigoth barbarians pay for it), to his emotional centering at Catherine's house (not to mention his valiant attempt to save the pet duck of young, saddened Theo (Coltrane Smith and Joe Matthews) without the boy noticing). He's also got a great voice for his Corner of the Sky solo. The other principal roles were double-cast, with Cat Matthews starring as Catherine on opening night. Cat has gorgeous vocals and is a perfect combination of sweet and funny with a bit of lovable dorkiness about her as she introduces herself to us, and in her charming duet with Pippin as they fall in love with a Love Song, while also touchingly conveying the loss and loneliness shadowing her life.
Taylor Proto reigns as King Charlemagne with an easy knack for the bravado, power, and humor of the role, his voice projecting strength, age, and self-assurance as he leads War is Science. Ava Daikeler is a fun granny Berthe, taking grandson Pippin under her wing with the two of them bouncing on huge exercise balls as she delivers words and lyrics of wisdom. Abigail Cain is regal, vain, and amusing as Charlemagne's new wife Fastrada plotting to Spread a Little Sunshine and ensure her own son takes the throne. Travis Christie is hysterical as said son Lewis, always with spot-on physical comedy and a melodramatic flair no matter the circumstance (such as silently mouthing Charlemagne's pre-war prayer but with more gusto).
And then there are all the players guiding us through the tale. Always into it and with a clear sense of the possibilities for each scene, these talented performers weave their web with style from the opening Magic to Do, the very bloody battle scene, guiding Pippin through the hoops when he loses interest in war and discovers interest in women in the clever and playful With You, the hopeful and utopian Morning Glow, and as they eagerly and forcefully entice Pippin, or anyone else, to leave their pedestrian lives behind and embrace their fiery finale.
Performed March 16-20, 2016
Rob Hopper
Facebook
Instagram

Executive Director
National Youth Arts
~ Cast ~
Add Artist Page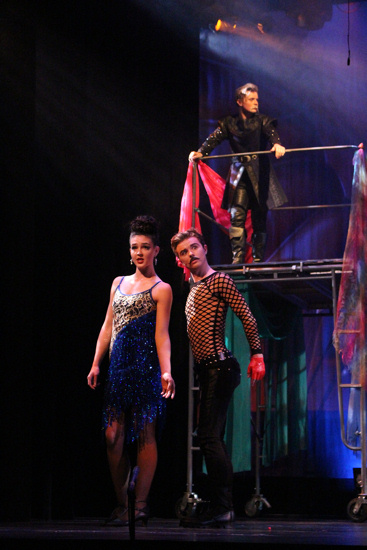 Leading Player: Elizabeth Sams
Pippin: Timothy Frangos
Fastrada: Greer Gustavson / Abigail Cain
Catherine: Cayton Coburn / Cat Matthews
Charles (Charlemagne): Peter Amoroso / Taylor Proto
Berthe: Jenn Kirchner / Ava Daikeler
Lewis: Adam Geller / Travis Christie
Theo: Joe Matthews / Coltrane Smith
Players:
Colton Hayse
Olivia Chambers
Kate Pitney
Lucas Intravartolo
Jenn Kirchner
Ava Daikeler
Reno Selmser
Alison Solis
Kieran Patel
Hannah Dimas
Scarlet Tunney
Michael Woodward
Jake Mouchawar
Miah Johnson
Jenelle Smith
Megan Tchejeyan
Abigail Block
Anna Nikiforov
Andrew Lee
Helena Mayer
Ella Schoneman
Joshua Gash
Aerial Artists:
Hannah Arrasmith
Calli Schwetz
Featured Dancers:
Lauren Crocker
Macy Alexander
Jordan Rankin
Olivia Chambers

Director: Rosalind Allen-Enciso
Assistant Director/Scenic Designer: Mark Andrew Reyes
Musical Director/Conductor: Ed Martel
Choreographer: Kelsey Alexander
Vocal Director: Noreen Smith
Technical Director: David Alexander
Costume Designer: Jamie Hampton and Katrina Thompson
Costume Assistant/Millinery: Katrina Thompson
Hair Design: Annette Amoroso
Aerial Consultant: David Zibalese
Lighting Designer: Kenneth Milbrett
Sound Designer/Audio Engineer: Jonathan Hagberg
Stage Manager: Kevin Grogan