Nyack High School became one of six schools in the country chosen to put on the first school productions of one of the most successful musicals in history – Andrew Lloyd Webber's The Phantom of the Opera. And they made the most of the opportunity with a show filled with great singing, performances, and remarkable visuals.

In the role of Christine Daae, orphaned opera pupil of the as yet unseen "Angel of Music," is sophomore sensation Edy Modica. She sings like an angel over an impressive range, dances beautifully, and demonstrates strong acting ability as well. That includes her role as a mesmerized music student, a humorous turn as an amorous page boy, her lovely and grief-stricken ballad to her late father in Wishing You Were Somehow Here Again, and an intensely dramatic conclusion in her relationship with the Phantom. Max Reinhardsen, a senior, plays the title role. He has a good voice that especially shines in The Point of No Return, and his dramatic performance creates powerful emotions of frustration, loneliness, and unrequited love in the closing scenes, making this show more than just a feast for the eyes and ears.
Sixteen-year-old Christian Rulon is Raoul, Christine's childhood friend who reunites to become her lover. To the anger of the Phantom. He combines with Christine for a strong scene of All I Ask of You before the chandelier crashes down, and he's an integral part of the dramatic conclusion. Hannah Greenberg gives an amusing turn as the insufferable prima donna opera singer Carlotta Giudicelli who delights in adoration and grows furious when such adoration is absent. Brice Walborn is her devoted co-star Ubaldo Piangi. The tall Charles Caster-Dudzick and the short James Greenberg delight as a Mutt-and-Jeff version of the new opera managers who quickly find themselves in several uncomfortable positions. As Madame Giry, Ashley Edelsberg carries herself with a nicely stiff yet graceful persona in both her movement and voice. Tamar MacCallan-Finkelman is Christine's sweet friend Meg Giry.
The ensemble does lovely vocal work together in Masquerade and in their graceful dance numbers. Tom Beck and Neil Schleifer costume them in countless splendid creations for said Masquerade as well as the big opera numbers, adding much vibrancy to the show. Lighting Designer Andrew Gmoser is also essential to the feel of the show, kicking it off with an eerie glow to the fallen chandelier and setting the mood so well in The Point of No Return as well as The Phantom of the Opera number and the final scene. Kurt Kelley and his orchestra do nice work with the challenging score.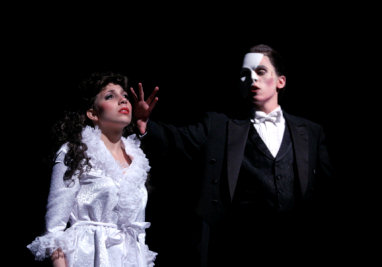 Director Joseph J. Egan has a great vision for this show as we see in both his direction and set design. He captures its haunting nature, its glimpses of comedy, and its pageantry. The opening scene that has the raising of the chandelier and revealing of the old opera house, the courtyard scene under the starry night that ends the first act, the ballet giving way to the hanging, the labyrinth scene as the Phantom takes Christine down to his lair in his gondola, and the lair itself are all beautifully staged and designed. The sounds of us being locked into the theatre when they try to trap the Phantom helps bring us into the moment for the most powerful moment of all – the final confrontation between the anguished Phantom of the Opera and the beautiful student he desires.

Performed March 7 - 15, 2008.

Photos by Barry Sabino @ The Photo Shoppe www.thephotoshoppe.org.

Rob Hopper
Executive Director
National Youth Theatre

~ Cast ~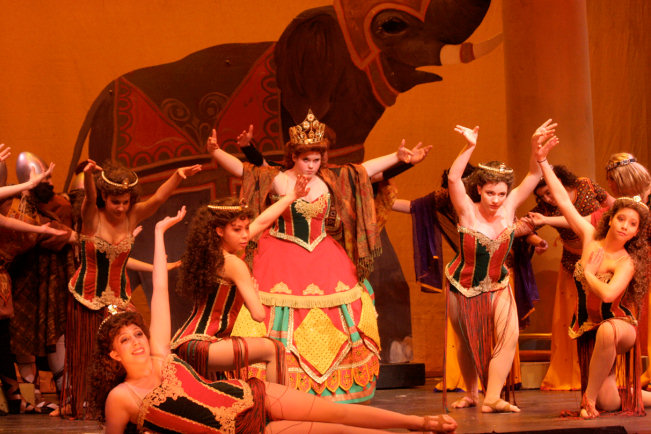 The Phantom of the Opera: Max Reinhardsen
Christine Daae: Edy Modica
Raoul: Christian Rulon
Carlotta Giudicelli: Hannah Greenberg
Monsieur Andre: Charles Caster-Dudzick
Monsieur Firmin: James Greenberg
Madame Giry: Ashley Edelsberg
Ubaldo Piangi: Brice Walborn
Meg Giry: Tamar MacCallan-Finkelman
Monsieur Reyer: Colin Brophy
Auctioneer: Matt Cramer
Monsieur Lefevre: Ben Birkeland
Joseph Buquet/Chief Flyman/Slave Master Dancer/Featured Opera Singer: Gerald Hastings
Porter/Ensemble: Lenard Orpilla
Madame Firmin/Ensemble: Daisy Kirkun
The Ballet Chorus of the Opera Populaire:
Marissa Giuffre
Tamar MacCallan-Finkelman
Jade Milan
Allie Rodriguez
Anastasia Serdsev
Ensemble:
Naima Aguayo-Pohl
Talia Bosley
Caroline Cummings
Christina Farrugia
Tyler Forrest
Justin Green
Catherine Hammond
Katrina Hohlfeld
Daisy Krikun
Gilian Maddux
Emily McCloskey
Lenard Orpilla
Katie Oscar
Brittany Raglin
Freedom Scheyd
Olivia Silarski
Adrian Singleton
Hannah Towers
Georgette Vaillancourt

Director: Joseph J. Egan
Associate Director/Choreographer: Greg Baccarini
Musical Director: Kurt Kelley
Costume Design: Tom Beck and Neil Schleifer
Lighting and Special Effects Design: Andrew Gmoser
Set Design: Joseph J. Egan
Sound Design: Bryan McPartlan