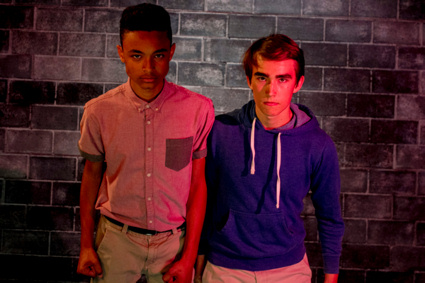 THE SHOW:
When a plane crashes on an unpopulated island, the only survivors are a bunch of school boys being transported away from a war zone. Survival and rescue are the first priorities. They begin by electing Ralph as their leader who establishes parliamentary rules and assigns duties regarding keeping a fire burning and the search for food. Jack, an intimidating bully and a rival for leadership of the group, begins leading his supporters in successful hunts for native fauna. But the bloodlust grows beyond the hunting of wild pigs, the boys splinter into two sides, and they inexorably descend into the same madness that their warring elders followed back home. This stage adaptation by Nigel Williams is a disturbingly honest tribute to William Golding's classic book about the constant threat from the darkest side of human nature.
THE PRODUCTION:
New Village Arts in Carlsbad has assembled nearly a dozen extremely talented youth actors from around San Diego to give us a glimpse of this rarely done show. Jonah Gercke is Ralph – a very realistic portrayal of a good guy with innate leadership skills who cares about the welfare of friends and those who might be outsiders, but isn't immune to peer pressure and the desire to be liked by the popular kids. Ben Ellerbrock is his first friend nicknamed Piggy, a bespectacled, intelligent, socially awkward boy who recognizes the danger immediately and knows Ralph is his, and their, best chance to avoid destruction. Ben perfectly inhabits the angst, frustration, fears, and determination in his fight for law and order. Aaron Acosta beautifully captures the quiet, sensitive, and vulnerable soul of Simon.
On the other side, David Coffey leads the hunt as Jack with frightening authenticity, slowly transforming from your average schoolyard bully and snob to someone increasingly invigorated by the lack of real authority, eventually fully embracing his potential power over others. His right-hand man is the talented Tanner Vidos as Roger, a psychopath also slowly realizing that without authority figures there is no longer any self-serving reason to inhibit his violent impulses. Elsewhere, Anton Maroun and Jewels Weinberg provide a little comic relief as twins Sam and Eric, Josh Bradford is good as the dazed young Perceval, and through Gabe Krut's performance of Maurice we experience the strain of choosing to follow a leader out of fear and desire for self-preservation.
Director Justin Lang's production builds suspense throughout as we hurtle along its inescapable path. He's assembled a strong cast and creative team for this including the island setting by Kelly Kissinger, island sounds by Matt Lescault-Wood, fight choreography by George Ye, and costumes by Kate Bishop that morph contemporary school boys into disheveled castaways and boys trying as hard as possible to make themselves look like their idea of dangerous savages. It all helps set the powerfully portrayed final scene as the boys are suddenly forced to see what they've become, ending with Ralph's chilling final scream.
Performed April 11 - May 3, 2015
To submit candids for possible inclusion in Yearbook, attach in email to rob@nationalyoutharts.com
Rob Hopper
Facebook
Instagram

Executive Director
National Youth Arts
~ Cast ~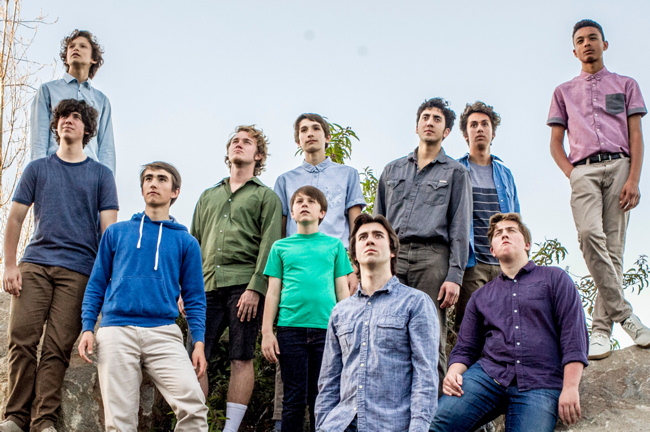 Add Artist Page
Ralph: Jonah Gercke
Jack: David Coffey
Piggy: Ben Ellerbrock
Roger: Tanner Vidos
Sam: Anton Maroun
Eric: Jewels Weinberg
Simon: Aaron Acosta
Henry: Jordi Bertran
Maurice: Gabe Krut
Bill: Josh Tremain
Perceval: Josh Bradford
Naval Officer: Dan Windham

Director: Justin Lang
Scenic Design: Kelly Kissinger
Costume Design: Kate Bishop
Lighting Design: Chris Renda
Sound Design: Matt Lescault-Wood
Props Design: Angelica Ynfante
Stage Manager: Elijah Howlett
Asst. Stage Manager: Debra Montoya
Fight Choreography: George Ye