What would happen if Shakespeare's gender-bending Twelfth Night was set in 1955 small-town America and set to the music of Elvis Presley? Yes, it would be All Shook Up. A fun, goofy, lively musical that enjoyed a medium run on Broadway a couple years ago, and most recently shook up the stage of Northwest School of the Arts in Charlotte, North Carolina.

They've got a ton of great talent at the school who bust open the show with some Jailhouse Rock led by the funny and charismatic Chad (Charles Osborne turning in a great performance as the over-the-top and cocky Elvis Presley-type character) who is getting kicked out of jail. Next thing we know he's a Roustabout kickin' the dust up in a small town, violating their new decency laws and driving the local girls crazy. Except for the one girl he wants, the museum bombshell Miss Sandra who thinks Chad is rather dull. And, admittedly, we don't get the impression that Chad has published many scholarly historical treatises. But who cares as long as he's leading such big numbers as Roustabout and All Shook Up?

A bit more infatuated with the newcomer is Natalie, the tomboy girl-next-door auto mechanic eager to jump on Chad's bike and leave her little town behind. But Chad doesn't know she's alive. Or, at least, he can't remember her name. Natalie's real name is Emily Witte, and she delivers some great rock vocals throughout. The two leads share many great scenes together, especially once Natalie disguises herself as "Ed" so she can get closer to him as a buddy. "Ed" convinces Chad to tutor him in the fine art of seduction, which ends up in some romantic tension that results in Chad kissing what he thinks is a man – leaving some trauma and serious soul searching for a guy who hadn't searched his soul all that much.

The story features several couples, most of whom keep falling for the wrong person without realizing there's someone nearby that fits them even better. Alex Kelley is a total hoot as Dennis, the nerdy guy with a crush on Natalie, who ends up at first jealous of Chad, but then becomes his enthusiastic sidekick. He delivers one of the show's most amusing lines when he tries to hint to Natalie that her true love might be right under her nose, just an average guy…"maybe below average." Highly talented Mary Grace Hammond is the town's gorgeous new museum curator who finds herself quickly overrun with infatuated men, rejecting her suitors with confidence, style, and great vocals.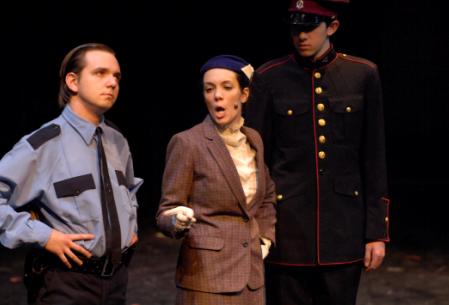 Kel Williams helps ground the show as Sylvia, the local bar owner who dishes out sassy wisdom while consciously barely aware of her own loneliness, singing a nice solo of There's Always Me when she finally realizes it. Adam Burkhart is Natalie's widowed father Jim who does realize his loneliness, leading him to also gets some lessons in the fine art of seduction from Chad in their amusing duet Don't Be Cruel. Ariella Akeza as Lorraine and Joshua Mapstead as Dean play roles from another Shakespeare play, star-crossed young lovers with parents deeply against the union – Sylvia chasing Dean away from her daughter at gunpoint and Dean's mom Matilda (the town's high-strung, ultra-conservative, party-pooper, "Devil in Disguise" mayor courtesy of Lyndsay Burch) is determined to see them split up even if it means trying to use her loyal and silent sidekick Sheriff Earl (Zachary Laws).

Director Corey Mitchell, excellent choreography by Eddie Mabry, and a dynamic ensemble keep the show rocking and shaking from the big opening jailhouse number to the big Act One closing ballad Can't Help Falling in Love sung by a chorus of unrequited lovers to the even bigger finale that's a hunk, a hunk of Burning Love, in the end making for a hunk, a hunk of a great time in Charlotte.

Performs November 29 - December 1, 2007.

Rob Hopper
Executive Director
National Youth Theatre

~ Cast ~

Chad: Charles Osborne
Natalie: Emily Witte
Dennis: Alex Kelley
Sandra: Mary Grace Hammond
Sylvia: Kel Williams
Jim: Adam Burkhart
Lorraine: Ariella Akeza
Dean: Joshua Mapstead
Matilda: Lyndsay Burch
Sheriff Earl: Zachary Laws

Ensemble:
Elijah Allred
Shannon Byrne
Elania Guy
MacKenzie Harwell
Hilary Kearns
Erica Long
Kristen McLaughlin
Nonye Obichere
Gloriel Ott
Zachary Polozune
Jessica Richards
Adriana Rosen
Victoria Singleton
Tony Baker
Adara Blake
Christian Bufford
Kayla Carter
James Kennedy
Amanda Kerns
Katie Plant
David Quackenbush
Blythe Reinhard
Kyron Turner
Imani Zamot

Statues:
Taheerah Harrison
Meagan John
Shataya Lyons
Lauren Ashley Radford
Sara Reineke
Caitlin Snead
Maia Stewart
Olivia Stofira

Director: Corey Mitchell
Choreographer: Eddie Mabry
Music Director: Matt Hinson
Technical Director: David Ward
Costume Designer: Barbara Wesselman
Sound Designer: Michael A. Washington
Stage Managers: Amy Rowland, Sarah Dodd