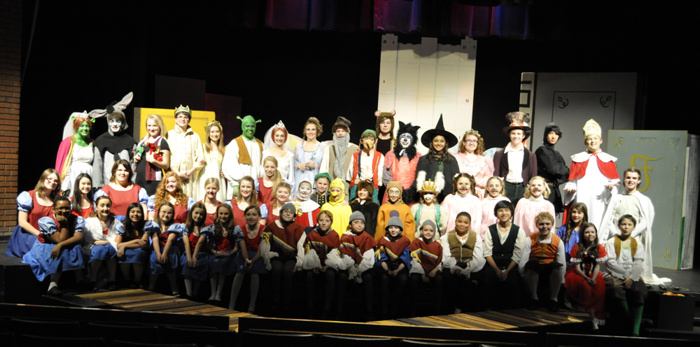 The Show:
It's not easy being a big green ogre. Based on the mega-hit movie and featuring David Lindsay-Abaire and Jeanine Tesori's book and score, Young Shrek is promptly kicked out alone into the world. A place where, according to his parents, every dream comes true (but not for you), and everyone has a friend or two (but not for you). So Shrek grows up and finds a nice swamp from which to enjoy the Big Bright Beautiful World. Until his swamp gets commandeered by the little Lord Farquaad as a refugee camp for fairy tale characters. To reclaim his home and his solitude, Shrek will have to help Farquaad marry a princess by rescuing a seriously stir crazy Princess Fiona from the dragon's lair. And so begins Shrek's big adventure during which way more than one freak flag will fly.
The Production:
Director Kimberly Jongejan and her talented cast and creative team at Northglenn Youth Theatre had a lot of fun with this one. Collin Hill is their title character, and he has an easy, natural feel for the ogre, waving off the audience as if annoyed when they applaud his first solo, getting weirded out as the fairy tale characters start chanting that he's their only hope, delivering a strong Build a Wall solo, and having great chemistry with his co-stars. Zoe Miller is his hilarious Fiona – very creative with fantastic vocals, expressions, a lovable dorkiness, a bit crazy, and some great dance moves for her and Shrek's I Think I Got You Beat. While Joseph Sanford charms as their noble steed, a good physical comedian with excellent vocals as well, including when he breaks it down with his three blind mice (Bethaney Upchurch, Gabby Wagstaff, and Sarah Boothby).
As the fairy tale villain, Isaac Sprague is hysterical, playing up his haughty personality to the crowd with natural charisma. Or in his advanced interrogation techniques used on poor Gingy, where Ella Galaty shines with great humor and use of voice. Just a few of the other highlights include Samantha Cage both as a soulful, lonely Dragon and as Mama Bear, Carter Wilson with his Pinocchio voice and movements and denial issues, and Liam Skulley as the marrying Bishop getting his Princess Bride on.
Christopher M. Waller's set draws us into the tale with the huge fairy tale storybooks, including the ones standing up and a stack in the back, as well as a wooden bridge that winds out from the front of the stage towards the audience. And bringing those storybooks fully to life is an impressive ensemble all fully embracing their characters – from the frightened soldiers to the frighteningly happy Duloc dancers, and from the tapping rats to the cast of iconic fairy tale characters who raise the roof when they let their Freak Flag fly.
Performed November 15 - 24, 2013
Rob Hopper
Facebook
Instagram

Executive Director
National Youth Arts
~ Cast ~
Shrek: Collin Hill
Princess Fiona: Zoe Miller
Donkey: Joseph Sanford
Lord Farquaad: Isaac Sprague
Dragon: Samantha Cage
Mama Ogre: Jordan Gray
Papa Ogre: Liam Skulley
Little Shrek: Eliot Lusero
King Herald: Brendan Lynch
Queen Lillian: Lauren Clausen
Young Fiona: Kate Shoulders
Thelonius: Tristan Taylor
Pinocchio: Carter Wilson
Gingy: Ella Galaty
3 Little Pigs: Abigail Orsborn, Cassi Deines, Katelynn Luchtenburg
Fairy Godmother: Emily Faltinson
Sugar Plum Fairy: Monica Matlick
Ugly Duckling: Alauna Stephens
Big, Bad Wolf: Alex Milinazzo
Papa Bear: Mitch Dailey
Mama Bear: Samatha Cage
Baby Bear: Delanie Sorensen
Elf: Jadeyn Dugger
Mad Hatter: Isaac Skattum
Wicked Witch: Kaya Mallick
White Rabbit: McKenna Stadler
Humpty Dumpty: Maddie Wagstaff
Peter Pan: Terren Coffey
Captain of the Guard: Andrew Hansel
Guards: Liam DeLude, Logan Jones, Owen Dugger, Tanner McGarr
Greeter: Brandon Cage
Teen Fiona: Aubree Tafoya
Knights: Brandon Cage, Eliot Lusero, Fletcher Kim, Joshua Jackson
Ogress Fiona: Jordan Gray
BlueBird: Monica Matlick
Pied Piper: Brendan Lynch
The Tap-Rats: Elise Todd, Fletcher Kim, Heidi Cole, Lauren Clausen, McKenna Stadler
3 Blind Mice: Bethaney Upchurch, Gabby Wagstaff, Sarah Boothby
Bishop: Liam Skulley
Dwarf: Terren Coffey
Ensemble: Aunya Mallick, Bethaney Upchurch, Brandon Cage, Christine Stephens, Elise Todd, Fletcher Kim, Gabby Wagstaff, Grace Davis, Hayden Wallis, Heidi Cole, Joshua Jackson, Kate Shoulders, Kaycee Walczyk, Marguerite Tottle, Naomi DeLude, Racheal Lampo, Reagan Hervey, Sarah Boothby, Sophia Le, Tristan Taylor
Director: Kimberly Jongejan
Musical Director: Jalyn Webb
Technical Director/Set & Lighting Design: Christopher M. Waller
Choreography: Angila Waldman
Costumes: Sara Whitney
Prosthetics/Make-up Design: Katy Williams
Sound Design: Sadie Pepler