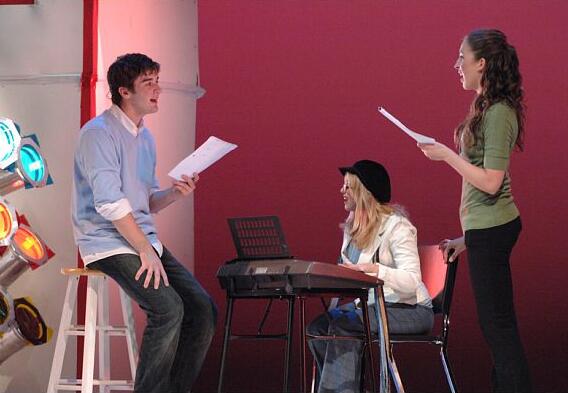 What would the 2007 International Thespian Festival be without the most popular youth theatre musical of the year? Indiana's New Albany High School's production of Disney's High School Musical made the question moot with Director David Longest's energetic, well-choreographed submission to this year's festival.

This updated Grease-like musical features a guy and a girl from different high school cliques who have to overcome peer pressure from their friends if their romance is to have a chance. Cameron Hobbs is school basketball star Troy Bolton. Hanna Lohmeyer is the new girl at school, freaky math girl Gabriella Montez. Both do good work creating their characters – Troy as an unassuming jock who wants to be more than just a jock, and Gabriella as a somewhat introverted new girl who is understanding, easy to smile, and quick to stand up for her principles.

Both end up trying out for the upcoming school musical, horrifying their respective friends of jocks and brainiacs, and even more so the brother-and-sister duo who have had the leads in all the school musicals since kindergarten, Sharpay and Ryan Evans. Sara King is an amusingly obnoxious Sharpay with a fittingly artificial personality who plays her part with a wide variety of cries and noises to bring attention to herself and any displeasure she may be experiencing. Adam Raque is her charismatic brother who loves jazz squares and performing, but who realizes there's a little bit more to life than that. The two of them combine for a good Bop to the Top duet.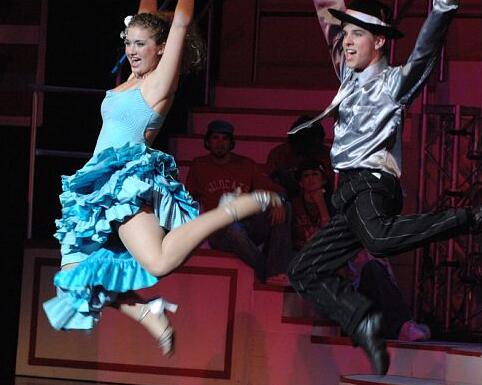 Other standouts include Charnette Batey as Gabriella's brainiac friend Taylor with a great mix of smarts, style, and attitude. Cody Foster plays up the over-the-top comedy of the show as the bake-happy basketball player Zeke with a crush on Sharpay. Hilary Reinen is a clumsy, meek, and vulnerable school playwright, and Brett Howard is her fellow nerd as the school's radio announcer. Adults played the teachers, with New Albany's real basketball coach Jim Shannon as an always-ready-to-explode coach Bolton (Troy's dad) and Sandra Simpson delivering a terrific performance as the school's drama teaching who has melodrama coursing through her veins.

The ensemble sings and dances together with great success, making their big numbers the best of the show. Bette Weber Flock's choreography is dynamite, including the challenging and cool-looking basketball choreography in Get Your Head in the Game that features a back-flipping Troy Bolton. The ensemble shines comically in their auditions scene that has a dash of jealous rivalry thrown in, and as students who have to act in Mrs. Darbus's detention highlighted by Alan (Cory Hodges) transforming himself into an earthworm with particularly intense inner pain and Taylor (Charnette Batey) getting back at Mrs. Darbus by "acting" like a bull and bucking the teacher from behind.

Lee Buckholz's set works well, though the banks of TV sets on the wings that show parts of the production on video (probably a tribute to the show's Disney Channel movie roots) is distracting and blocks off some of the view from the sides. Ron Breedlove had some fun with two multi-colored light stands on the sides of the stage, most memorably in coloring the big Stick to the Status Quo number in which students take sides in the battle over peer pressure to conform, and again while pulling out all the stops in the We're All in This Together finale that is topped off by drops of balloons, blasts of confetti, and inflatable air people rising out of the orchestra pit.

Performed June 28, 2007.

Rob Hopper
National Youth Theatre

~ Cast ~
~ The Jocks ~
Troy Bolton: Cameron Hobbs
Chad Danforth: Geoff Hutton
Zeke Baylor: Cody Foster

~ The Nerds ~
Kelsi Neilson: Hilary Reinen
Jack Scott: Brett Howard

~ The Thespians ~
Sharpay Evans: Sara King
Ryan Evans: Adam Raque
James: Luis Lopez
Susan: Abby Gahan
Cathy: Leslie Gardner
Alan: Cory Hodges
Cyndra: Toni Carroll
Thespian #1: Gwen Carnighan
Thespian #2: Vultheara Chan
Thespian #3: Blair Kayrouz

~ The Brainiacs ~
Gabriella Montez: Hanna Lohmeyer
Taylor McKessie: Charnette Batey
Martha Cox: Sydney Magers

~ The Skater Dudes ~
Skater Dude: Kevin Love
Skater Dude 2: Cory Hodges

~ The Adults ~
Ms. Darbus: Sandra Simpson
Coach Bolton: Jim Shannon
Ms. Tenny, Chemistry Teacher: Lori Jeffries
Decathlon Moderator: Toni Carooll

~ Ensemble ~

Wildcat Cheerleaders:
Rachel Archibald
Kirstie Berte
Courtney Burrage
Lindsay Graeter
Adrian Jackson
Danielle Jackson
Morgan Loveland
Trista Tankersley
April Wiggington
Hannah Zellers

Jocks:
Matt Arachikavitz
Trevor Boley
Mary Breeden
Cortnei Burks
Shyjuan Davis
Danny Hartman
Chelsea Jordan
Kevin Love
Devin Porter
Luis Ramirez
Erick Walts

Brainiacs:
Gwen Carnighan
Toni Carroll
Vutheara Chan
leslie Gardner
Brett Howard
Marlea Jenkins
Blair Kayrouz
Colleen McGuirk
Chloe Sharp
Amanda Williams

Skater Dudes and Dudettes:
Gwen Carnighan
Rebekah Condra
Abby Gahan
Cory Hodges
Lori Jeffries
Blair Kayrouz
Kevin Love
Katie Oxley
Luis Ramirez
Amber Seay

Dance Chorus:
Melissa Blocker
Jenny Falcone
Caleb Fath
Morgan Hutchison
Taylor Johnson
Shelby Lewis
Annie Moore
Anna Staten

Other Students of East High:
Matt Baumgartle
Ashley Beauregard
Alex Bland
Allison Farnsley
Kelsey Graeter
Taylor Harmon
Hannah Hartman
Brynnen Kelly
Lora Lambert
Natt Lin
Colleen McDonald
Rex Needham
Lori Oesterritter
Brianna Prior
Heidi Reutebuch
Allyson Sears
Andrew Seay
Abbie Walker

East High Percussion Unit:
Kierston Cooper
Emma Emery
Michael Homan
Stephen Winders

Director/Producer: David Longest
Assistant Director/Choreograher: Bette Weber Flock
Musical Director: Linda DeRungs
Set Designer: Lee Buckholz
Lighting Designer: Ron Breedlove
Costume Designer: Karen Merrill
Production Stage Manager: Jaclyn Frakes

Photos by R. Bruhn Photography: http://www.shutterfly.com/pro/thespianfestival/2007