The North County School of the Arts staged their inaugural production with this fun and creative Seussical the Musical. This delightful musical by Stephen Flaherty and Lynn Ahrens follows the adventures of Horton the Elephant with a number of other colorful Seuss characters intertwined, all seen through the eyes of a young reader who gets named JoJo and our narrating Cat in the Hat who wears many hats throughout the show.

The Cat in the Hat is played by Winter Bassett who commands the stage and runs the show with charisma, charm, and attitude, unfazed when a temperamental bubble-gun goes haywire during McElligott's Pool, sending JoJo on meaningless mission to fetch her a glass of water just to give poor JoJo a hard time (and explain to us that there's no food or drink in the theatre), feeling queasy when having to pluck out the tail feathers of Gertrude McFuzz, and throwing a used Kleenex out into the audience when she's done with it.

The central story revolves around the loyal Horton the Elephant (Andrew Scher) trying to save the tiny whos that no one can see and only he can hear, and the young Seuss reader who gets thrown into the story as a little who boy named JoJo (even though likeable and bright-eyed Madison Ma argues unsuccessfully with the Cat in the Hat that she's a girl, not a boy).

Andrew is a meek and modest Horton who is touched by all that Gertrude has done for him. That's Gertrude McFuzz, the dorky and plain, one-feathered tail bird that adores Horton but can't seem to catch the elephant's eye, eventually attempting a Seussical form of plastic surgery to turn her one-feathered tail into a sight to see. Ashley Avan switches from nice and sweet to a little monster depending on whether or not she's getting her way from the plastic surgeon (a.k.a. The Cat in the Hat) and uses great melodrama as she describes to Horton the things she's done All For You, all performed with a uniquely adorable voice.

A few other good performances include Hannah Dickson as flighty Mayzie LaBird who amusingly uses her feminine wiles to get what she wants, and get out of what she wants (even if it means trying to hide behind her stick of cotton candy). Alexis Newman is the belting and sassy Sour Kangaroo, with young Gabriella Glener bringing up the rear as the equally sassy Little Kangaroo who isn't afraid to mix it up with Gertrude (but who ends up hugging Gertrude in the end). Co-Director Scott Gregory gets into the act as well with a hilarious performance as warmongering General Schmitz who pushes his young cadets in pushups and jumping jacks, and on his way offstage picks up and carries off the smallest cadet who wasn't marching fast enough for him.

The ensemble shines in many scenes, from the mean Wickersham monkeys who relish their roles and even try to intimidate Gertrude for being too nice to Horton, to the little happy but traumatized whos who are given mini-group solos by the
directors, to the chorus of bird girls who narrate the show with flair, to a lovely Solla Sollew lullaby, a bunch of pestering Hunches who get embarrassed when the light reveals them to be less scary than they thought, to a number of circus performers that include acrobatics, yoga, and a pogo stick hop-a-thon enjoyed by excited circus watchers, to some funky exit dancing at the end of the show.
With a relatively short rehearsal time, this first production was still getting the timing and sound cues down, and was sparse so far as costumes and sets go, but most importantly it was creatively staged with a number of good performances, exhibited a great eye for the show, and had a knack for entertaining the audience, kicking the North County School of the Arts off to a terrific start.
Performed August 14 - 15, 2009

Rob Hopper
National Youth Theatre
~ Cast ~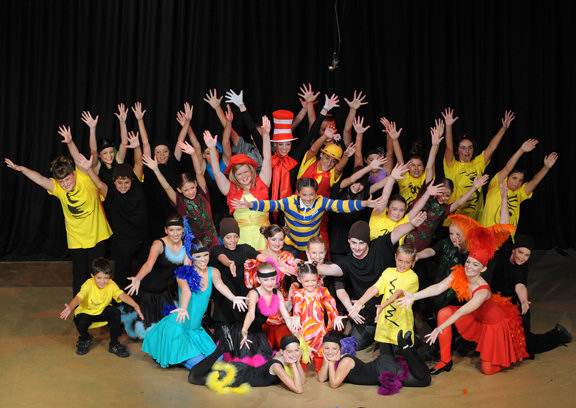 JoJo: Madison Ma
Cat In The Hat: Winter Bassett
Horton The Elephant: Andrew Scher
Gertrude McFuzz: Ashley Avan
Mayzie La Bird: Hannah Dickson
The Sour Kangaroo: Alexis Neumann
The Young Kangaroo: Gabriella Glener
Mr. Mayor: Brenton Scher
Mrs. Mayor: Emma Perkis
General Schmitz: Scott Gregory
Yertle the Turtle: Samantha Gregory

Bird Girls:
MaryAshley Arendsee
Hannah Bassett
Talia Israel
Allison Ma
Annie Meitchik
Alex Read
Allison Scher

Hunches:
Ashley Bassett
Alison Bassett
Evan Blumenfeld
Dashiell Gregory
Samantha Gregory
Avery Mann
Charlotte Perkis
Danielle Ritchey
Delaney Ryan
Evan Stefanko
Kyle Whatnall

Cadets:
Joshua Bassett
Evan Blumenfeld
Dashiell Gregory
Avery Mann
Aaron Richey
Evan Stefanko
Kyle Whatnall

The Wickershams:
Jack Blumenfeld
Dashiell Gregory
Renee Haerle
Avery Mann
Aaron Ritchey
Kyle Whatnall

Specialty Circus Acts:
Alison Bassett
Evan Blumenfeld
Jack Blemenfeld
Sierra Gilley
Samantha Gregory
Hayley Mayne
Brenton Scher
Evan Stefanko

Circus Spectators:
Ashley Bassett
Joshua Bassett
Eliese Haerle
Avery Mann
Charlotte Perkis
Danielle Ritchey
Delaney Ryan

Dancing Fish:
Sierra Gilley
Hayley Mayne
Allison Scher

Citizens of Whoville:
Alison Bassett
Ashley Bassett
Joshua Bassett
Evan Blumenfeld
Sierra Gilley
Gabriella Glener
Dashiell Gregory
Samantha Gregory
Eliese Haerle
Avery Mann
Hayley Mayne
Charlotte Perkis
Danielle Ritchey
Delaney Ryan
Evan Stefanko

Jungle of Nool Citizens:
Alison Bassett
Ashley Bassett
Sierra Gilley
Samantha Gregory
Hayley Mayne

Hunters:
Joshua Bassett
Evan Blumenfeld
Dashiell Gregory
Avery Mann

Artistic/Stage Director: Pamela Laurent
Musical Director: Scott Gregory
Choreographer: Holly Ireland
Costume Design: Pamela Laurent and Mindy Scher