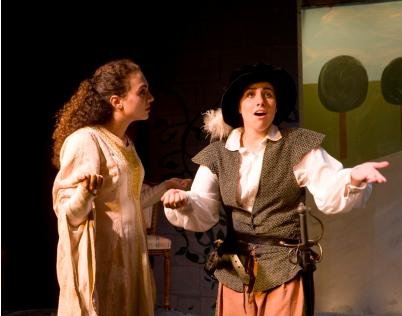 When a shipwreck separates fraternal twins Viola and Sebastian, both sister and brother think each other lost to the waves. But both end up in Illyria, causing a mess of romantic and comedic confusion in Shakespeare's Twelfth Night. A little more than 400 years later, Director Joe Powers and his group staged the show as The Theatre School @ North Coast Rep's Eleventh Annual Summer Shakespeare production.

Gia Battista is Viola, the twin sister around whom the plot revolves, who immediately takes on the clothes and name of a man – Cesario. She/He becomes the chief attendant to the duke of Illyria, Orsino (Connor Murphy). But she also quickly falls in love with the duke. Which becomes awkward when the duke asks "Cesario" to woo on his behalf Countess Olivia (Cindy Mersten) – a woman who is spurning the duke. The wooing is a job that Cesario does with mixed emotions, and with unintended success. Instead of Olivia falling for the duke, she falls for the duke's wooer, Cesario/Viola. Let the romantic and comic confusion begin, snowballing when Viola's lost twin brother Sebastian (Cory Gordon) comes to town…

The high school-age cast does nice work with the material. As Viola/Cesario, Gia Battista does well in not overplaying the man, instead becoming a sensitive man who woos Olivia through her sensitivity and genuine feelings behind her romantic words (even if she's thinking of Orisno when she's saying some of those words). Cindy Mersten, who will soon be reprising the role of Olivia for Canyon Crest Academy, delivers a most impressive performance as she finds herself unexpectedly falling hard and desperately for Cesario, combining great personality, expressions, and body language while interacting with Cesario and with her entourage or odd friends, servants, and family members.
That entourage, who soon have their own play within a play going on, is a colorful lot. Especially when they start dressing up in garters and yellow stockings. Malvolio is her straight-laced assistant who transforms into a giddy and ridiculous Romeo when he is tricked into thinking Olivia is in love with him, with adult actor John Tessmer capturing so well the initially stuffy Malvolio, the later absurd Malvolio that has Olivia feeling a mixture of amusement and fear as he tries to impress her in bizarre ways, and eventually a scared, embarrassed, and angry Malvolio whose seething at his mistreatment could kill.

His personality is in stark contrast to the clowns of the show. Another adult actor, Gerry Maxwell, is Olivia's drunken cousin Sir Toby Belch who makes for a good drunk who is easily crossed and yet easily moved by love songs. Chris Brady Denton is Sir Andrew who reluctantly gets into a not-so-swashbuckling duel with the equally reluctant Cesario. And Chelsea Fryer is a hoot as Maria who has a natural camaraderie with Olivia as her girlfriend and as the mischievous prankster amongst her many lowly guy friends, including a comical attempted exorcism of the transformed Malvolio by Maria, Toby, and Fabian (Cody Powers). Ricardo Munoz plays with them all as the fool Feste, and plays us some numbers on the guitar as well.

Performed August 16 - 19, 2007.

Rob Hopper
National Youth Theatre

~ Cast ~

Curio/Officer/Priest: Kate Chamberlain
Olivia: Cindy Mersten
Antonio: Cameron Peterson
Feste: Ricardo Munoz
Sir Toby Belch: Gerry Maxwell
Sir Andrew: Chris Brady Denton
Fabian: Cody Powers
Malvolio: John Tessmer
Duke: Donnor Murphy
Maria: Chelsea Fryer
Captain/Sebastian: Cory Gordon
Viola: Gia Battista

Director: Joe Powers
Lighting Designer: Michael Paolini
Set Master: Marty Burnett
Scenic Artist: Marge Halderman
Costume Designer: Jennifer Mah
Prop Designer: Bonnie Durben
Sound Designer: Aaron Rumley
Stage Manager: Lili Simmons