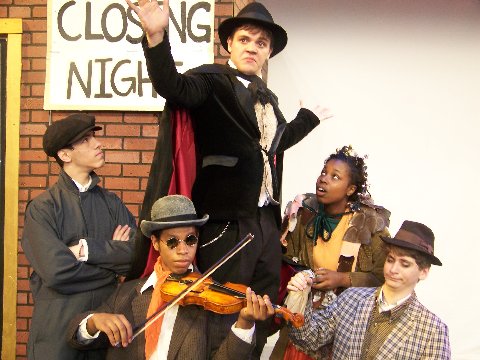 It's the high school premiere of the show that won more Tony Awards than any other show in history. And from the big opening number featuring a very Nathan Lane-ish Max Bialystock as The King of Broadway surrounded by a dynamite ensemble, you know that Edward R. Murrow High School in Brooklyn is going to be doing Mel Brooks proud with their high school premiere of this mega-hit.

Of course, a "mega-hit" is the last thing the producers want in The Producers. It's based on Brooks' 1968 film starring Zero Mostel and Gene Wilder, transformed into the Broadway play starring Nathan Lane and Matthew Broderick. The story centers on Max Bialystock who has a recent history of Broadway busts, and the meek accountant Leo Bloom sent over to do his books who voices an amusing insight that a producer could make a huge profit by over-selling shares in a sure-to-bust Broadway show, as no one would expect their money back. Thus the plot is hatched, with Max talking the nervous Leo into partnering up, and the search for a sure-fire Broadway bust is born. And Springtime for Hitler, a musical written by a nutty fan of The Fuhrer, is discovered.

Discovered here are the two talents of Nicholas Guastella and Harrison Brian Fuchs as said Max and Leo. Nicholas even resembles Nathan Lane, and has a tremendous knack for the character, comedy, and vocal work. And he does have to do a lot of work to raise the money for their bust – mostly "charming" little old ladies out of their money. Though those little old ladies have more energy than he can handle, led by the rambunctious Hold Me-Touch Me (a hilarious Molly Goldberg determined to get her money's worth). All of Nicholas's talents come to bear as his life flashes before his eyes in a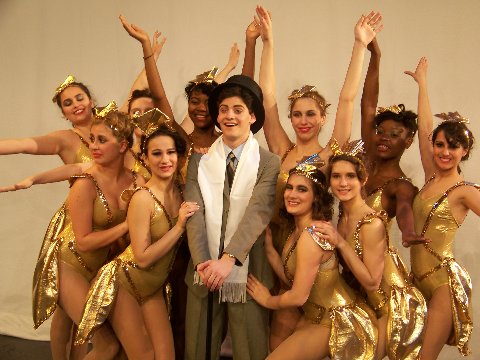 courthouse holding cell, with Max reliving the entire show (including the raffle drawing at intermission – which he wins).
As his sidekick, Harrison Brian Fuchs is a fantastic physical comedian with great instincts for the character who loves his security blanket very much, and who finds the inner strength to cast off his job as a bored public accountant with a dream to become an official Broadway producer (and a dream to have a big, old casting couch). Together they make a remarkable team, and stay in character no matter what's going on. Even on closing night as the office door becomes unhinged, with Leo telling Max he's going to need a lot of investors to fix the door, and Max coming back with a very Max-ish, PG-13 explanation as to why the wooden door couldn't last past the morning.
Even without the burden of having to raise money for withering doors, several people will be needed to make all their schemes and dreams come true. The talented Julie Reed is ready and willing to help fulfill those dreams as Ulla, the over-the-top Swedish blond bombshell who applies for work with Max and Leo. And, of course, she gets hired, perhaps helped by her Ven You Got It, Flaunt It interview song-and-dance that leaves Max and Leo a couple of drooling, quivering, helpless masses. Then they need the playwright, with Matthew Ryan Hunter delivering the Hitler-phile in all his outrageous glory with impeccable comic timing and crazed eyes. Of course, it helps to have the worst director on Broadway taking over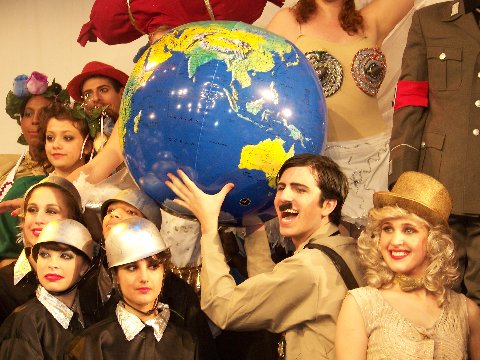 the show, so they convince the ultra-gay Roger De Bris to keep the story of Hitler light and…well…as gay as something called The Third Reich can be. Benjamin Kraiem plays it perfectly and gaily and with a flair for the dramatic as he sees Springtime for Hitler taking him to his destiny, and as he becomes the gayest Hitler ever. Brandon Alexander Zelman is a riot as Roger's even gayer, and highly jealous, assistant Carmen Ghia who has a lisp with no end and an impressive flair for the dramatic himself (his exits from the stage are never quick, his hands or even his fingers lingering in view as long as possible, grasping at the spotlight, sometimes caressing the little curtain around the doorway).

The ensemble at Murrow clearly seems to be rising to the occasion and relishing the opportunity, going all out and turning in magnificent scenes as excited little old ladies, bored accountants, dynamic chorus girls, opinionated New York City theatergoers, prancing Nazis (some with big pretzels and beer steins and sausages on their heads courtesy of the show's four talented costume designers and assistants who must have been incredibly busy), and as ball-and-chain twirling Prisoners of Love. Yes, no surprise, the producers put on a show that is a little too good. As do Director Rory Schwartz, a top-notch orchestra, and the extraordinarily talented group of designers, choreographers, and cast members they've assembled at Murrow who said We Can Do It, and they did.

Performs May 7-10, 2008.

Rob Hopper
Executive Director
National Youth Theatre

~ Cast ~
Max Bialystock: Nicholas Guastella
Leo Bloom: Harrison Brian Fuchs
Hold Me-Touch Me: Molly Goldberg
Mr. Marx: Jesse Eric Manning
Franz Liebkind: Matthew Ryan Hunter
Carmen Ghia: Brandon Alexander Zelman
Roger De Bris: Benjamin Kraiem
Bryan: Zachary Nathan Stevens
Kevin: Luke Fontana
Scott: Kris Sanchez
Shirley: Tiffany Thompson
Sabu: Christopher Dawkins
Ulla: Julie Reed
Lick Me-Bite Me: Alexandra Kaye
Kiss Me-Feel Me: Nyilah Cardoza
Jack Lapidus: Zachary Nathan Stevens
Donald Dinsmore: Luke Fontana
Jason Green: Michael Rosen-Pipitone
Ticket Taker: Jesse Manning
Gunther: Michael Rosen-Pipitone
"Springtime" Soloist: David Kirshner
Sergeant: Michael Rosen-Pipitone
O'Rourke: Avery Whitted
O'Riley: Jon Siedman
O'Houllihan: John Anantua
Guard: Jon Siedman
Judge: Jesse Eric Manning
Bailiff: Jon Siedman
Foreman: David Kirshner
Trustee: Jesse Eric Manning
Usherettes: Allison Fontaine-Capel and Dayna Driscoll
Accountant Soloist: John Anantua

Accountants:
Frank Napoleoni
David Kirshner
Zachary Stevens
Kris Sanchez
Luke Fontana
John Anantua
Abie Mazor
Michael Rosen-Pipitone
Avery Whitted
David Ly
Steven Buros
Christopher Dawkins

Chorus Girls:
Valerie Blatt
Sasha Manevich
Sandra Levykh
Marissa Shadburn
Heather Kramer
Olga Smirichinskaya
Nahama Paul
Aldora Neal
Victoria Szuflita
Elisa Vincenti
Odd Chorus Girl: Sarah Rosen

Workman: Frank Napoleoni
Blind Violinist: Kris Sanchez

First Nighters:
David Kirshner
John Anantua
Michael Rosen-Pipitone
Avery Whitted
Jesse Manning
Luis Grande
Alexandra Kaye
Kristyn Colona
Alyson Fuchs
Marissa Becker
Nyilah Cardoza
Rachel Ginzburg

"King" Street People:
Zachary Stevens
Kris Sanchez
Luke Fontana
David Kirshner
Frank Napoleoni
Steven Burgos
Robin Rivera
David Ly
Abie Mazor
Matthew Eng
Celia Horowitz
Jon Sideman
Christopher Dawkins
Valerie Blatt
Sasha Manevich
Allison Fontaine-Capel
Dayna Driscoll
Sandra Levykh
Marissa Shadburn
Heather Kramer
Olga Smirichinskaya
Nahama Paul
Aldora Neal
Sarah Rosen
Tiffany Thompson
Victoria Szuflita

Bavarians:
Michael Juris
John Anantua
Avery Whitted
Jesse Manning
Michael Rosen-Pipiton
Alexandra Kaye
Kristyn Colon
Alyson Fuchs
Marissa Becker
Nyilah Cardoza
Rachel Ginsberg

"Springtime" Dancers: Zachary Stevens
Heil-Los:
Kris Sanchez
Luke Fontana
Matthew Eng
Christopher Dawkins
David Kirshner
David Ly
Valerie Blatt
Victoria Szuflita
Heather Kramer
Marissa Shadburn
Olga Smirichinskaya
S.M. Rolf: Zachary Stevens
S.M. Me: Luke Fontana
Stalin: Zachary Stevens
Churchill: Luke Fontana
FDR: Michael Rosen-Pipitone
Follies Girls:
Sasha Manevich
Sandra Levykh
Sarah Rosen
Aldora Neal

Convicts:
David Ly
John anantua
Avery Whitted
Michael Rosen-Pipitone
Jesse Manning
Frank Napoleoni

Showgirl Convicts:
Valerie Blatt
Sasha Manevich
Sandra Levykh
Marissa Shadburn
Heather Kramer
Olga Smirichinskaya
Sarah Rosen
Nahama Paul
Aldora Neal
Victoria Szuflita

Broadway Convicts:
David Kirshner
Zachary Sstevens
Kris Sanchez
Luke Fontana
Matthew Eng
Christopher Dawkins

Court Stenographer: Alyson Ryan Fuchs
The Village People:
Jesse Manning
Jon Siedman
David Kirshner
David Ly
Tomkins the Cat: Alyson Ryan Fuchs

Old Ladies and Storm Troopers:
Michael Torres
Steven Burgos
Andrew Baer
Joseph Tripodi
Luis Grande
Michael Juris
Celia Horowitz
Maddy Enlow
Lynn Shiffman
Michelle Manakhimov
Jessica Yu
Samantha Gillette
Lauren Dunn
Daejanae Lettman

Director: Rory Schwartz
Costume Designers: Allison Loutfi, Devon Smith-Rankin, Serafina Musumeci, Jolie Kumin
Lighting Design: Andrew Gelfand Wright
Sound Designer: Allegra Scheinblum
Technical Director: Chloe Bader
Choreographer: Roberta Raymond
Musical Director: Don Christensen
Vocal Director: Alan Shapiro
Stage Manager: Valerie Falconieri