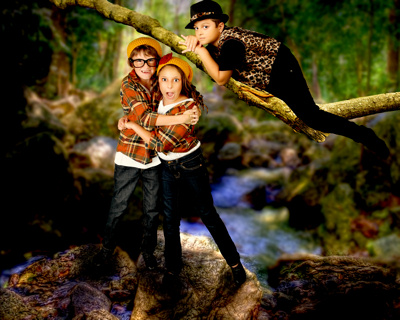 THE SHOW:
Lyrics and Music by Terri Scullin and Adam Vargas
When their trees are bulldozed in the Amazon rainforest, young Tamarin monkey siblings Oro and Leona are separated from their family. Their subsequent journey introduces them to other endangered species including macaws, sloths, and poison dart frogs, all the while trying to keep a watchful eye out for a stalking jaguar. The result is a charming and environmentally friendly new show with a good mix of music and emotions and tropical species. The songs include In the Amazon, Nothing You Canít Do and Let Your Colors Shine, and the script is entertaining for the entire family.
THE PRODUCTION:
Co-creator Terri Scullin directs this journey through the rainforest filled with performers ranging from ages six to nine, and these young performers sink their teeth into this production with engaging enthusiasm. There are more than forty of them, all dressed in basic but cute and effective costumes, dancing to the catchy music with fun choreography (Sarah Brayer), all within Brett Aikenís rainforest setting.
Christopher Poulios and Tenley Stitzer star as sibling Tamarin monkeys Oro and Leona, and they do a great job trying to comfort each other through the night after being separated from their family in the haunting Lost / All Alone, as well as interacting with their fellow jungle residents with a mixture of curiosity, fun, and a bit of fear.
Their fear of fellow jungle residents is highlighted by some anxiety involving a lone Jaguar who appears to be calmly following them, or stalking them, throughout. T.J. Rossi delivers a fantastic performance as the suspicious jaguar, silent through most of the show but saying loads with expressions and body language, then finally revealing his intentions with a groovy Whatícha Gonna Do?.
Elsewhere, Oro and Leonaís adorable Tamarin monkey family has Mama (Amanda Brown), Papa (J. Garrett Hale), and little siblings Uno (Grace Waltermire), Dos (Raegan Etnyre), Tres (Noelle Hammond) and, you guessed it, little Quatro (Vanessa Hughes) doing a nice job as a family in Just as the Rain. The energetic cast includes about a dozen poison dart frogs giving Leona both some attitude and an important message in Let Your Colors Shine, about a dozen sassy macaws teaching Oro thereís Nothing You Canít Do complete with conga line, and about a dozen sloths calming them with a Buenas Noches / Rainforest Lullaby. The whole cast flocks together to bring the rainforest to life with the lively opening and closing In the Amazon.
Performed October 3 - 6, 2013
Photos by Barbara Stitzer
Rob Hopper
Facebook
Instagram

Executive Director
National Youth Arts
~ Cast ~


Add Artist Page
Oro: Christopher Poulios
Leona: Tenley Stitzer
Jaguar: T.J. Rossi
Mama: Amanda Brown
Papa: J. Garrett Hale
Uno: Grace Waltermire
Dos: Raegan Etnyre
Tres: Noelle Hammond
Quatro: Vanessa Hughes

Poison Dart Frogs:
Korra Reed
Madeline King
Max Springfield
Brendan Salisbury
Julia Hughes
Molly Henderson

Poison Dart Frog Chorus:
Emily Coffeen
Maya Iniguez
Elle Oberfield
Ava Vona
Bella Weiss
Brooke Wells
Ella Westmoreland-Klidas

Macaws:
Mary Davis
Sydnee Pelchat
Carys Gloeckler
Haley Russeth
Madison Rossi
Elise Decoufle

Macaw Chorus:
Emma Cureton
Olivia Duffy
Alexis Embry
Libby Ikesaki
Gracie Palmer
Isabella Powell
Julia Smirnoff

Sloths:
Kate Creed
McKenna Carlson
Adrianna Cioffi
Nathaniel Below
Corrina Tapley

Sloth Chorus:
Anna Bradford
Emma Burns
Quinn Cerullo
Stefanie Goldstein
Lily Lambertson
Lexi Markoutis
Gracie Milliken

Director and Vocal Director: Terri Scullin
Choreographer and Production Assistant: Sarah Brayer
Musical Arrangements: Cris Wo
Set Designer: Brett Aiken
Light Designer/Sound Board Op/Spot Op: Alex Tomaso
Producer: Jackie Hammond
Light Technician: Sonia Tomaso