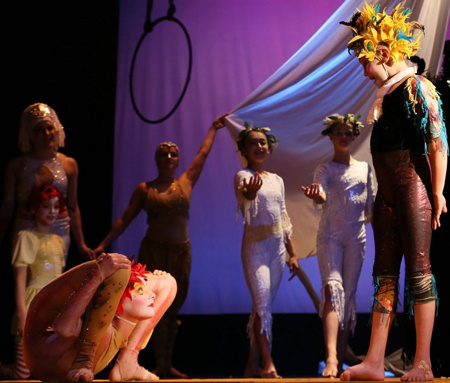 THE SHOW:
In the utopian village of Pixa the people lived in happiness and freedom, protected by their nurturing gods, playing with their spirit guides. But the peace is shattered when Valkir descends upon them, freezing the gods, disdainful of anything unique or different, and determined to control and subjugate the villagers. But the spirit guides select a champion from the village – the young boy named "You" who must find the courage to stand up to Valkir, carrying inside him the spirit of all of them. Nathalie Yves Gaulthier's magical, original show about bravery, acceptance, and love is told in a Cirque du Soleil style.
THE PRODUCTION:
Nathalie Yves Gaulthier brought her new work to the stage with the Morgan-Wixson Theatre's Y.E.S. program where some adults join the mostly youth performers. In this case, the cast is composed primarily of Nathalie's Le PeTiT CiRqUe program that trains young performers in the cirque arts. Most of the youth are age 14 or younger. And they are spellbinding.
Ten-year-old Diego Pasillas stars as our hero "You," always with great dancing and presence whether being playful with his friends, fearful of the dangers, or a mixture of compassion and bravery as he finds the courage to stand up to his village's bully – the adult Cheetah Platt as a dynamic, athletic, and intimidating Valkir. World champion martial artist and anti-bullying campaigner Kaelyn Whaley is Amay, You's close friend, who at age eleven is a force of nature as a warrior and as a performer as she battles for her village. Celeste Copeland and Jazmin Chang are the graceful, gentle, playful spirit guides who are also marvels in the aerial arts.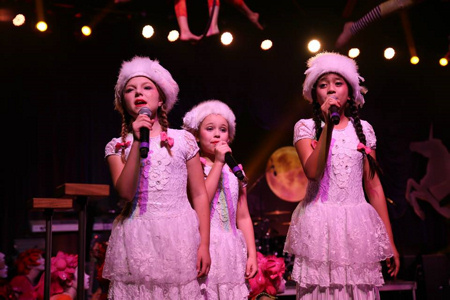 Asia Aragon, Rachel Albrecht, and Maggie Tompkins are three remarkable young singers who work together to cast a spell with their vocals. The songs feature a nice selection including the search for the Hero (by David Tobacman), What if You and I (tried to change the world) by Sly Furino, and especially Sticks and Stones by teenage singer/composer Molly Chapman. Asia also does the voiceover for You with strong narrating skills.
The cast is filled with amazing talents including those working up in the air with trapezes, hoops, silks, etc., a tight rope, balancing on balls and stilts and various other special skills, gymnastics, and dancing. Not to mention the wow factor involved with fourteen-year-old Jordan McKnight as contortionist extraordinaire, her movements adding much to the wonder and spectacle of the fantasy. This production includes a wheelchair-bound performer who, during You's coronation as their hero, is raised out of her chair by silk performers and the gods, and by You acting to help raise her up into the sky from below.
Nathalie has an eye for painting such mesmerizing moments. Combined with exquisite costumes (Bella Circo Productions and Terril Teran for the villagers, the gods and goddesses by CHER's Believe Tour), makeup by Wendy Turner, Monna Mainwaring, and Koji Endo, an inspiring story, and unbelievable talents, this is a show that will both teach and enchant.
Performed October 5 - 20, 2013
Rob Hopper
Facebook
Instagram

Executive Director
National Youth Arts
~ Cast ~
Add Artist Page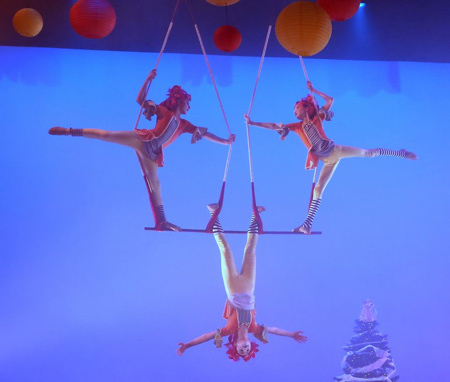 "You": Diego Pasillas
Valkir: Cheetah Platt
Aimay: Kaelyn Whaley
Gifted Healer: Breanna Pflaumer
Spirit Guides: Celeste Copeland & Jazmin Chang
Le PeTiT CiRqUe "Pixa Villagers":
Georgia Bryan
Talya Cooper
Cassie Cutler
Lila Dreyfuss
Lea Eidelman
Sarah Frieman
Sidonie Horn
Cami Katz
Ashley Kernan
Chiara Lagumina
Robbie Levis-Fitzgerald
Jordan Mcknight
Izzy Patrowicz
Cleo Schoeplein
Lexi Turner
Aspen Smith
Eliana Witham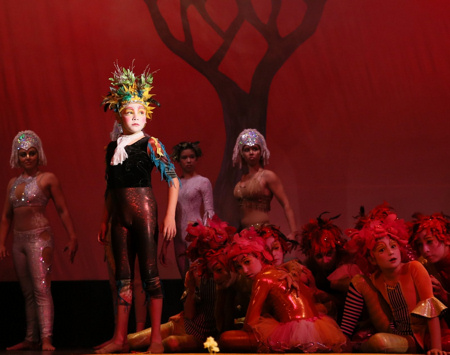 David Zarnegin
Cirquessence "Gods/Goddesses":
Penny Clapcott
Koji Endo
Lauren Hartman
Taylor Krasne
Aisha Mainwaring
Soli Rachwal (Sunday Shows Only)
Rachael Servello
Sophie Wingerd
Singers:
Asia Aragone
Rachel Albrecht
Maggie Tompkins

Producer/Director/Writer: Nathalie Yves Gaulthier
Additional Writing/Directing (Voice-overs): Megan Gabel
Artistic Director: Joshua Ryan Zehner
Associate Producer: Wendy Turner
Technical Artistry Director: Debra Lynne Brown
Le PeTiT CiRqUe Head Coaches: Shana Lord & Nathalie Yves Gaulthier
Select Acts Choreography: Doriana Sanchez ("Hero" piece), Nathalie Yves Gaulthier, Shana Lord, Rachael Servello, Jason Berrent, Christine Van Loo, Bianca Sapetto, & Michelle Sargent
Stage Manager: Koji Endo
Assistant Stage Manager: Talia Mainwaring
Technical Director/Lighting Design: Jeffery Porter
Set Design/Props: Koji Endo & Wendy Turner
Makeup Design: Wendy Turner, Monna Mainwaring, & Koji Endo