Silence settles over the theatre as the first few melodies drift from the 26-piece orchestra. A catchy, toe-tapping rhythm begins, all-too-familiar songs smoothly transporting the audience into the world inhabited by Charity and her disparate gang of dance hall girls. It is the world of Sweet Charity, a musical that just finished its run with flair and expertise by the students of Mission Viejo High School. Directed by award-winning Kathy Cannarozzi Harris, the show had a packed house from April 28th through May 7th.

Sweet Charity was originally directed and choreographed by Bob Fosse, premièring on Broadway in 1966. It is the story of Charity Hope Valentine, a dancer-for-hire at a common dance hall, known as the Fandango Ballroom.

The script follows the optimistic Charity on her search for love, remaining hopeful despite her many difficulties. Her quest takes her to some very strange places. To name a few, she finds herself trapped in an elevator, pushed into a lake, even hiding overnight in the closet of a movie star. Unfortunately for Charity, despite her ceaseless efforts, the men she goes out with never seem to reciprocate her affection. Regardless, Charity remains ever hopeful, and is determined to become something more than just a dance hall girl.

Veteran actress Mary Desmond ignited the stage, delivering a heart-stealing performance as Charity and embracing the quirky and hilarious nature of the lead character. Desmond's sweet, doe-eyed facial expressions and girlish giggles create a genuine air of love-struck hopefulness with every scene, and she seemed to have all eyes on her.
Her natural stage presence and comedic timing made her a perfect fit for the role. Charity's love interest, Oscar, was portrayed endearingly by Ben Sellers. He personified the shy, yet gentlemanly character that Charity ultimately falls in love with. Charity meets Oscar while stuck in an elevator, and from their first song Bravest Individual, Oscar and Charity had wonderful chemistry. Sellers had some of the strongest vocals of the evening, and he developed an offbeat character that the audience fell in love with. Their slightly awkward but very real relationship was adorable to watch unfold. The two become inseparable, but Charity struggles to share with him the truth about her lifestyle.

Talent was abundant throughout the cast. John Scott Massey as Herman (Charity's boss) was a master of comedic timing and had a startlingly potent singing voice. As movie star Vittorio Vidal, Ryan Livesay gave a stellar performance, Italian accent included. His congenial demeanor toward Charity along with his angst-ridden relationship with starlet Ursula March (Bree Ben-Joseph) made him a standout of the evening.

Actress Jenna Luck shines in her supporting role as Nikki, one of Charity's friends at the dance hall. Luck was the epitome of New York toughness, an audience favorite, displaying brilliant vocals and dancing ability, sass, and strong characterization, enabling her to steal the scene every time she was onstage. Kayla Morgan's performance as Charity's other friend, Helene, was dominated by her sweet and beautiful singing voice that was both powerful and emotive. She seemed to fit into the sultry world of the Fandango girls with ease. Jeffery Baker was also charismatic and upbeat in his role as Big Daddy Brubeck, the leader of the Rhythm of Life church. His eccentric character was a joy to watch. Baker also played a dual role as the Dirty Old Man.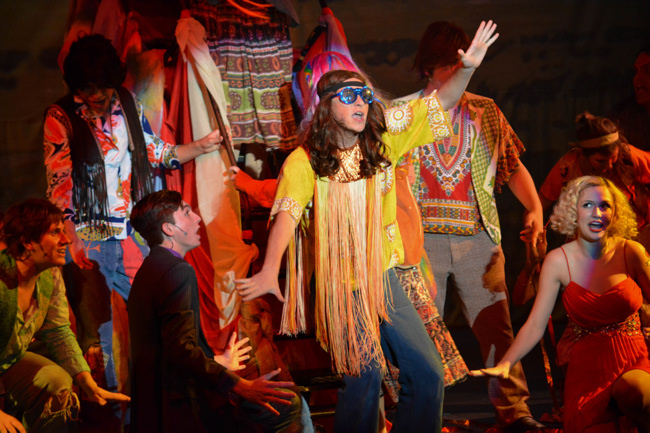 The student technical team was strong across the board, directed by Matthew White. An outstanding contribution was from Kristi Davar, who choreographed the show. Notable among that accomplishment was the jazz dance numbers by the ensemble, staying true to Fosse's style, which were in my opinion comparable to anything on Broadway. The student orchestra should be commended as well for the high quality talent in that department, as they backed up all the musical numbers with a strong baseline and great percussion. Musical direction was by John Hannan and Vocal direction was by Diane King Vann.

Mission Viejo High School's Sweet Charity was a successful illustration of humanity's greatest craving — the need for love. Although Charity found it hard to win a man's affection, she certainly won over the hearts of the audience. And as the curtain closed and well-deserved applause filled the theatre, there was no doubt that the performance wasn't anything less than sweet.

Performed April 28 - May 7, 2016

Chris Daniels
National Youth Arts


~ Cast ~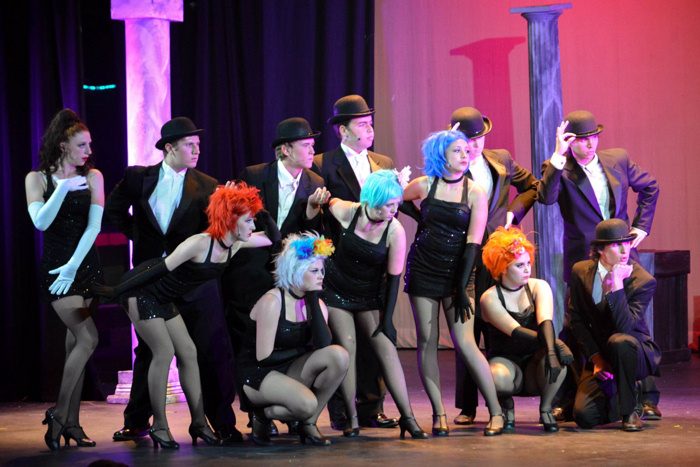 Add Artist Page
Charity Hope Valentine: Mary Desmond
Oscar Lindquist, Frug Dancer: Ben Sellers
Nikki, Frug Dancer: Jenna Luck
Helene, Frug Dancer: Kayla Morgan
Herman: John Scott Massey
Big Daddy, Dirty Old Man, Frug Dancer: Jeffery Baker
Victorio Vidal: Ryan Livesay
Ursula March, Frug Dancer: Bree Ben-Joseph
Woman with Hat, Specialty Dancer: Katie Agrela
First Young Man, Frug Dancer: Baxter Barlett
Panhandler, Second Woman: Simar Boparai
Good Fairy: Jenna Bowman
Woman with Dog, Frenchie: Emily Boyer
Married Woman, First Woman: Shekinah Bryant
Married Man, Frug Dancer: Drew Calof
Daddy's Assistant, Spanish Young Man, Doorman, Manfred: Trevor Casillas
Betsy, Frug Dancer, Specialty Dancer: Miranda Cowdrey
Elaine: Genna Hewett-Abbott
Charlie, Frug Dancer: Sean Martin
Ice Cream Vendor, Panhandler, Daddy's Assistant: Charlie Massey
First Passerby, Panhandler: Jackson Maxwell
Carmen, Daddy's Assistant, Frug Dancer, Specialty Dancer: Natalie Patrick
First Young Man, Marvin: Joey Perez
Baseball Player, Man in Elevator, Frug Soloist, Specialty Dancer: Brady Phillips
Ticket Booth Man: Jared Pugh
Policewoman, Dance Hall Hostess, Daddy's Assistant: Holly Roehl
Dance Hall Hostess: Corissa Sellers
Policewoman, Rosie: Devoree Shields
Second Man, Frug Dancer, Specialty Dancer: Peyton Sparks
Information Booth Girl: Hope Spires
Panhandler: Seadona Taloma
Girl, Specialty Dancer: Allie Triepke
Suzanne, Frug Soloist, Frug Specialty Dancer: Katie Van Horn
Waitress: Jenae Vancura

Director: Kathleen Cannarozzi Harris
Vocal Director: Diane King Vann
Musical Director: John Hannan
Choreographer: Kristi Davar
Technical Director: Matthew White
Production Assistant: Lisa Goins
Makeup: Katie Agrela
Stage Manager: Virginia Rumbaugh

~ Orchestra ~
Percussion: Mahan Bani
Alto Saxophone, Clarinet: Blake Bradley
Piano: Tatiana Bush
Drums: Tristan Estrella Forseth
Baritone/Tenor/Alto Saxophone, Clarinet, Bass Clarinet: Alex Golden
Cello: Michelle Griffith
Trumpet: Kaizo Hall
Trumpet: Takazo Hall
Oboe, Tenor Saxophone, Clarinet: Bennett Kai Imai
Cello: Gillian Ippoliti
Trombone: Jakob Kiebach
Percussion: Shain Kinnie
Guitar: Daniel Martz
Bass: Carly Nolan
Violin: Kevin Phan
Violin: Soonthornxanakij Prueksarak
Trumpet: Samantha Ray
Flute, Alto Flute, Piccolo: Kathleen Riggert
Bass Trombone: Ricky Sahara
Bass: Jasmine Salcido
Violin: Rachelle Schouten
Violin: Jenna Schouten
Flute, Piccolo: Cynthia Shimada
Trombone: David Suzukk
Cello: Hannah Vines
Electric Bass: William Wildrick