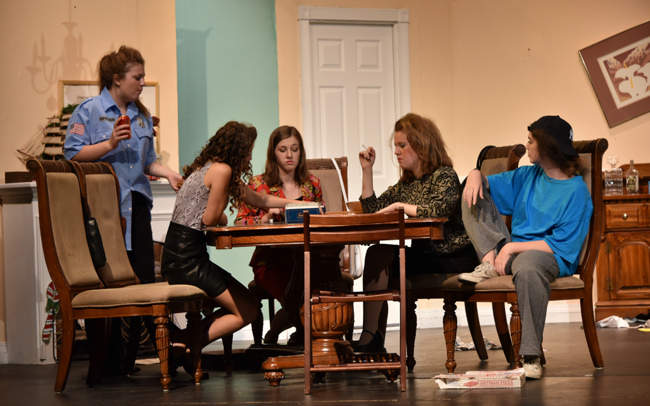 The Odd Couple, following its premiere on Broadway in 1965, was revived in a successful 1968 film and television series centered around the male leads , and then again later in 1985 to feature a pair of female roommates (Florence Ungar and Olive Madison) in The Female Odd Couple.

The setup is pretty much what you would expect. Olive is a newscaster who is single and lives alone until Florence, recently separated from her husband, moves in and neurotically tries to clean up Olive's sloppy life. They drive each other nuts, and the audience gets to enjoy the aftermath. Some of the original one-liner zingers are also used in the female adaptation, such as: "You're going to eat food from that refrigerator? I saw milk standing in there that wasn't even in the bottle!"

"The Odd Couple (Female Version)" does features plenty of girl power on display with Mission Viejo High School's current staging — spotlighting a cast of seasoned high school players that was truly laugh out-loud funny!
Katie Van Horn is the picture of neuroses as fussy Florence, fluttering about the stage in fits of martyred cleanliness. And although Genna Hewett-Abbott seems far too put together for messy sportswriter Olive, she delivers her lines with understated style.
The mismatched roommates are joined by a crew of wisecracking gal pals, who gather in Olive's apartment for cutthroat rounds of Trivial Pursuit rather than poker. Director Lisa Goins, along with Producer Kathy Cannarozzi Harris, has assembled a number of favorites here, including Hailey Buck, Holly Roehl, Virginia Rumbaugh and Miranda Cowdrey. There's a nice sense of camaraderie among the women, who trade verbal barbs like pros.

Everyone seemed a bit tentative in the first few minutes Saturday evening, but the cast soon settled into a comfortable groove, making the most of the play's gentle humor. And Act II receives a solid boost of hilarity with the arrival of Spanish neighbors Manolo and Jesus, who show up for a delightfully disastrous dinner party. Trevor Casillas and Jared Pugh are clearly having fun as the eccentric Spaniards. But again, the physical humor far outweighs some of the tepid laugh lines — which rely primarily on language barriers and stereotypes.

My first time seeing the female version of the play, and I was delighted with the result. Mission Viejo High School created a masterpiece on stage, combining an ensemble of proven talent that delivered the goods and left you chuckling all the way home.

Performed September 24 - 26, 2015

Chris Daniels
National Youth Arts


~ Cast ~


Add Artist Page
Sylvie: Hailey Buck
Mickey: Holly Roehl
Renee: Virginia Rumbaugh
Vera: Miranda Cowdrey
Olive Madison: Genna Hewett-Abbott
Florence Unger: Katie Van Horn
Manolo Costazuela: Trevor Casillas
Jesus Costazuela: Jared Pugh

Director: Lisa Goins
Producer: Kathy Harris
Hair/Makeup: Corissa Sellers / Rachel Heurlin
Set: MVHS StageCraft Class
Lighting Design: Hunter Berriee / Chris Fadling
Sound Design: Jackson Maxwell / Ameena Yameen