"You pile up enough tomorrows, and you'll find you're left with nothing but a lot of empty yesterdays. I don't know about you, but I'd like to make today worth remembering."

And so says one of the most memorable con men in American theater, Professor Harold Hill, who brings a big con to small town Iowa in "The Music Man," currently in production at Mission Viejo High School's Performing Arts Theater, who, once again, has a crowd-pleasing hit on their hands. The classic tale is Diablo Drama Club's spring musical and is directed by Kathleen Cannarozzi Harris, musically directed by Robert Westphal, and vocally coached by Diane King Vann. Now getting ready for its second weekend, the performances continue on their main stage beginning Thursday, May 3rd, 4th and 5th at 7:00pm.

Meredith Willson's, "The Music Man," first produced on stage in 1957, was the winner of 5 Tony Awards, including Best Musical. It's the story of 'Professor' Harold Hill, who is a con artist posing as a boys band organizer who sells band instruments and uniforms to the naïve townsfolk of 1912 River City, Iowa for a band that won't ever play. Hill's plan is to collect the money and skip town before it is revealed that he can't carry a musical note in a bucket.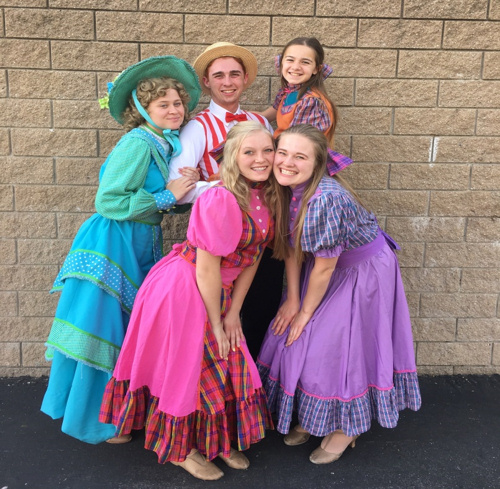 Ben Sellers plays the iconic snake-oil salesman with presence and pizzazz and a fair amount of ease. Toeing the line between sleazy and charming, Hill is able to fool some of the goofier residents of the city, including Mayor Shinn (a very funny Jeffrey Baker), his wife Eulalle MacKecknie Shinn (the equally hilarious Hope Spires) and the entire school board, who form into a tight-sounding barbershop quartet.

Balancing out Hill's wacky antics is the straight-laced librarian Marian Paroo, who sniffs out his plot but holds back on exposing him when she sees the good he's doing for the community. What could easily be a typical "damsel waiting for her prince" role is elevated by actress Shera Starr, who exudes both charisma and aching emotion with her showdowns with Hill and on songs like "Goodnight, My Someone" and "Will I Ever Tell You." Marian is reimagined not as a delicate and demure young thing but as a strong and secure woman who holds her own.

Too many to mention all, some of the other charmers were Devoree Shields, as Mrs. Paroo, Marian's mother (a gem in any production), and was dynamite all the way! And there was little brother, Winthrop, played by Justin Jacobson and, of course, Addison Bremmer as young Amaryllis. Jacob Beaver plays a dashing Tommy, Kayla Morgan a lovely Zaneeta, Charlie Massey a hilarious Marcellus and Ethan Cox an assertive Charlie. And, The River City Teens, Pre-Teens, Pick-A-Little Ladies and River City Children ensemble groups all had smiles that could melt icebergs and charm the legs off a pool table.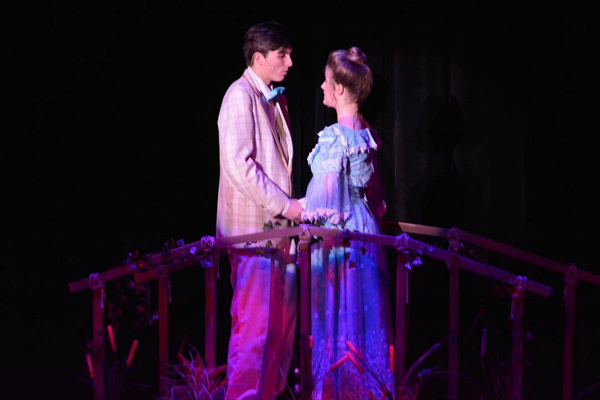 But so can the show's wonderfully luscious tunes that include the iconic "Seventy Six Trombones," "Till There Was You," "Ya Got Trouble (Right Here in River City)," "The Wells Fargo Wagon," and "Pick-A-Little, Talk-A-Little." Hats off, by the way, to the wonderful 22-piece orchestra who accompanied this performance beautifully.

Costumes by The Theatre Company led by Sofia Migliaccio & Natalie Moreta were simply breathtaking, Choreography was superbly presided over by Kristi Davar, Lighting & Set Design was handled by Matthew White and Sound Board Operators were Sara Haddadin & Satouri Robins. For online ticket information, go to https://www.mvhsdrama.com/

This is a highly recommended show!

Performed April 26 - May 5, 2018

Chris Daniels
National Youth Arts


~ Cast ~

Add Artist Page
Professor Harold Hill: Ben Sellers
Marian Paroo: Shera Starr
Mayor Shinn: Jeffrey Baker
Mrs. Paroo: Devoree Shields
Eulalie MacKecknie Shinn: Hope Spires
Charlie Cowell: Ethan Cox
Marcellus Washburn: Charlie Massey
Winthrop Paroo: Justin Jacobson
Zaneeta Shinn: Kayla Morgan
Gracie Shinn: Kate Bremmer
Beatrice Squires: Hayden Eckhaus
Constable Locke: Zach Dove
Travelling Salesman: Jack Muench
Conductor: Matthew Helmuth
Ewart Dunlop: Kenny Cook
Oliver Hix: Jordan Davenport
Jacey Squires: Kevin-Nam Pahn
Olin Britt: Keegan Clifford
Amaryllis: Addison Bremmer
Alma Hix: Rachel Golkin
Maud Dunlop: Seadona Taloma
Ethel Toffelmier: Sarah Smith
Mrs. Britt: Lily Ohman
Mrs. Locke: Molly Heald

River City Teens -
Emily Boyer, Jenna Bowman, Lexi Cook, Sarah Harris, Sofia Migliaccio, Amanda Mitchell, Natalie Moreta, Natalie Patrick, Alexis Triepke, Ethan Cox, Toby Devartanian, Andrew Gallo, Matthew Helmuth, Elijah Lopez, Jack Muench, Carson Roman, Liam Shannon, Jordan Squicciarini, Brandon Wagner

River City Pre-Teens -
Brigit Colwell, Ruth Nair*, Caitlinh Phan, Kayla Scott

Pick-A-Little Ladies
Annaliese DiCamillo, Makena Kobayashi, McKenzie Norris, Abby Ross, Maddy Watts

River City Children -
Kayla Narath, Bethany Strawn

Director: Kathleen Cannarozzi Harris
Costume Designer: The Theatre Company
Set Designer: Matthew White
Lighting Designer: Matthew White
Sound Designer: Ms. Sara Haddadin & Satouri Robins
Hair/Makeup Designer: Sofia Migliaccio & Natalie Moreta
Choreographer: Kristi Davar
Music Director: Robert Westphal