The Music Man, Jr.
by
MET2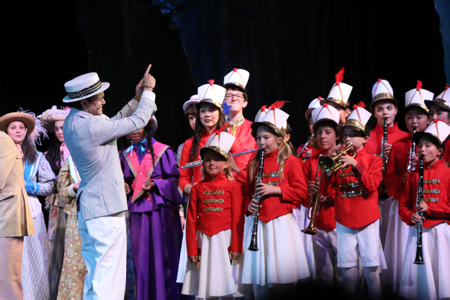 THE SHOW:
Book, music, and lyrics by Meredith Willson, based on the story by Willson and Franklin Lacey. Debuted on Broadway in 1957.
It looks like an idyllic day in the small town of River City, Iowa for the Fourth of July in the troubleless year of 1912. But they've got trouble with a capital 'T' when slick con artist Harold Hill arrives on the train. Despite not knowing one music note from another, he promises to solve all the town's problems by forming a boys' band, selling instruments and uniforms to the eager River City citizens desperate to stave off the looming crisis represented by the presence of the first pool table in town. Hill's planned everything down to the first train out of town following delivery of the uniforms. But he couldn't plan on the town's piano teacher, Marian the librarian. This slice of Americana includes such standards as Seventy-Six Trombones, Ya Got Trouble, Gary Indiana, and Till There Was You.
THE PRODUCTION: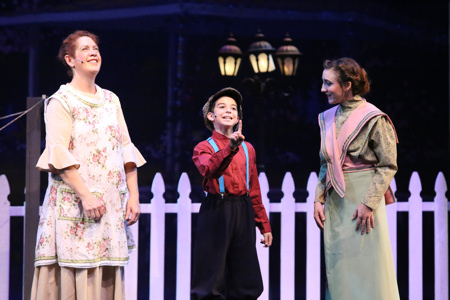 MET2 could easily field a band of 76 trombones with their huge cast on the Torrance, California stage. This junior version of the show is directed and choreographed by Alison Bretches who knows how to work a couple hundred performers into the show, including giving the younger ensemble members more time to shine. The show also features professional-looking backdrops and sets (Alison Bretches and Ken Basore). And a gorgeous assortment of countless turn-of-the-century costumes by Kathie Urban completes our visual feast that transports us back a hundred years ago.
The cast includes children of all ages and several adults. Conducting us through River City's troubles is the wand of highly talented high school performer Daniel Bellusci who has great vocals, charisma, and a natural feel for smooth-talking salesman Professor Hill whether he's brown-nosing the mayor's wife (Hailey Stillman-Riddle who plunges into her interpretive dancing with melodramatic gusto), making himself an inspirational leader to River City's younger generation, or romancing the local librarian and music teacher. Jessica Porter is Marian the Librarian, delivering beautiful vocals and good personality throughout, and teaming up with Harold for a lovely Till There Was You.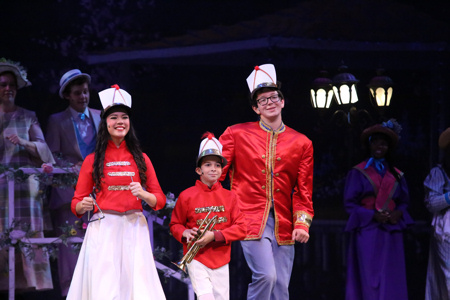 Just a few of the other strong performances include Tessa Southwell as a hilarious Zaneeta Shinn closely accompanied by Jacob Reno as boyfriend Tommy, Max Chester as Marian's lisping brother Winthrop shaking off his shyness for a rousing Gary, Indiana with his sister and his delightful mother Mrs. Paroo (Cheryle Stites), Emma Cool as an amusing and not remotely shy Amaryllis who quickly gets herself primped and polished as soon as Winthrop comes through the door, Tyler O'Bryan as Harold's friend Marcellus, Gregg Ledergerber as the mayor, and Evan Krausz as a determined anvil salesman. While the ensemble of River City citizens bring the town to life including a parade of little strutting Pick-a-Little ladies, excited potential customers for the Wells Fargo Wagon, funny reactions to the mayor's town hall speech, and thrilled new members of a make-believe band playing 76 Trombones.
Performed October 25 - 27, 2013
Photos by Nancy Hickey
Rob Hopper
Facebook
Instagram

Executive Director
National Youth Arts
~ Cast ~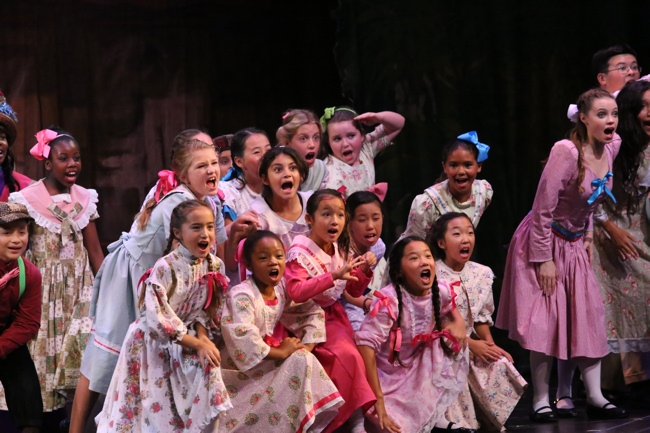 Add Artist Page

Harold Hill: Daniel Bellusci
Marian: Jessica Porter
Mrs. Paroo: Cheryle Stites
Amaryllis: Emma Cool
Winthrop: Max Chester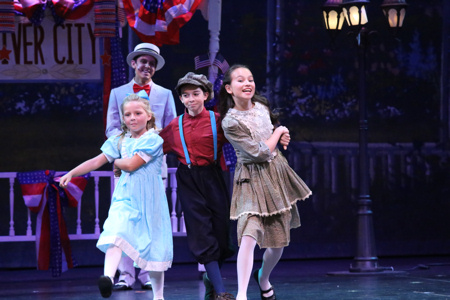 Marcellus: Tyler O'Bryan
Tommy: Jacob Reno
Mayor Shinn: Gregg Ledergerber
Eulalie Shinn: Hailey Stillman-Riddle
Zaneeta: Tessa Southwell
Gracie: Tanner Baldwin
Ethel: Shayli Regan
Alma: Carolyn Vaimoso
Maud: Nicole Pennington
Mrs. Squires: Sara Bozin
Jacey Squires: Ken Kubo
Ewart: Kirk Stefferud
Olin: Jordan Simpson
Oliver: Kevin Kubo
Charlie: Evan Krausz
Constable Locke: Michael Disario
Conductor: Michael Moroso
Salesman #1: Kevin Kubo
Salesman #2: Natauro
Salesman #3: Bennett Chester
Salesman #4: Michael Disario
Salesman #5: Ken Kubo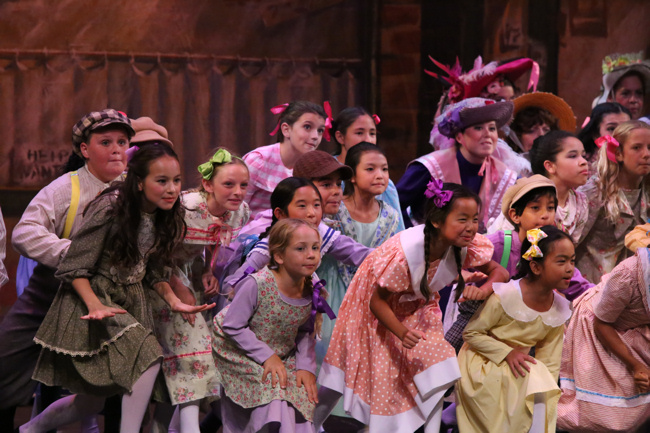 Ensemble:
Izumi Ando
Midori Ando
Renee Arehart
Kenadee Ash
Madyson Ash
Melissa Avina
Blu Bakhoum
Clay Bakhoum
Tylin Bakhoum
Javier Baldenegro
Tanner Baldwin
Trevor Baldwin
Sonja Barth
Katrina Blackman
Jacquari Blackmon
Lauren Bloss
Sara Bozin
Kate Byun
Kenjo Cable
Tyler Cable
Jade Campbell
Lacey Capps
Mackenzie Capps
Gabriela Carter
Bennett Chester
Max Chester
Emily Chow
Alison Cool
Emma Cool
Daniella Delgadillo
Linda Desrosiers
Jackie Diaz
Laila Digras
Madeline DiMascio
Elise DiPaola
Michael Disario
Isabella DiStasio
Bijou Douglas
Kelsey Dullack
Sarah Filek
Ciara Fuentes
Joe Fukano
Laniyah Garcia
Adam Gibson
Mia Gibson
Sara Gilger
Cruz Gonzalez
Romina Green
Jeff Grundy
Haley Guinn
Audrey Gutierrez
Olivia Gutierrez
Josiah Hankerson
Justin Hardin
Lucy Hayward
Paige Hayward
Emma Hoffman
Mia Hoffmann
Halle Holzbauer
Maya Hughes
Hannah Hymovitz
Katrina Iguban
Serena Jiao
Catherine Johnson
Lily Johnson
Noah Johnson
Nana Kato
Naotaro Kato
Nasa Kato
Kyra Kaya
Alyssa Ketsdever
Anna Kim
Katie Kim
Marie Kim
Miya Konishi
Jasmine Kono-Song
Hallie Kostrencich
Samantha Krug
Rachel Kunze
Nathan Ladabouche
Arwen Lakandula
Christina Le
Amy Ledergerber
Gregg Ledergerber
Janet Lim
Kamila Lovato
Adam Magpoc
Kailyn Magpoc
Jami Martin
Jessi Martin
Bell Martinez
Zakiya Maxey
Kylie McElroy
Mason McElroy
Molly Melia
Patrick Melia
Jaila Merritt
Julian Merritt
Braniyah Monday
Joelle Moroso
Michael Moroso
Kayla Nguyen
Lydia Nitzschner
Miu Noguchi
Alex Noyes
Zach Noyes
Tyler O'Bryan
Devin Ochoa
Keira Okada
Scarlet Otte
Violet Otte
Mauro Alexander Palomo
Arianna Paredes
Utsa Parikh
Kira Parrish
Isabella Pellicciari
Nicole Pennington
Alissa Phillips
Patricia Pineda
Tyler Pioch
Alyssa Poe
Jessica Porter
Brendan Prasad
Shayli Reagan
Bridget Reeder
Jacob Reno
Madison Reno
Madison Avery Ruth
Mya Sanders
Jessica Sarkisian
Michael Savic
Elise Schmitt
Mihir Shenoy
Harrison Shepherd
Sadie Rose Shepherd
Maki Shigetani
Julia Silva
Jordan Simpson
Melissa Smith
Michael Smith
Tessa Southwell
Kirk Stefferud
Cheryle Stites
Kiera Strader
Leila Sugimoto
Cailey Umamoto
Carolyn Vaimoso
Kylie Voigt
Todd Warren Jr.
Bailey-Nicole Williams
Geneva Williams
Jayda Williams
Madison Williams
Samantha Yanagi
Ellie Yun
Harry Zhu

Director & Choreographer: Alison Bretches
Assistant Director/Assistant Choreographer: Kaeli Carr
Musical Director & Accompanist: Graham Jackson
Lighting Design: Edgar Calderon
Scenic Design & Concept: Alison Bretches and Ken Basore
Costume Design: Kathie Urban
Production Photography: Nancy Hickey
Production Stage Manager: Corielle Zambrotta-Lopez
Executive Producer: Kathie Urban
Associate Producer: Mary Clausen