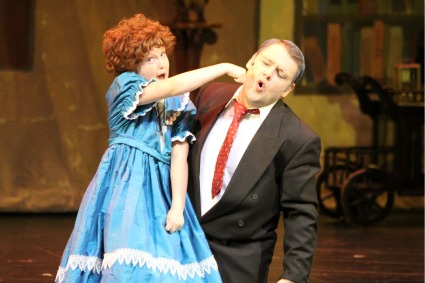 The Show:
It's a Hard-Knock Life for orphans during The Great Depression. Especially when you're being raised by the little girl-hating Miss Hannigan. But in this beloved musical by Thomas Meehan, Charles Strouse, and Martin Charnin based on that curly red-headed Little Orphan Annie of comic strip fame, all those problems are nothing that can't be fixed just so long as you believe the sun will come out Tomorrow. And if that optimism ain't enough? Try being adopted by Daddy Warbucks – the billionaire!
The Production:
MET2 has been staging Annie for a couple decades now, and they know what they're doing. Director/Choreographer Alison Bretches has a great eye for comic potential and her choreography is both lively and humorous. The visuals are all there with beautiful sets and backgrounds, and excellent costumes (Kathie Urban) for their cast of two hundred or so kids. And when two hundred orphans literally kick out It's a Hard-Knock Life, you believe 'em!
For their summer production in Northridge, young Sofia Cohen stars in the title role with some big belts for Maybe and Tomorrow, and turning in a charming I Don't Need Anything But You duet with Daddy Warbucks (Matthew Weeden). And it's gotta be tough to grow up charming when you're raised in the orphanage by Miss Hannigan. Mady Rasey is hysterical and original in the role of Hannigan, including some serious stalking of an uncomfortable FDR and a terrific condemnation of a life surrounded by hundreds of Little Girls – forcing her to "breathe them" (sung with a deep breath in) and to "see them" (sung like seeing dead people in The Sixth Sense). Warbucks's executive secretary Grace Farrell is happy to take at least one of the little girls off her hands, with Kelsey Shaw bringing in the perfect mix of executive style, executive smarts, natural humor, and a tender and delighted affinity for Annie.
The huge cast is sprinkled with adults in some of the adult roles. Matthew Weeden provides a great personality for Warbucks that is both humorous and moving, adding a nice touch with body language of a man who's always been socially awkward and is just starting to realize all he's been missing. On Hannigan's side we have her brother Rooster, with Marc Snetiker slipping nicely into a laughably sleazy gangster role. And by his side is his ditzy hotel girlfriend, Lily St. Regis, with Kaeli Carr delivering hilarious personality, vocal work, and physical humor as a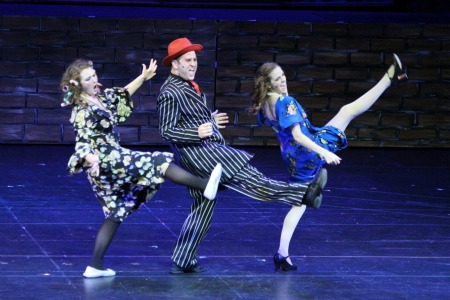 flighty woman rather infatuated with herself and the aura all around her (given to flowing her hands through the air in swirls). Together with Hannigan, they take us for a fun ride down Easy Street.
Elsewhere, Bob Mills is an amusing FDR who talks his way wittily through Tomorrow, AC Gottlieb is a neurotic radio host Bert Healy who fights his tap dancer sound man for not tapping the way he wants him to tap, and Sara Gutierrez shines as a NYC Star To Be. A few adults and lots of teenagers are a charismatic band of Warbucks servants and struggling residents of Hooverville. Bella Lopez is little Molly who does a pretty good Hannigan impression and Sydney Jones is Tessie whose many "Oh my goodness!" lines are trembling with trepidation and who helps lead the countless orphans in Never Fully Dressed. And those orphans are tops in that number as well as doing It's a Hard-Knock Life with spit and polish and orneriness, and giving us hope for the future as part of the big Tomorrow finale.
Performed July 8 - 10, 2011
Photos by Nancy Hickey
Rob Hopper
Facebook
Instagram

Executive Director
National Youth Arts
~ Cast ~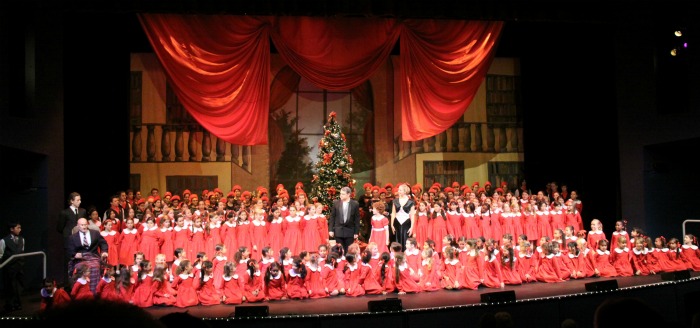 Add Artist Page

Annie: Sofia Cohen
Warbucks: Matthew Weeden
Grace: Kelsey Shaw
Ms. Hannigan: Mady Rasey
Rooster: Marc Snetiker
Lily: Kaeli Carr
Pepper: Alexia Nagayama
July: Amanda Carr
Duffy: Ciara Adise
Tessie: Sydney Jones
Kate: Nikki Taylor
Molly: Bella Lopez
Bundles: Evan Krausz
Officer Ward: Jeff Adise
Drake: Mark Shandling
Star to Be: Sara Gutierrez
Bert Healy: AC Gottlieb
Wacky: Max Chester
FDR: Bob Mills
Sandy: Missy
Fred: AC Gottlieb
Sophie: Kim Nagayama
Artie: Evan Krausz
Eddie: Sebastian Briones
Peggy: Chelsea Caldwell
Ira: Kurt Winterhalter
Mary: Hailey Stillman-Riddle
Jane: Alyxon Knell
Pugh: Kristina Charles
Greer: Nicole Pennington
Cecille: Brynnea Irvine
Annette: Catherine Charles
Popcorn Boy: Dylan Goldstein
Apple Seller: Dylan Goldstein
Boylan Sisters: Sara Gutierrez, Maria Hanley, Brianca Renfro
Johnson: Evan Krausz
McCracken: Timmy Morales
Louis: Devin Knell
Ensemble:
Miana Abramson
Bola Adeniran
Ciara Adise
Eliana Adise
Jeff Adise
Eileen Alcorn
Ivie Alcorn
Alana Altamirano
Julissa Arellano
Lorraine Arteaga
Siena Avila
Sandra Avitia
Rebecca Ayala
Stephanie Baguinat
Perla Barajas
Deeter Barbeau
Eugene Barbeau
Celeste Bashaar
Katelyn Basore
Mackenna Basore
Patrick Basore
Abby Beck
Samantha Bell
Emily Marie Blair
Emily Borses
Elizabeth Bostrom
Joely Bothast
Francesca Briones
Isaiah Briones
Sebastian Briones
Kayleh Brown
Chelsea Caldwell
Amber Campochiaro
Anna Carlson
Emma Carlson
Hannah Carpenter
Amanda Carr
Viviene Carvajal
Isabella Castrellon
Mya Cervantes
Catherine Charles
Emilie Charles
Joshua Charles
Kristina Charles
Marie Charles
Bennett Chester
Max Chester
Hannah Chubin
Sofia Cohen
Maddie Conroy
Isabella Cook
Kailyn Crossley
Kelly Darroch
Isabella Davalos
Devyn Debrosse
Allan C. Dewey IV
Eden D-Rosen
Danielle Duitsman
Darren Duitsman
Gary Duitsman
Lucy Earl
Avery Edwards
Amber Estrada
Benjamin Fallon
Nathan Fallon
Kamea Fisher
Angela Fraioli
Caroline Fraioli
Claire Frankland
Cassandra Frias
Xavier Frias
Arleigh Frumes
Sophia Gabay
Christian Galarza
JessieCeline Gallarza
Claire Gauthier
Joan Genova
Brooklynn Gigliotti
Dylan Goldstein
Gianne Gonzalez
AC Gottlieb
Karen Goulet
Cayla Green
Amanda Gutierrez
Audrey Gutierrez
Olivia Gutierrez
Sara Gutierrez
Bailey Guzman
Sofia Guzman
Kylie Hamuel
Maria Hanley
Shelbi Harrison
Madison Ariel Hayes
Brooklyn Hendrick
Jahnie Hoffman
Emma Hogarth
Louise Holden
Dominica Hotchkiss
Emma Howard
Emily Hurtado
Brynnea Irvine
Cameron Irvine
Lauren Jamora
Cassie Jingco
Daniela Johns
Lucy Jones
Sydney Jones
Isabella Rebecca Juggler
Remi Kamberian
Morgan Kaminsky
Sedona Kaye
Molly Kearns
Brooklyn Kilgrow
Jaelyn Kilgrow
Ayanna Kimbro
Alyxon Knell
Devin Knell
Maddie Knight
Morgan Knight
Danielle Kraljevski
Stefanie Kraus
Evan Krausz
Jason Landa
Isabella Laufer
Juliette Laufer
Charisma C. Leon
Ian Lindley
Farrow Lockwood
Madison Long
Erick Lopez
Frankie Lopez
Isabella Lopez
Jayden Lopez
Kasandra Lopez
Evalyn Lucero
Amanda Lukban
Lacey Lumaya
Sarah Lutzky
Noelle Marindo
Mariah Martinez
Taryn Martin-McClay
Mattea Marzett
Jillian McKie
Cambrya Melendez
Shana Mendelsohn
Jude Monge
Zoe Monge
Jasmine Moore
Ashley Morales
Erin Morales
Tim Morales
Nina Mostafa
Meagan Muravez
Kiersten Musitelle
Alexia Nagayama
Kim Nagayama
Zoe Nemetz
Jamie O'Bryan
Megan O'Bryan
Bryana Orellana-Javier
Delaney Packer
Karma Paez
Isabella Papazian
Ellie Pearlman
Nicole Pennington
Zoe Pessin
Alyssa Pieprzyca
Choice Plasencia
Marshall Ponder
Natalie Posell
Michael Potemkin
Ayron Quiazon
Nicole Radovcich
Gabriella Raine
Aria Cheyenne Ramirez
Mylia Ramos Rosen
Mady Rasey
Amanda Reed
Brianca Renfro
Miranda Rice
Eduardo Rios
Sarah Rodriguez
Amelia Roisman
Arianna Romero
Alyse Rovner
Mara Saliman
Emily Salz
Elizabeth Schonholz
Jared Schonholz
Sidney Schonholz
Abraham Sculler
Rebecca Sculler
Sarah Sculler
Frank Seed
Cassidy Sera
Caedmon Serrano
Jessica Shandling
Mark Shandling
Kelsey Shaw
Alana Sheehan
Max Sheldon
Naamah Silcott
Ryan Sokolov
Serene Solakian
Sophie Solakian
Isabella Stagliano
Hailey Stillman-Riddle
Kendall Stillman-Riddle
Cheryle Stites
Alyson Sword
Grace Sword
Joshua Tagum
Elleia Tampi
Johnny Tampi
Louisa Tampi
Brittany Tangermann
Micah Tangermann
Nikki Taylor
Paula Tillotson Hagos
Hannah Tolentino
Malia Tolentino
Armand Tripp
Patricia Tripp
Maddison Trist
Riley Trist
Skyler Twersky
Emmy VanTassell
Elizabeth Verdin
Jolie Waddles
Morgan Wagner
Morgan Wakefield
Bryson Wapner
Harrison Wapner
Keira Rose Ward
Ben Wargowski
Naomi Weinreb
Sara Whiteman
Rhianna Wicken
Braden Wilson
Kurt Winterhalter
Margaret Yu

Director & Choreographer: Alison Bretches
Assistant Director/Assistant Choreographer: Kaeli Carr
Musical Director & Accompanist: Ryan Cantwell
Lighting Design: Jesse Sheldon
Scenic Design & Concept: Alex H. Urban
Costume Design: Kathie Urban
Production Photography: Nancy Hickey
Production Stage Manager: Corielle Zambrotta-Lopez
Executive Producer: Kathie Urban
Associate Producer: Mary Clausen