Peter Pan
by Mesa High School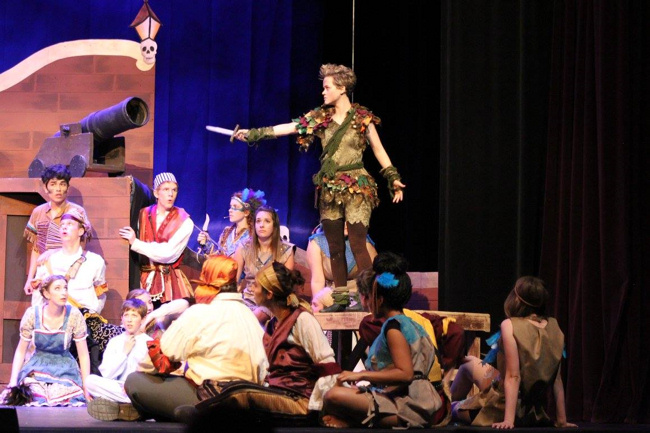 THE SHOW:
Music by Mark "Moose" Charlap, with additional music by Jule Styne, and lyrics by Carolyn Leigh, with additional lyrics by Betty Comden and Adolph Green, with a story based on J. M. Barrie's 1904 play Peter Pan and his novel "Peter and Wendy."
Somewhere there's a land full of pirates and Indians and fairies and Lost Boys who never grow old. The land is Neverland, an island so small there is hardly any room between one adventure and another. The leader of the Lost Boys is, of course, Peter Pan – the magical boy who flies the Darling children from their home in London to his latest adventures. But in this musical adaptation of J.M. Barrie's immortal fairy tale, you can only finish the adventure if you're still young enough to believe in fairies.
THE PRODUCTION:
Mesa High School stages this huge production of Peter Pan with impressive sets and costumes, zfx flying, and a big, talented cast, but all while also putting nice touches on the individual relationships and intimate scenes the show features. Director Sandy Stones always has some beautiful and innovative touches to include, and Calli Overstreet's creative choreography adds humor and dazzles.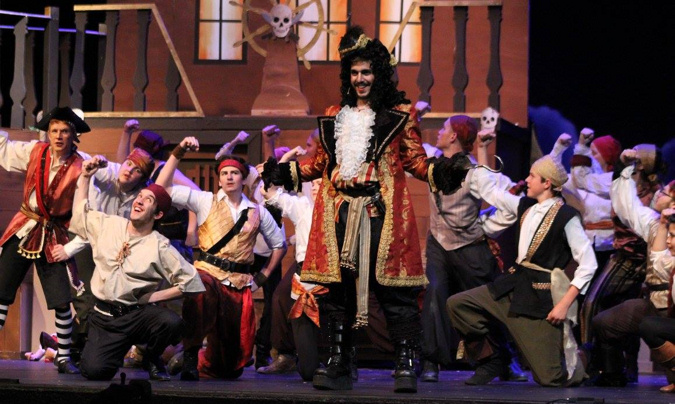 Holly Payne is Peter Pan, a remarkable acting and vocal talent whose boyishness feels natural and who fills the role with soul both fun and deep, ever exuding charisma whether sing of Never Never Land, leading the Lost Boys, struck by a distant memory as he sings his mother's lullaby, or antagonizing his nemesis Hook either as a Mysterious Lady or as the Pan fighting the pirate for his friends. That's Noah King reigning over his pirates with hilariously villainous swagger, style, and comedic timing while he prepares his team for war with Peter's Lost Boys, his loyal and amusing Smee (Keaton Harris) ready at his side and the two playing off each other nicely.
Judy Schnebly shines as Wendy Darling adding lots of personality to the character and a knack for storytelling, with Zakariah Gneiting and David Meek as younger brothers John and Michael charging happily into the air and into their newfound club of Lost Boys. Emily Campbell is lively, fun, and regal as Tiger Lily. Jillen Whitmer is authentically motherly as Mrs. Darling with a mix of tenderness and humor. And additional memorable performances come from Miranda Krist as the adventurous servant Liza who quickly adapts to the playfulness of Neverland, Becca Bingham who glows as Jane Darling excited for her first trip with Peter Pan, and Brie Wadsworth giving great character and humor from within the enormous Nana costume. Not to mention the smaller Neverland animals Matthew Meek, Sarah Schnebly, Susan Meek, and Sedona Schnebly used cleverly and adding some extra adorable to the show.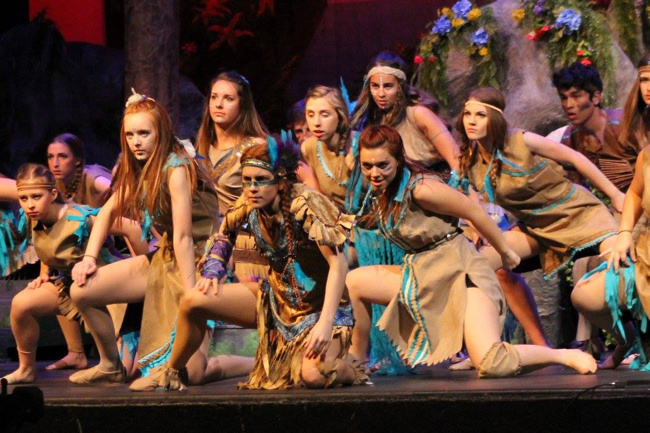 And then there are all the group scenes where there's so much cohesiveness and individuality. The dynamic and athletic Indians. The dastardly pirates with the gift of physical comedy. And the team of Lost Boys so excited and proud at their killing of the Wendy Bird, joining with the Indians in the terrific Ugg-a-Wugg dance, a touching goodbye scene with their leader Peter, and excitedly joining with Peter in assuring us that they won't grow up. As a whole, the cast and creative team of Mesa High keeps the adventure, comedy, poignancy, and magic very much young and alive.
Performed March 30 - April 9, 2016

Photos by Kim Sherwood Rapier
Rob Hopper
Facebook
Instagram

Executive Director
National Youth Arts
~ Cast ~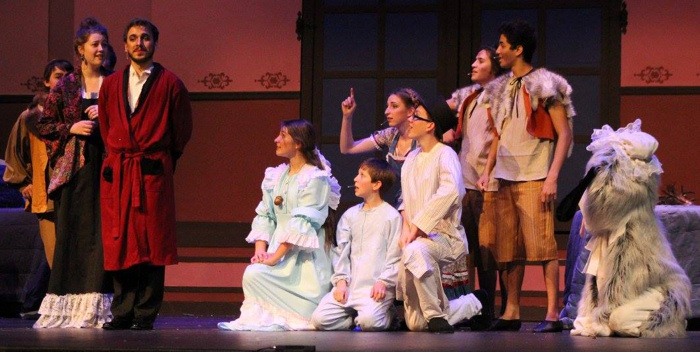 Add Artist Page
Peter Pan: Holly Payne
Captain Hook/Mr. Darling: Noah King
Wendy Darling: Judy Schnebly
John Darling: Zakariah Gneiting
Michael Darling: David Meek
Mrs. Darling: Jillen Whitmer
Smee: Keaton Harris
Tiger Lily: Emily Campbell
Liza: Miranda Krist
Jane Darling: Becca Bingham
Tootles: Jetae Schoenemann
Slightly: Ben Meek
Curly: Emma Welch
Nibs: Joey J Grado
Twins: Tyree Noe, Anson Romney
Bubbles: Shawna Romney
Lion: Matthew Meek
Ostrich: Sarah Schnebly
Deer: Susan Meek
Kangaroo: Sedona Schnebly
Nana/Crocodile: Brie Wadsworth

Indians:
Becca Bingham
Brielle Bowden
Aysia Campbell
Clara Carcano
Brionne Courtney
Emery Cunningham
Anna Davis
Tyler Ellingson
Christin Estes
Becky Gates
Megan Gates
Tenna King
Miranda Krist
Danni Pace
Breanne Pearce
Tara Rapier
Salvador Verdugo
Roxy Wadsworth

Pirates:
Jason Aston
Spencer Beckwith
Peter Carroll
DAvid Chandler
Zach Clawson
Manday Crandall
Ella Crockett
Phillip Crosby
Natalie Curtis
Brian Daniels
Kyle Ellingson
Jamie Graves
Nicole Hakes
Johnnie Johnson
Victor Morales
Robbie Morgan
Edna Ruiz
Beatriz Salano
Landon Schnebly
Christian Telleria
Jennifer Trinker
Kaisa Woolf

Director: Sandy Stones
Musical Director: Connie Turley
Choreographer: Calli Overstreet
Assistant Choreographer: Brie Wadsworth
Student Stage Manager: Rex LeBaron
Costume Coordinator: Leslie Woolf
Crocodile/Nana Construction: Becky DeWitt
Props:
Zoe Schnebly
Jenn Crandall
Suzie Curtis
Tami Pace
Sound: Tanner Elkins
Lighting Design: Cesar Pineda