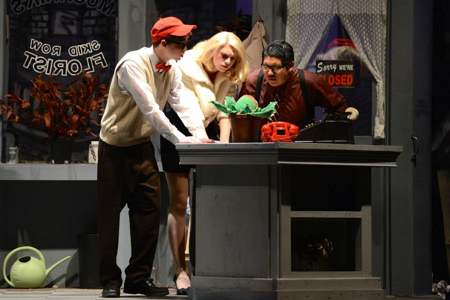 The Show:
Little Shop of Horrors is the musical spoof based on the 1960 Roger Corman film, stuffed with delectable dark comedy and featuring a great musical score by Alan Menken and Howard Ashman (The Little Mermaid, Beauty and the Beast, Aladdin). The tale stems from when the meek and nerdy Seymour finds a strange and unusual plant that resembles a flytrap, although he hasnít been able to find the exact species in any books covering terrestrial foliage. This peculiar plant seems to bring him and his employer all manner of good luck, turning their empty floral shop on skid row into a thriving enterprise with profits out of this world, all while love blooms between Seymour and his coworker Audrey who dreams of getting out of skid row to live Somewhere Thatís Green. Unfortunately, Audreyís namesake plant, the Audrey II, demands a steady supply of nutrients from something thatís red.
The Production:
Director Patrick McChesney and the Marcos de Niza Performing Arts staged a big, splashy, fun, and at times serious production of Little Shop of Horrors with a deeply talented cast. Zack Mauck and Jordan Scott lead it as Seymour and Audrey. Zack captures all facets of his character as the
amusingly meek Seymour who excels in singing, dancing, and acting Ė his conscience nagging at him as he sets up some murders, growing angry when Audrey is abused by her boyfriend, and getting romantic for their Suddenly Seymour duet (that begins with Zack taking off his glasses, and getting momentarily dizzy after he does so). Jordan also shines in Suddenly Seymour and throughout with strong vocals and acting Ė a darker, more real and vulnerable Audrey than usual.
Sam De la Osa transforms himself into an appropriately middle-aged man as shop owner Mr. Mushnik, connivingly adopting Seymour in a memorable Mushnik & Son cleverly choreographed by Amanda Paige. J. Cole Shryock embraces his inner sadist as the dentist boyfriend, infatuated with his dull, antique drill, frantically chasing Seymour in Itís Just the Gas while using dental instruments to try to pry off a stubborn gas mask. Avery Jones is the voice of Audrey II, his remarkable vocals and personality shining through as he eggs Seymour on in Get It and taunts in his hungry Suppertime, the enormous plant puppet animated expertly by Dominic Bonelli and Grant Pompa. Guiding us through it all are the dynamic talents of Reina Montalbo, Emily Spindler, and Peiton Bursh who narrate with charm and style. While the cast as a whole makes the most of their time on stage including getting things going with a passionate lament of life on Skid Row, and wrapping it up with an even more passionate plea of Donít Feed the Plants.
They do it all amongst the eye-popping sets designed by Jeff Dobbs featuring a big shop set that swivels around as well as multi-level tenement apartments and dilapidated storefronts. Complementing it all are good costumes by Susan Eidson, period hair by Marianne Webb, Amanda Paigeís choreography energizing throughout, and an impressive student orchestra. To completely enmesh us into the events we have just witnessed, the night ends with vines dropping from the rafters to dangle threateningly among the audience.
Performed March 5-8, 2014
Rob Hopper
Facebook
Instagram

Executive Director
National Youth Arts
~ Cast ~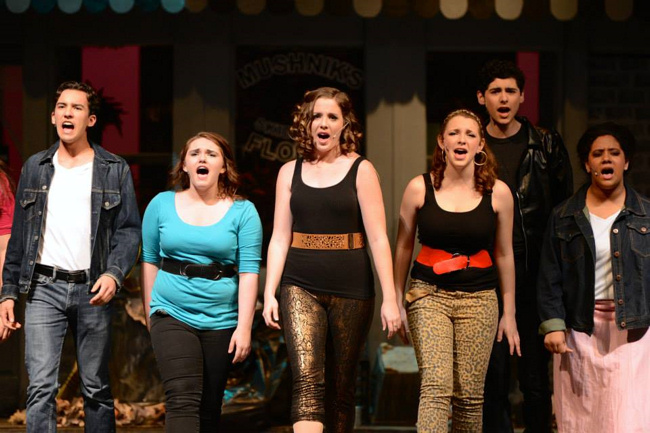 Add Artist Page
Seymour: Zack Mauck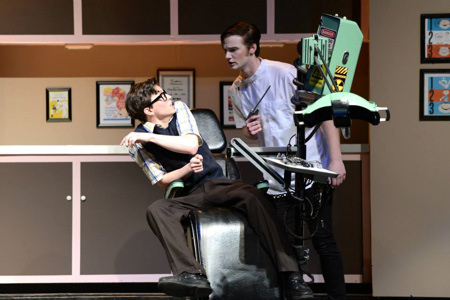 Audrey: Jordan Scott
Chiffon: Reina Montalbo
Crystal: Emily Spindler
Ronnette: Peiton Bursh
Mushnik: Sam De la Osa
Orin: J. Cole Shryock
The Voice of Audrey 2: Avery Jones
Audrey 2 Manipulators: Dominic Bonelli, Grant Pompa
Bernstein: Luke Ottinger
Mrs. Luce: Samantha Ryan
Skip Snip: TJ L'Heureux
Patrick Martin: H-Tubtun Hernandez
Wino #1: Clark Shaffer
Wino #2: RJ Sanderson
Customer #1: Peter Wilson
Customer #2: Lindsey Allemang
Ensemble: Zach Meyers, Mercedes Zamora, Samatha Zangari, ShaDia Pride
Director: Patrick McChesney
Music Director: Darin Shryock
Choreographer: Amanda Paige
Technical Director/Lighting Designer: Donna Petersen
Sound Designer: Darin Shryock
Scenic Designer/Building Coordinator: Jeff Dobbs
Costume Designer: Susan Eidson
Make-up/Hair Designer: Marianne Webb