Everyone knows them witches and conjure men tucked away up in them hills aren't real humans. They be the descendants of witches and animals, and they be without a soul. Not at all like the good, God-fearing souls living down in the village. The souls who talk of love, mercy, and piety. Just so long as it's in their own best interest. When it ain't, you may find the God-fearing villagers eager to twist their sacred scriptures around to better ease their fears and fit their needs – no matter what is sacrificed.

McNary High School in Keizer, Oregon put on this disturbing Romeo and Juliet-type story by Howard Richardson and William Berney set in the Smoky Mountains during the Great Depression. John is a male witch who has a tryst with young and lovely Barbara Allen, leaving him wanting to become a human and marry the girl. Despite the objections of his fellow witches who consider humans to be petty play toys, and the more mature Conjure Man who sees the danger to innocents, John finds the Conjur Woman who is willing to grant John's wish so long as he marries Barbara and the girl stays faithful to him for a full year.

The deal struck, John appears in town, looking to wed Barbara. Suspicious that the odd stranger might be a witch, the parents nevertheless relent to the marriage, figuring Barbara would have been hard to marry off with her dubious past (she'll be nineteen next month, but "she's already done a heap of living"), and they don't want to take care of her the rest of their lives. But when Barbara and John's baby is born looking sort of like a bear with burnt skin, the fear of the townspeople is rekindled, and they take matters into their own hands.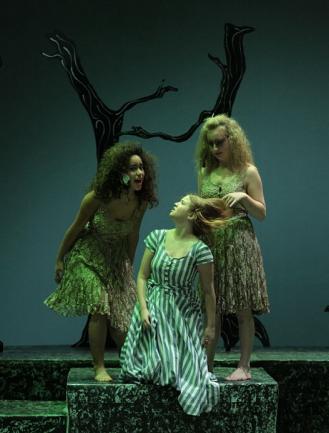 Ariel Tolman is Barbara Allen, beginning the show as a playful, confident teenager easily flattered by men and proud of, as she puts it, "the stout man I'm a-marryin'." But in the second act, when her baby is born and burned by her family and neighbors before she has even seen it, and when she is alone and confused and terrified by the people she has known all her life, Ariel's fear and loneliness seem palpable, and her final scene painfully tragic. Joseph St. Peter is her witch husband John, and he does seem a little otherworldly, as if he wants to have a connection with Barbara and the world, or at least talk himself into believing he has one, but it's a connection that never really exists. It fits with his character, who claims he will be a hardworking husband, but who soon keeps making excuses for not doing tedious human labor. And it fits with his last scene when his lack of humanity comes through in striking fashion.

A few of the other highlights in this one include Sarah Currin as Barbara's talkative mother (with a great accent) discussing her daughter's slim prospects with Mr. Allen (Ross Budreau) and Preacher Haggler (Grant Abbott) over a few jugs of "mountain dew." Carmen Stubblefield and Maria Kelly are terrific as the mischievous, darkly fun, worldly but girlish and very inhuman young witches who delight in taunting John and causing pain in humans. Their youthfulness is in contrast to the old, one-legged Conjur Woman (Leah Keller) who just seems to be holding onto life for the thrill of creating despair. The ensemble gets to partake of some folksy hoedowns to bluegrass music (with help from fiddler Sophie Lott and choreography by Zoe-Lisa Banton). But it's all prelude to their last scene – a frenzied religious revival worshipping the baser instincts of humanity.

As they did last year with The Tempest, McNary High again creates remarkable visuals and sounds. Costumes by Linda Baker and Jeri Gamaney are good both for the townsfolk and for the witches. The young Dark Witch and Fair Witch are especially well designed with their sundresses that blend into the granite landscape and their wild, lush hair. Intermixed with the sounds of bluegrass revelry and parties are well-timed coyote howls and screeching birds and other signs that the world can be a menacing place to live. Linda Baker and Terry Rohse combined on creating that world with a set featuring granite slabs and dead trees set against a dark, purple night partially illuminated by an enormous, ominous moon.

Performs November 9 - 17, 2007.

Rob Hopper
Executive Director
National Youth Theatre

~ Cast ~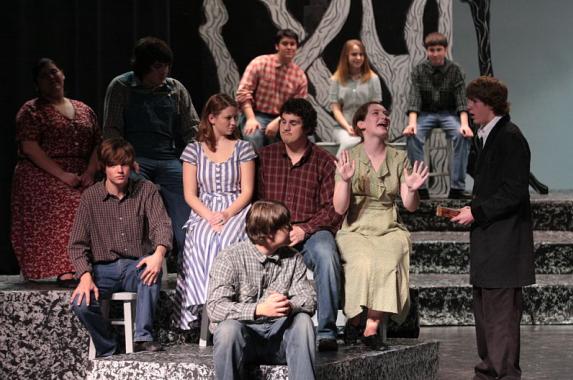 Marvin Hudgens: Alex Giovannini
John: Joseph St. Peter
Conjur Man: Jordan Rhiner
The Dark Witch: Carmen Stubblefield
The Fair Witch: Maria Kelly
Conjur Woman: Leah Keller
Leafy the Fiddler: Sophie Lott
Mr. Jenkins: Matthew Blumenstein
Mr. Atkins: Justin Placentio
Edna Summey: Cresslyn Suthard
Uncle Smelicue: Tanner Sarsfield
Hank Gudger: Dustin Daniel
Miss Metcalf: Sherry Cosgrove
Mrs. Summey: Ciara Stephenson
Mr. Summey: Braden Pippert
Ella Bergen: Krista Henderson
Floyd Allen: Nicholas McDonald
Mrs. Bergen: Carin Davis
Mr. Bergen: Justin Wanner
Hattie Heffner: Carrie Golledge
Greeny Gorman: Erin Detrant
Mrs. Allen: Sarah Currin
Mr. Allen: Ross Budreau
Barbara Allen: Ariel Tolman
Burt Dinwitty: Aaron Hooper
Preacher Haggler: Grant Abbott

Director: Dan Hays
Stage Managers: Eryca Latham, Chris Danner
Sound: Ashley Bly, Sherry Cosgrove, John Joey Serifica
Lighting Design: Terry Rohse
Costumes: Linda Baker, Jeri Gamaney
Choreography: Zoe-Lisa Banton, taught by Billie Crane, both of City Dance Theatre
Set Design: Linda Baker, Terry Rohse