Flossing between songs is recommended for anyone who attends "Legally Blonde," the nonstop sugar rush of a show that opened last night at the Historic Huntington Beach Auditorium at Huntington Beach Union High School. Marina High School's award-winning theatrical troupe staged an unparalleled event, making it one of the most sparkling young girl-power musicals in recent history. Legally Blonde will be playing for three days only - March 1st, 2nd at 7pm, and March 3rd with two performances, 2pm and 7pm.

Based on the Reese Witherspoon movie, which was drawn from Amanda Brown's novel "Legally Blonde," is the touching journey of Elle Woods (Sarah Bielicki), a ditzy blonde who gets dumped by her boyfriend, Warner, just when she thinks he's going to propose. The charmingly caddish Warner (Lawrence Velez), who's heading off to Harvard Law School, wants "somebody classy and not too tacky."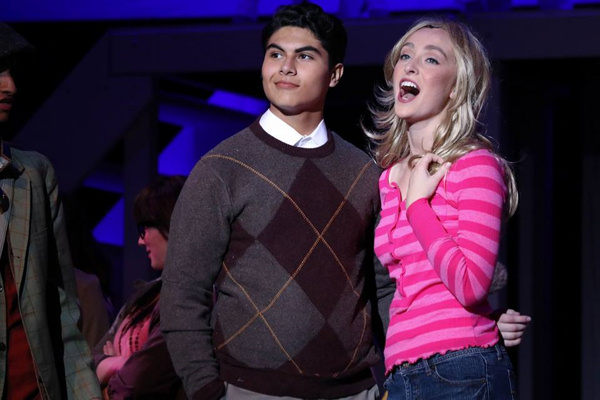 Determined to win him back, the finger-snapping, positive-thinking Elle, who already has a 4.0 grade-point average, brushes up her SAT scores and tells her parents she will follow him to Harvard Law. And, with a razzle-dazzle dance routine assisted by her Delta Nu sorority sisters, she easily convinces the approval committee to grant her acceptance to the Ivied halls– even though her degree is in... fashion merchandising. "Pink is my signature color," she perkily pronounces.

Once there, she discovers that he's courting glass-ceiling threat Vivienne Kensington. So, with the help of teaching assistant Emmett Forrest (performed by the silken-voiced Bradley Miller), and beauty salon booster Paulette, she plans to get on the trial team that prickly, cutthroat Law Professor Callahan has put together and sets out to prove the innocence of fitness guru-accused husband slayer Brooke Wyndham (Kaylin Miller).
Meanwhile, Paulette (played hilariously by the very talented Isabella Saporito), commiserates with Elle over their lost loves. Elle teaches Paulette how to get a man with the "Bend and Snap," a bend-at-the-waist-stick-out-your-fanny move that maybe should come with a 'don't try this at home' disclaimer if you're over 40. One of the funnier moments is when Paulette falls for Kyle, the UPS guy (the hunky Noah Harrigan) and she puts her new-found skill to good use.

Amber-Sky Skipps and Jodi Kimura join Artistic Director Eric Graham in directing an impressive group of 49 cast members (including two dogs). Also listed as the choreographer of the show, Amber has a wide resume of achievements at Marina as well as currently serving as Director of the South Coast Theater Company.

Jodi is an internationally acclaimed actor and singer and has been nominated for a Helen Hayes Award in "South Pacific" and has appeared as a soloist with the Colorado Symphony Orchestra. She recently has been featured with Annette Benning, Laura Dern, Common and Brad Hall at the Kirk Douglas Theatre in LA in "If All the Sky Were Paper."

Eric Graham is in his 12th year as Director of Choral and Vocal Music at Marina High School and heads multiple choirs in addition to producing and musically directed Marina's annual spring musical. Supported by Katie Majors, Music Director and Vocal Teacher, Marina High School continues to shine with stunning performances.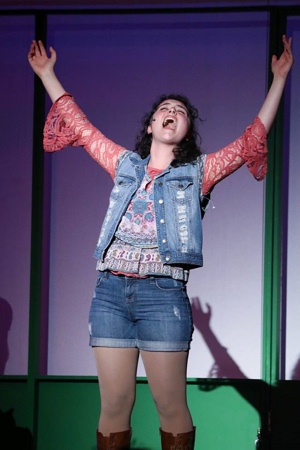 Offering solid support throughout the show are Elle's high-energy sorority sisters, who all look like they are fresh out of Central Casting for cheerleaders. Other major standouts include Kaylin Miller's Brooke, the exercise queen and murder suspect, who aces the ridiculously difficult "Whipped Into Shape," and Quinn Ragan delivers an authoritative performance as Callahan, the nasty law professor. Sophia Flores as Vivienne personifies one of the meanest girls in law school, but even in ensemble numbers you can hear the impressive power and range of her voice. In this deep talent pool, we also find Sarah Drees channeling Chutney, while Ramona Kriesel excels at Enid Hoopes.

Many other supporting roles and ensemble actors, too numerous to name, were remarkable and warrant very high marks.

Director Eric Graham deserves credit along with Ms. Skipps and Ms. Kimura for polishing this production so beautifully and for delivering crazily sassy, infectiously energetic choreography with this familiar book of classic songs.

Performed March 1 - 3, 2018

Chris Daniels
National Youth Arts

~ Cast ~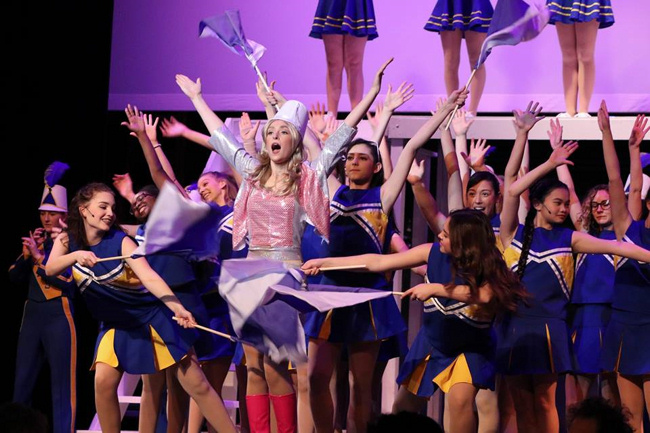 Add Artist Page

Elle Woods: Sarah Bielicki
Chutney: Sarah Drees
Vivienne Kensington: Sophia Flores
Kyle: Noah Harrigan
Enid Hoopes: Ramona Kriesel
Emmett Forrest: Bradley Miller
Brooke Wyndam: Kaylin Miller
Professor Callahan: Quinn Ragan
Paulette Bonafonte: Isabella Saporito
Warner Huntington III: Lawrence Velez
Nikos/Pforzheimer: Tristan Tellier
Dewey/Winthrop: Max Tiehen
Sorority Girl: Trinity Aragon
Harvard Student: Emme Armijo
Harvard Student: Hailey Canedo
Harvard Student: Aunica Carson
Mr. Woods: Eric Cornwell
Carlos/Lowell: Benjamin Edwards
Pilar: Hope Gonzales
Harvard Student: Emmie Guerrero
Sorority Girl: Tammy Hua
Sundeep Padamadan: Michael Iskander
Harvard Student: Kawika Jensen
Margot: Karlee Kirk
Sorority Girl: Emily Krueger
Harvard Student: Marilyn McDonnell
Harvard Student: Christian McIntire
Sorority Girl: Isabel Melgoza
Sorority Girl: Ghada Neshelwat
Harvard Student: Sunny Price
Sorority Girl: Delaney Remp
Harvard Student: Agustina Riffel
Mrs. Woods: Valentina Riffel
Harvard Student: Adam Robinson
Sorority Girl: Gianvittoria Saporito
Aaron Schultz: Ryan Serrano
Serena: Tyler Serrano
Sorority Girl: Karina Steele
Whitney/Sorority: Bella Thompson
Sorority Girl: Shae Thompson
Harvard Student: Destiny Tresch
Harvard Student: Danann Tyler
Kate: Robin White
Harvard Student: Jessica Whitten
Seneca Wilson: Seneca Wilson
Harvard Student: Elijah Winslow
Sorority Girl: Lila Zook
Rufus (Dog): Louie Saporito
Bruiser Woods (Dog): Lola

Director: Amber-Sky Skipps, Jodi Kimura, Eric Graham
Costume Designer: Debbie Coogan
Set Designer: Amber-Sky Skipps, Eric Graham, Jodi Kimura, Sean Sand
Lighting Designer: Jake Rhodes
Sound Designer: John McGilligan
Hair/Makeup Designer: Tawny Skipps, Madison Frost, Stacey Kirk
Choreographer: Amber-Sky Skipps
Orchestra Director: Eric Graham