Disney's High School Musical
by Madison Middle School
Two young teenagers chance to meet and become star-crossed lovers despite their family and friends disapproval. Is it the classic Romeo and Juliet? No, it's Madison Middle School's delightful production of High School Musical (Jr). Directed by Mr. Mark Scott (RBV High School), a cast of 50 students ages 12 to 14 (many on stage for the first time) performed this version of the popular Disney movie with the poise and polish of a much more seasoned cast.
Gabriella Montez (Catherine Lynch) and Troy Bolton (Taylor Elson) shine in their roles as two high school opposites. Gabriella, the new "braniac" in school, and Troy, the school's top basketball jock, tempt fate by auditioning for the leads in the school play Juliet and Romeo. However, trouble lurks in the form of the delightfully sinister Sharpay (Makenzie Scott) and smooth, well-dressed Ryan (Austin Mitchell) – a conceited brother and sister team who run the drama department with an iron fist.
Enter Kelsi Nielsen (Kaylee Bender), the loveable though a bit clumsy aspiring songwriter who sets her sights on keeping Troy and Gabrielle together. At the same time Troy's best friends Chad Danforth (Caleb Fishinger) and Zeke Baylor (Jared Dowdy), and Gabriella's friends Taylor Makessie (Molly Baggett) and Martha Cox (Nanette Smith), launch a plan to break them up and Stick to the Status Quo. Keeping the school and audience up to date as the story unfolds is the ultra-cool Jack Scott (Niko Wyskiel) adding just the right amount of comedic timing.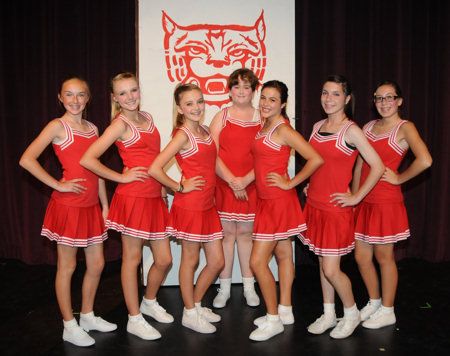 As the big game approaches, the ever-focused Coach Bolton (Dixon Janda) and the wacky but amusing Drama Department head Ms. Darbus (Vanessa Mijares) are both delightfully rude as they butt heads over which is more important, the basketball championship or the school play.

Filling out the cast is a remarkably energetic and sparkling ensemble of Cheerleaders, Thespians, Science Team, Skaters Jocks and Braniacs.

Musical Director Renee Kolar-Bachman's touch was obvious with tight harmonies (Breaking Free, Start of Something New) and an energy injected (Stick to the Status Quo). Audience favorite easily was the closing number (High School Megamix) featuring smooth but strong choreography from Mr. Corbin Hill.

Overall, Madison Middle School's High School Musical is a fun to watch comedy-musical staged by a very fresh, new, and exciting group of upcoming actors, and we look forward to seeing all of them back onstage for another great musical performance.

Performs: April 23-25 2012

Terrance Blessing
National Youth Arts


~ Cast ~


Add Artist Page
Troy Bolton: Taylor Elson
Jack Scott: Niko Wyskiel
Chad Danforth: Caleb Fishinger
Ryan Evans: Austin Mitchell
Coach Bolton: Dixon Janda
Gabriella Montez: Catherine Lynch
Taylor Mckessie: Molly Baggett
Sharpay Evans: Makenzie Scott
Martha Cox: Nanette Smith
Kelsi Nielsen: Kaylee Bender
Ms. Darbus: Vanessa Mijares
Ms. Tenny: Sabrina Anderson
Zeke Baylor: Jared Dowdy
Ripper: Griffin Watson
Mongo: Jake Canoy
James: Chase Manriki
Susan: Dylan Jelden
Cathy: Maria Conception
Cyndra: AJ Maloney
Cheerleaders:
Alli Zelinski
Brenna ODonnell
Hannah McDonnell
Taylor Letourneau
Coral Chavez
Leah Culver
Krystina Hennessey
Thespians:
Mckenna Leslie
Nina Libretti
Scout Erhler
Chris Parks
Emily Adams
Shayna Wirtz
True Voigtlander
Evelyn Cira
Sawyer Henderson
Science Team:
Camerie Rounds
Adelaide Hiatt
Cheyenne Teichmann
Gabby Zera
Diamond Milburn
Caitlyn Barber
Skaters:
Kim Bickford
Taylor Robarge
Jessica Ferguson
Sulli O'Doherty
Karla Arcos
Jasmeen Arechiga
Nora Do
Erika Hester
Anthony Sims