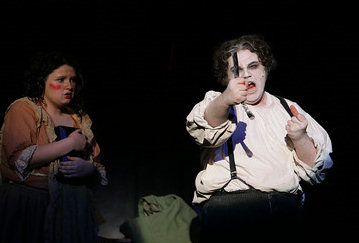 Attending the tale of Sondheim's Sweeney Todd: The Demon Barber of Fleet Street is always a thrilling experience for those musical theatre lovers who crave to be served morsels of dark humor with a side of vengeance, tragedy, and a dash of cannibalism. Especially when you've got talent like the Lighthouse Youth Theatre in Thornton, New York assembled for their summer production.

Joey Sanzaro stars as Mr. Todd. From the moment of his emotional return to London after escaping years in Australia's Botany Bay penal colony, you know you're in for a special rendition of this character. Joey's painful nostalgia for his home is palpable, making him tremble as the years of loss hit him. Those losses include his wife, raped by Judge Turpin who sent him away, and his infant daughter Johanna, now a lovely teenage ward of Turpin. The desperate need to avenge his wife and free his daughter, leaving his sanity thinner and thinner, is felt in his every word and movement. A blood lust he can't control.

And one he may get some help with thanks to Mrs. Lovett, the friendly baker of meat pies just downstairs from his old barbershop, who has always had a thing for the boy next door. Even keeping his silver shaving razors as a memento, with fatal and lucrative results. Georgina Simon is his partner in crime, doing so with great singing and stage presence and comedy as she works to create a respectable business and tries to make herself respectable as Mr. Todd's next wife.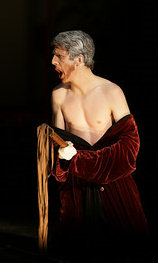 The strong cast includes a fantastic performance by Ryan Duncan as Judge Turpin, capturing the character's need to control others and to try to control himself, culminating in dramatic self-flagellation. But he's also got a good sense of humor when appropriate (his Pretty Women shaving scene with Sweeney) and a deep, rich voice. Rebecca Simpson Wallack also delivers a terrific performance with beautiful vocal work in her portrayal of the mentally unstable Beggar Woman. Travis Crowley is an amusing Pirelli, a rival barber with a flair for the outrageous, with Trevor Carr as his innocent and tender youth Tobias. Austin Christensen is a kind and earnest Anthony, the young sailor who falls in love with Sweeney's imprisoned daughter Johanna, with Brittanie Burke lending her lovely vocals and sweet, fragile personality to the role.

Director John Fanelli has put together a show that is original and dark, one that is always on edge, and yet captures the comedic moments as well, all assisted by a cast that keeps us on the edge of madness and humor with their characterizations and ensemble narration of the tale of Sweeney Todd.

Performs June 10 - 14, 2009

Rob Hopper
National Youth Theatre

~ Cast ~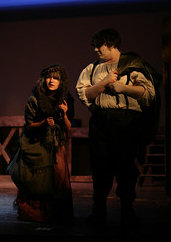 Sweeney Todd: Joey Sanzaro
Mrs. Lovett: Georgina Simon
Judge Turpin: Ryan Duncan
Johanna: Brittanie Burke
Anthony: Austin Christensen
Pirelli: Travis Crowley
The Beadle: Matt Stout
Tobias Ragg: Trevor Carr
Beggar Woman: Rebecca Simpson Wallack
Jonas Fogg: Daniel Hammond
The Bird Seller: Justin Corsillo
Ensemble:
Lily Allen
Alex Bradsell
Alyssa Cook
Jeffrey Crowley
Carly Dieck
Molly Gallagher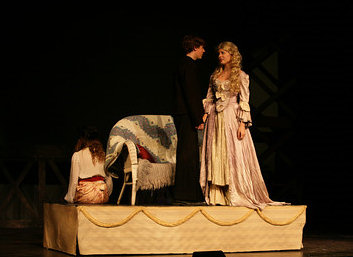 Kira Goidel
Alex Gold
Marissa Heintzman
Sarah Heinzmann
Jamie Lerner
Melissa Magaliff
Carly McClam
Lauren Moore
Anthony Pope
Carolyn Savoia
Allie Short
Tim Stout
Nicole Werner

Director: John Fanelli
Musical Director: Kurt Kelley
Choreographer: David Arzberger
Stage Manager/Producer: Diane Bradsell
Technical Director: Patrick Brown
Costumes: Kathy Hammond, Denise Simon
Lighting Design: Patrick Brown
Sound Design: Mark Cantore