[title of show]
by Liberty Spotlight Productions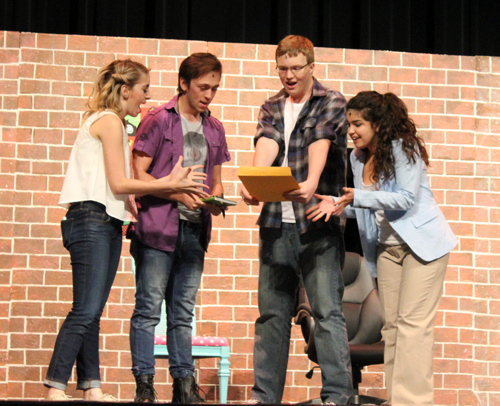 THE SHOW:
Music and lyrics by Jeff Bowen, Book by Hunter Bell.
The ďLetís put on a show!Ē concept received a modern overhaul with this one-act musical that is a self-portrait of a writer and lyricist/composer friend in the act of creating this very show. The roommates, Jeff and Hunter (or Two Nobodies in New York), are in a rush to put something together for entry in the New York Musical Theatre Festival, and they get this idea of writing a musical about writing this musical. They recruit their two actress friends, Heidi and Susan, to help them work out and act out the show as they go along, while in the background Mary accompanies with the music that Jeff is creating. What is created is a clever musical comedy filled with situations that everyone who has dabbled in the arts will recognize all too well with numbers that include Untitled Opening Number, The Tony Award Song, Filling Out the Form, Secondary Characters, and the Finale.
THE PRODUCTION:
With a cast of four principals and one background actor on a piano, there arenít many opportunities to do this one in youth theatre, but Liberty High School in Peoria staged this one directed by Jessica Holt. Itís a show that will only work with four terrific talents, and they have that with this collection of actors who all inhabit their characters with natural ease and impressive comedic instincts.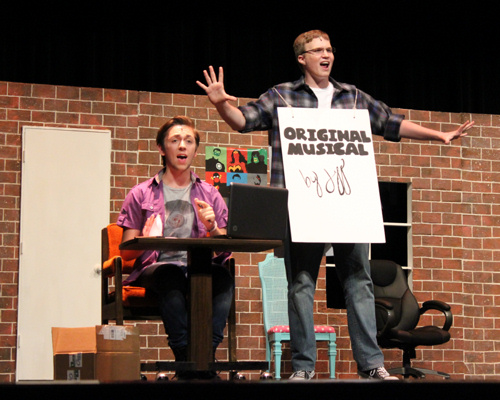 Phisher Ritter as writer Hunter and Trey Degroodt as lyricist Jeff have an effortless roommate relationship as the Two Nobodies in New York who quickly embrace their idea for An Original Musical. Their enthusiasm for their project and playful approach to it is infectious. They know their dreams for success are completely unlikely, and absolutely possible. As Susan, Gabby Tuskan is amazing leading the cast in a hilarious Die Vampire, Die!, trying to deal with insecurities, criticism, naysayers, and hoping to slay artistic self-doubt and despair. Marley Degroodt delivers a powerful tribute to trying to keep childhood dreams alive in A Way Back To Then. Together the girls are highly amusing as they size each other up in What Kind of Girl is She? and in trying to make the most out of their Secondary Characters. While Rachel Esquibel delivers a couple humorous moments as well as the accompanying tertiary character.
The tight ensemble plays off each other and complement each other throughout, even when they canít stand each other during the Awkward Photo Shoot as relationship and professional tensions reach their climax, making the one-act fly by from the Untitled Opening Number to the Finale, and leaving you wanting more.
Performed October 2 - 4, 2014
Rob Hopper
Facebook
Instagram

Executive Director
National Youth Arts
~ Cast ~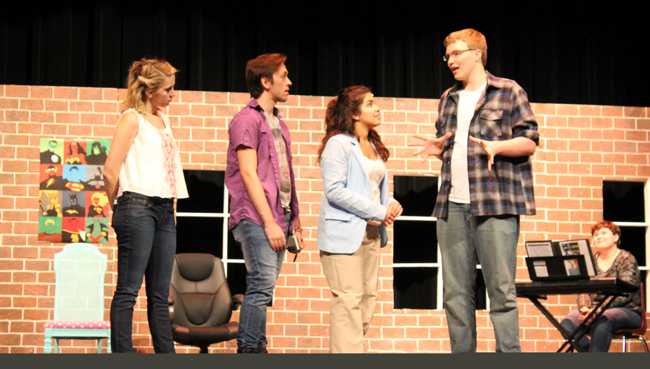 Add Artist Page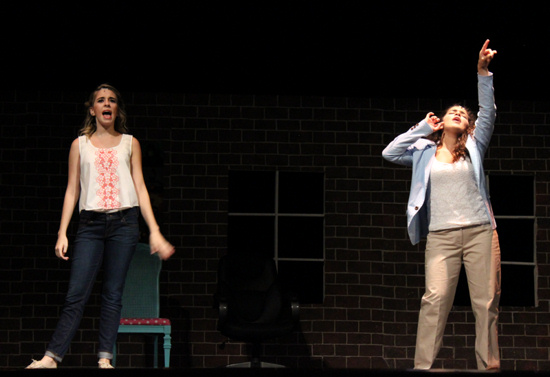 Jeff: Trey Degroodt
Hunter: Phisher Ritter
Heidi: Marley Degroodt
Susan: Gabby Tuskan
Mary: Rachel Esquibel

Director: Jessica Holt
Stage Manager: Samantha Seifert
Lighting Designer: Daniel Dowd
Costume Supervisor and Designer: Katie Petkowski
Keyboard: Bill Moore
Rehearsal Keyboard: Julia Cox