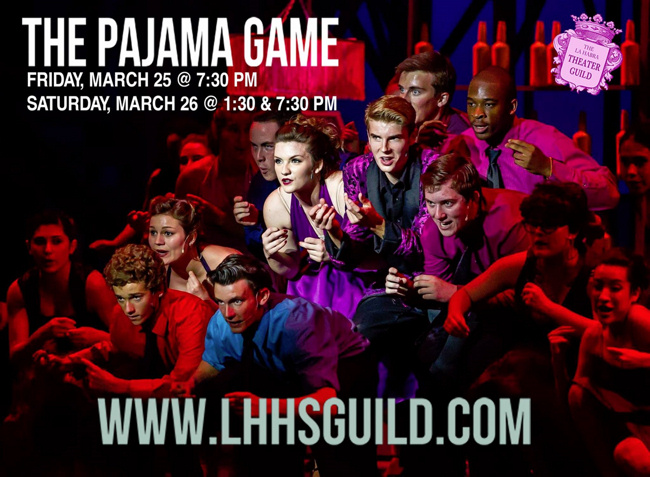 THE SHOW:
Making pajamas isn't all fun and games – it's serious and tedious work deserving of an occasional 7˝-cent raise. As the labor leaders calculate, that works out to roughly $3,411.96 over twenty years (assuming a certain amount of overtime and interest). But that 7 ˝ cents could cost more than money – breaking up the new romance between the head of Sleep-Tite Pajama Factory's Employee Grievance Committee (Babe Williams) and the new management rep (Sid Sorokin) who is under orders to keep the workers working without giving them one penny of their requested raise.
Such is the driving plot of this romantic musical comedy throwback from the 1950s featuring plenty of quirky characters and songs highlighted by the ballad Hey There (You With the Stars in Your Eyes) and the tango-ish Hernando's Hideaway.
THE PRODUCTION:
Director Brian Johnson and his remarkable team at La Habra Theater Guild dust off this seldom-performed classic for a fresh production filled with snappy choreography (Annie Lavin), terrific 50s costumes and impressive sets (researched, designed, and created by the school's theater students overseen by Tana Carmichael and Jim Oxley), and a ridiculous amount of talent.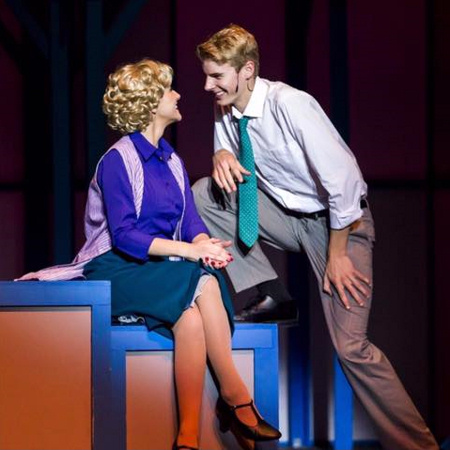 Austin Tebay is new company man Sid Sorokin, and he's a natural leading man with an easy confidence, strong dancing, and a golden voice featured in his Hey There as he tries to rein in his apparently unrequited feelings for Babe. She's played by the always sensational Zoya Martin, here with a charming mix of heart, sass, comedy, and sterling period vocals. Together they rock There Once Was a Man with the thrill of new romance.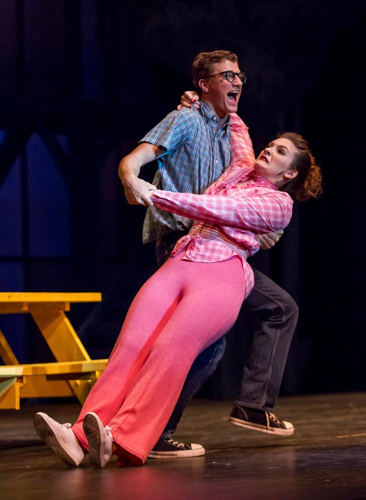 Brilliant physical comedian Emily Taylor is completely in her element as a lovable Gladys including leading a dynamite Hernando's Hideaway that features a hilarious fling on the piano. Which segues into The Jealous Ballet led by Gladys and her jealous boyfriend Hines. Patrick Gray is a kick as Hines, getting an intervention about his pathological jealousy by a marvelously quick-witted and saucy secretary Mabel (Emily Riseling) and figuring himselves out with Gladys in Me, Myself, and I.
Elsewhere, Lillie Muir is sweet as the mousy and awkward Mae who pines for coworker Prez and breaks out in leading the jazzy Steam Heat joined by Bryce Satterfield and Michael Reehl. Zach Fogel is said Prez who gamely strikes out with every woman on the pajama factory floor while ignoring Mae, and joins Babe in leading their excited coworkers in a prep rally for their utopian vision surrounding the proposed 7 ˝-cent raise. Jakob Garberg is a gruff and stubborn boss bent on crushing that utopian vision of the masses. Those masses are a standout collection of singers, dancers, and actors who shine in such numbers as I'm Not At All in Love, Sleep-Tite, the Once a Year Day picnic, the night out at Hernando's Hideaway, and their rally for the raise. The entire Pajama Game cast fleshes out the show with individual personalities, style, and loads of fun.
Performed March 18-26, 2016
Rob Hopper
Facebook
Instagram

Executive Director
National Youth Arts
~ Cast ~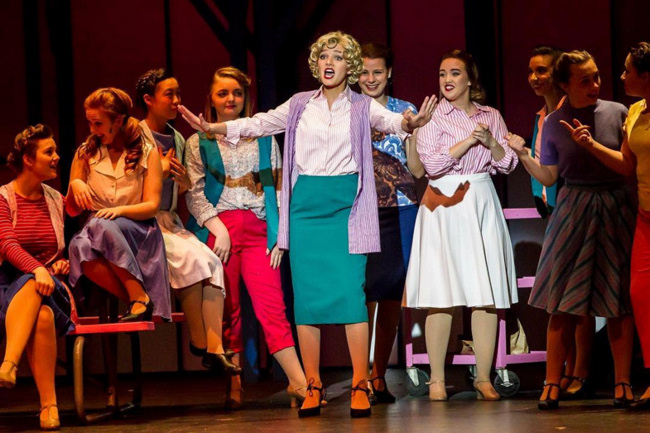 Add Artist Page
VERNON HINES: Patrick Gray
GLADYS HOTCHKISS: Emily Taylor
SID SOROKIN: Austin Tebay
BABE WILLIAMS: Zoya Martin
MAE: Lillie Muir
PREZ: Zach Fogel
MYRON HASLER: Jakob Garberg

MABEL: Emily Riseling
POP: Joshua Danielson
POOPSIE: Katie Ludlam
CHARLIE: Michael Ayabar
ENSEMBLE:
Abby Bullard
Abigail Oxley
Adelina Medrano
Alissa Schoeman
Analiese Cox
Bernadette Bolanis
Camille Vargas
Charlotte Leonard
Daisy Pacheco
Danika Abbott
Holly Jordan
Isabella Wouters (SLEEP TITE QUARTET)
Juliet Parker
Justine Sombilon
Katherine Schloss (SLEEP TITE QUARTET)
Katie Ludlam
Lauren Hernandez
Lizzy Geringer
Maya Chen
Mercy Thornton
Michaela Varvis
Nicole Ramos
Norma Mendoza
Rian Dixon
Sadie Phillips
Samantha Hollar
Victoria Krivenkoff
Armando Delgadillo
Bavin Martin
Bryan Connolly
Bryce Satterfield (STEAM HEAT DANCER/SLEEP TITE QUARTET)
Chris Brown
Jacob Mullen
Jake Rhode
Josh Bates (Need to see Johnson ASAP)
Michael Ayabar
Michael Larson
Michael Reehl (STEAM HEAT DANCER)
Miles Henry
Nathan Daraban
Paul Smith
Prince Ross
Ron Gutterman (SLEEP TITE QUARTET)

Director: Brian Johnson
Choreographer: Annie Lavin
Music Director: Greg Haake
Vocal Direction: Vicki Schindele
Costume Oversight: Tana Carmichael
Set Oversight: Jim Oxley
Stage Manager: Sara Cueto
Student Sound Operator: Justin Chen
Student Lights Operator: Cooper Munnerlyn