As you push through the double saloon entrance doors into the cozy theatre at Pitlockry Hall of La Habra High School, you immediately get the feeling you're at the wrong show. What greets you is a set right out of Gunsmoke, complete with old saddles, tumbleweeds, a western bar, blazing six guns, and bow-legged characters on stage with sideburns and fierce faces. Did I make a wrong turn at Knott's Berry Farm? Wait, I was expecting Hamlet! No problem…they're serving old-fashioned peanuts right at your seat here.

Yes, La Habra High School brings an old Shakespearean classic to the stage – but with a new twist. It's still set in Denmark, but in an Old West-like saloon. And, it is still performed in the true sense of the original script, with every word formally presented not only with a bit of Norwegian accent, but with style. This is beginning to make more sense by the minute, recalling silently the number of revenge movies and TV shows I've watched over a lifetime. Shakespeare's Hamlet, being the most prominent revenge story in history, should fit right into this unique western setting.
Director Brian Johnson has almost outdone himself again with the intricate amount of set detail. "It's 1870, and you are in the midst of outlaws, gunfighters and cowboys who are all ready to unload their guns at a moment's notice. Shakespeare's greatest work ends in a high noon showdown in which our hero, Hamlet, is destined for tragedy."

The premise of the story: The King of Denmark has died. His brother, Claudius, has assumed the throne and has married Gertrude (Lillie Muir). Hamlet mourns for this father, the King, and boils with rage over his mother's agreement to marry Claudius.

As the play begins, Horatio (Jakob Garberg) enters with two bartenders, and as they talk of Hamlet, the lights flicker and begin to turn green and hazy as the ghost of Hamlet's father enters (Alissa Schoeman), frightening the three men. Horatio informs Hamlet of the sighting and they all watch nightly for his return. The ghost appears and then tells Hamlet that Claudius had poisoned him, urging his son to seek revenge, but to spare Gertrude from harm.
Michael Reehl plays Hamlet effectively, and portrays his detached and thoughtful forbearance by slowly floating back and forth across the stage while delivering passionate monologues.

Ophelia (Emily Taylor) and Hamlet both seem to be on the border of insanity throughout the show. Reehl and Taylor do a fantastic job of varying their performances in line with their degree of madness. Reehl's split-second changes in posture and speech patterns beautifully articulate Hamlet's lunacy amid the Shakespearean dialogue. Ophelia's descent into madness has powerful emotional resonance. Taylor's rapid-fire schizophrenic transitions, from sing-song voice to an angry, grief-ridden rampage, are potent.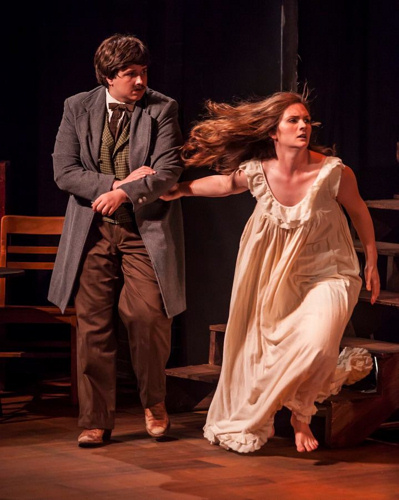 Bryce Satterfield's performance as Claudius is a textbook portrayal of an Old West gunslinger villain. He swaggers with wide steps, and his hands leave his belt only to make grandiose gestures. His bravado is in full force when he speaks, his booming voice echoing in every word. This leaves no doubt about his kingly status and villainous role.

Bryan Connolly's portrayal of Polonius is equally memorable as he points emphatically with his cane while telling long stories in the distinctively raspy and high-pitched voice of an aged hillbilly. His hunched posture and shuffling gait further differentiate his character, accenting further his voluminous beard and bushy eyebrows.

Several of the cast, Wyatt Logan, Zach Fogel and Paul Smith portrayed convincing multiple characters. Laertes was played by Ron Gutterman, and the country music segment was performed by Austin Tebay, Zoya Martin and Patrick Gray.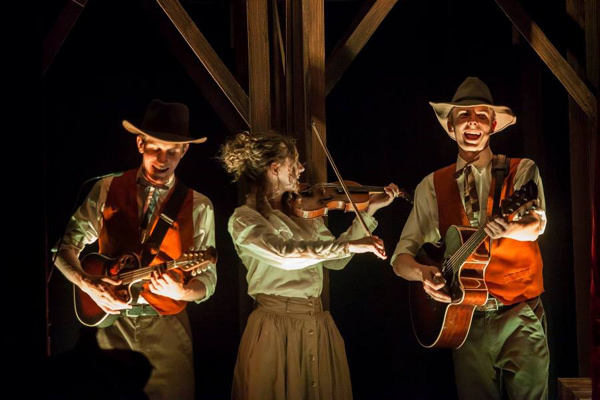 Commendations to not only the directors and managers for a first-rate production, but to the Theater 3 Honors Class for researching, designing and creating special props, costumes, make-up and effects.

Performed April 28 - May 7, 2016

Chris Daniels
National Youth Arts


~ Cast ~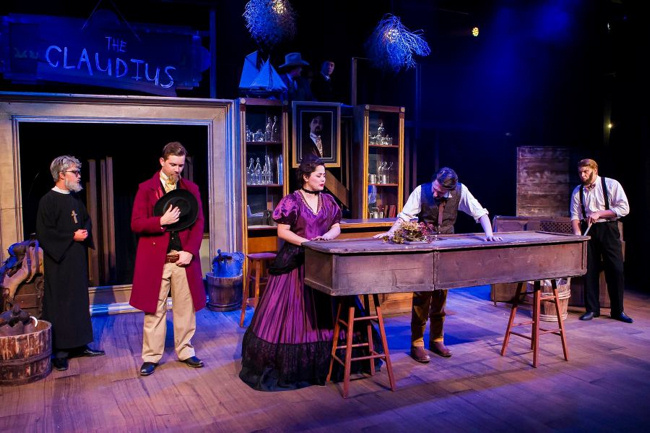 Add Artist Page
HAMLET: MICHAEL REEHL
CLAUDIUS: BRYCE SATTERFIELD
POLONIUS: BRYAN CONNOLLY
LAERTES: RON GUTTERMAN
HORATIO: JAKOB GARBERG
GERTRUDE: LILLIE MUIR
OPHELIA: EMILY TAYLOR
GHOST OF HAMLET: ALISSA SCHOEMAN
MARCELLUS/VOLTIMAND/ROSENCRANTZ/FIRST CLOWN: WYATT LOGAN
BERNARDO/CORNELIUS/GUILDENSTERN/SECOND CLOWN: ZACH FOGEL
FRANCISCO/NURSE/SAILOR/OSRIC: PAUL SMITH
THE PLAYERS: AUSTIN TEBAY/ZOYA MARTIN/PATRICK GRAY

Director: BRIAN JOHNSON
Costume Design: TANA CARMICHAEL/KATIE LUDLAM/KATHERINE SCHLOSS
Hair/Makeup: EMILY TAYLOR
Set Design: MICHAEL REEHL/JIM OXLEY
Lighting Design: MATT MANKIEWICZ/SARA CUETO/COOPER MUNNERLYN
Sound Design: MATT WHITE/ABBY OXLEY
Choreographer: MEGAN STORTI