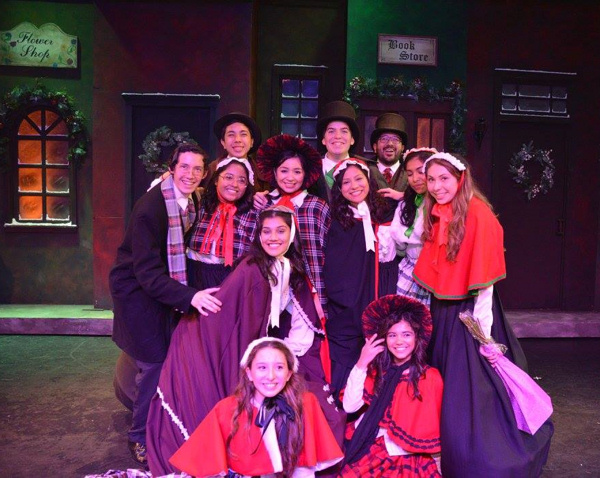 Yes! They did it again…quite literally!

As Christmas comes rushing in this season, you can go to practically any major city and see the age-old standard "A Christmas Carol" currently underway. But don't expect to see a show anything like that at La Habra High School this year. The 19th century comes to life again, but without all the trimmings. There are no sets, no costumes. In fact it's a story within a story. This one-hour, no-intermission repeat performance from 2015 is one not to be missed!

Before the show begins, the 13-member cast, along with the crew, is already on the open black box stage, in street clothes and without curtains as we watch the "run-through" rehearsal take place. The story begins with sets running late and several cast members beset with minor, but laughable, panic attacks.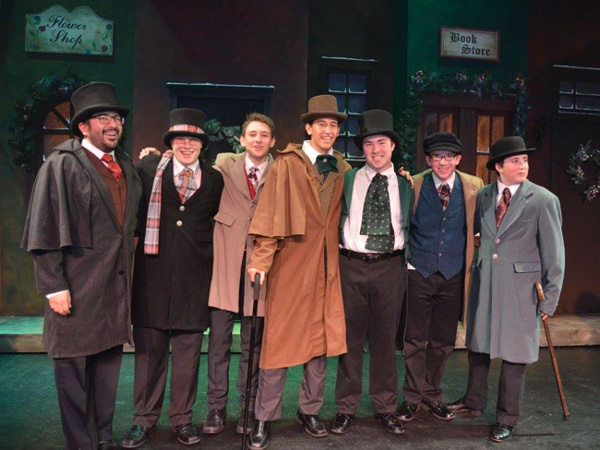 The director, Chuck (played brilliantly by Alfonso Neavez) frets and stresses throughout the scenes, interplaying with the cast and running back and forth barking directions, adjusting fixtures and correcting actors' lines. But the audience experiences a surprising transformation when they assume their respected actor characters and roles. Meek, mild Bobby (Wyatt Logan), for instance, complete with a bit of IBS, magically changes to a cranky, crotchety and rambunctious Scrooge, reprising a very convincing part that may be unmatched anywhere in Southern California – he's that good!

Choreographed by Annie Lavin, the show does feature several up-tempo contemporary Christmas songs which are offered to balance the familiar script dialogue. The entire ensemble cast participates in various surreal and illusory sequences during the Christmas spirit visitations. And many of the scenes were downright hilarious. With the exception of Wyatt Logan's "Scrooge," and Ron Gutterman's "Lewis" (who are both seniors this year), the entire cast is fresh. Because there are few costumes and set pieces, the show relies heavily on technical elements such as sound effects, lighting and weather effects to help create the mood.

One of the best and most creative elements of the show was at the very end, when the stage was finally full of costumed actors and set pieces, and the cast invited the entire audience to mingle with them on-stage for approximately a half hour.
The show is being produced in collaboration with San Diego-based theater company The Trip. La Habra Theater Guild Artistic Director Brian Johnson said that two years ago he commissioned founders Tom Dugdale and Josh Brody to write an adaptation of Dicken's, "A Christmas Carol," as a collaborative show for their drama department. Last year's success led to a new idea to help assimilate multi-cultural students experience theater much better. "I was able to collaborate with two extremely talented former alumni, Jaclyn Stickel and Norma Mendoza," said Mr. Johnson, "who agreed to helm this second incarnation of this production and to guide us through this multi-language performance process." The Spanish presentations are set for December 4th and 15th at 7pm, bilingual presentations are December 3rd and 17th at 7pm, and English presentations will be on December 1st and 16th, 7pm at Pitlockry Hall.
Performed December 1 - 17, 2016
Chris Daniels
National Youth Arts

~ Cast ~
Add Artist Page
~ English Cast ~
Director: Alfonso Neavez
Bobby/Scrooge: Wyatt Logan
Darcy: Olivia Cooksey
Ralph: Michael Reehl
Vince: Jonathan Sandoval
Walter: Bryan Connolly
Gertie: Brennen Logan
Rachel: Analiese Cox
Lewis: Ron Gutterman
Tiff: Katherine Christing
Esther: Victoria Krivenkoff
Andy: Joshua Garberg
~ Spanish Cast ~
Director: Mr. Alfonso Neavez
Bobby: Henry Rodriquez
Darcy: Mayra Calderon
Ralph: Alex Martinez
Vince: Emily Arce and Miles Henry
Walter: Mariana Quintana
Gertie: Diana Magana Martinez and Daisy Pacheco
Rachel: Daisy Rodriquez Perez
Lewis: Getzemany Sandoval
Tiff: Scarlett Tovar
Esther: Mercy Thornton
Andy: Steven Ishii
Gordon: Michelle Kaur

Director: Norma Mendoza and Jaclyn Stickel
Costume Designer: Tana Carmichael
Hair/Makeup Designer: Tana Carmichael
Set Designer: Jim Oxley
Lighting Designer: Matt Mankiewicz
Sound Designer: Brian Johnson
Choreographer: Annie Lavin
Musical Director: Brian Johnson