All Shook Up
by Laguna Beach High School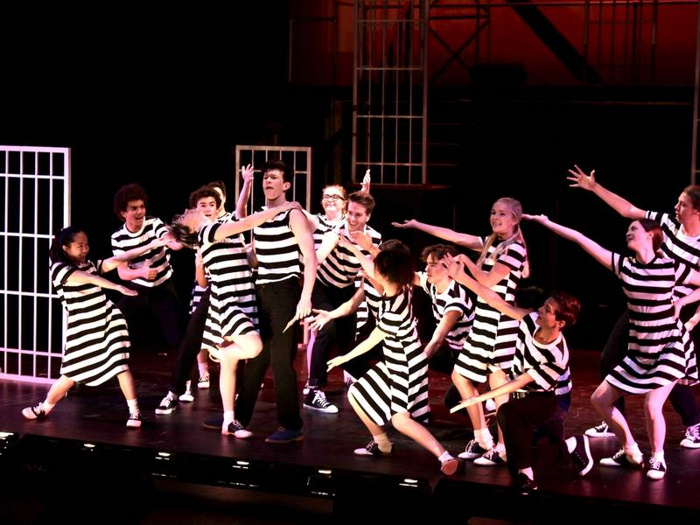 "All Shook Up," the rock 'n roll musical comedy, inspired by and featuring the music of Elvis Presley, is presently the biggest and most exciting spring production to date at Laguna Beach High School. Playing March 16th through the 25th, and guest directed by Jeff Paul, the musical is a collaboration of all arts departments at the esteemed high school. Produced by Alexis Karol, who heads up the LBHS Drama Department, the 2004 jukebox musical's book is written by Joe DiPietro and was based primarily on William Shakespeare's 1602 play, "Twelfth Night."

As Mr. Paul so aptly puts it: "What do you get when you combine Elvis music, plot elements borrowed from Shakespeare, a whole town suffering from unrequited love, mistaken identity, a few borrowed elements from 'Footloose' and 'Grease,' and add to the mix: motorcycles, jukeboxes, and blue suede shoes? The answer is easy: ALL SHOOK UP!"

Somewhere in the Midwest in the 1950s, Chad, a hip-swiveling, guitar-playing roustabout, is being released from prison ("Jailhouse Rock"). Meanwhile, in a nearby dreary little town, Natalie (Malin Glade), a young mechanic, is dreaming of love and adventure while she yearns for one true love to take her away, but she doesn't realize that her best friend Dennis (Nick Reardon) has a secret crush on her ("Love Me Tender"). Sitting in Sylvia's, the local honky tonk, the whole town sings the blues in the familiar, "Heartbreak Hotel." As Natalie's widowed father Jim (Will Purdy) enters and joins in, they are interrupted by the roar of a motorcycle: it's Chad, who makes quite an entrance with "Roustabout!"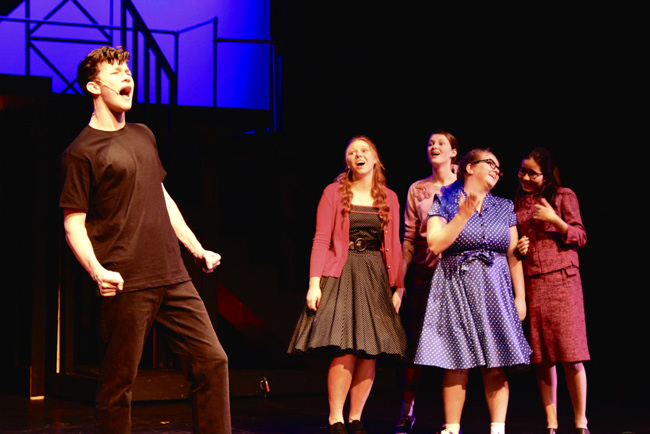 Chad is in need of a mechanic and he's introduced to Natalie, who is instantly love-struck ("One Night With You") and promises to fix his broken down bike.
Chad (Ian Winefordner), looking for some excitement, soon discovers the Mamie Eisenhower Decency Act, outlawing "loud music, public necking, and tight pants." Chad, a rebellious sort, seeks to incite a little insurrection in the citizens with the song, "C'mon Everybody." Then, while Natalie fixes Chad's motorbike, Chad belts out another tune about taking to the open road in "Follow That Dream."

Later, Natalie, in an attempt to attract attention to Chad, puts on the only dress she owns—a tattered old greasy one she uses to clean car engines. Chad asks Dennis (an awkward teenager aspiring to become a dentist) to become his sidekick and he gleefully accepts the role. Soon after, the glamorous Sandra (Seryne Aryeh) appears, who owns the local museum, and Chad is instantly in love ("One Night With You" —reprise). Chad tries to smooth-talk her, but she resists at first ("Teddy Bear/Hound Dog").

Next we find Natalie, still in her greasy dress, at Sylvia's Honky Tonk, and Lorraine (Sylvia's daughter, played by Kelsey Bailey), in an act of charity, has her change into one of her better dresses. Dean (Nicolas Besso), the son of Mayor Matilda, enters to tell Lorraine that he thinks she's beautiful, and Lorraine is noticeably thrilled. Chad then convinces them that they would be a sweet couple together with the tune, "That's All Right." But Sylvia interrupts the effusiveness, and Dean with a bit of discomposure, rushes out. Later that evening, Dean tells Lorraine the terrible news: they're about to be separated, his mother is sending him back to military academy. So, hopelessly in love, they decide to run off together ("It's Now Or Never").

Chad, Dennis and Natalie later meet at her garage, but Chad is soon distracted by the appearance of Sandra, and tries to woo her, but it doesn't work. In desperation, Natalie searches for a way to divert his attention. She is intrigued by Dennis' new hunting cap, and comes up with the idea of dressing similar to Chad to become more like "one of the guys."

As Chad bemoans Sandra's lack of attraction to him, Dennis also comes up with an idea. He volunteers to deliver a Shakespearean sonnet to her. But before Dennis leaves, a leather-jacketed roustabout rides into town ("Blue Suede Shoes"). It is secretly Natalie, who calls herself 'Ed.' Chad becomes excited with the coolness of the stranger, and immediately asks 'Ed' to be his new sidekick. Chad then proceeds to give Jim a much-needed lesson in the art of being cool to help his love problems with an impressive "Don't Be Cruel."

Meanwhile, Mayor Matilda (Chloe Bryan) is cracking down on the immoral behavior that is now running rampant through the whole community. Soon, everyone in town finds themselves escaping to the fairgrounds, searching for someone to love ("Can't Help Falling in Love").
A very fun musical, all in all. The numbers were rocking me out completely, and the sets were even magically similar to some of the original Elvis scenes. "Jailhouse Rock," for instance, a song ingrained in me from early life, including the movie visuals, suddenly reappeared on stage with a full-scale jail set. In fact, all the set pieces, by designer Chris Caputo, were marvelously constructed.

Sound by Kennedy Hobson was perfectly peaked and the dance numbers, by choreographer Ellen Prince were performed without a hitch and in perfect sync. My congratulations to Music Director Roxanna Ward for undulating success in the 8-piece band, as well as Lighting Designer Peter Roche and Costumers Angela Irish and Julie Stevens – all Five Star caliber initiatives! Hair and Makeup was by Celena DelPizzo-Howell – and right on the money! Ensemble support cast was also amazing! Kudos to Laguna Beach High School! - a place where Rock and Roll dreams come true!

Performed March 16 - 25, 2018

Chris Daniels
National Youth Arts


~ Cast ~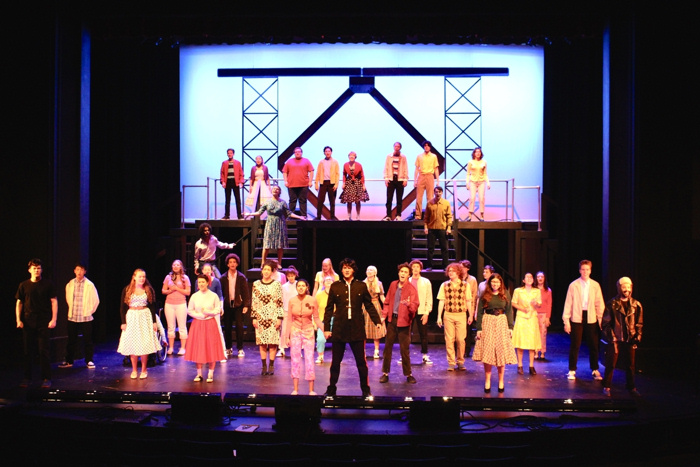 Add Artist Page
Chad: Ian Winefordner
Natalie: Malin Glade
Sylvia: Isadora Duskin-Feinberg
Lorraine: Kelsey Bailey
Jim: Will Purdy
Dennis: Nick Reardon
Sandra: Seryne Aryeh
Matilda: Chloe Bryan
Sheriff Earl: George Longoria
Dean: Nicolas Besso

Dance Ensemble:
Alana Bassett, Charles Besso, Zoe Bowman, Rylee Bullington, Tanner Burton, Yuika Egan, Drew Fink, Kaitlyn Gunsolley, Luc LaMontagne, Logan Leeds, Enrique Palacios, Luka Salib, Izzy Saunders, Zoe Waters, Nils Wilson

Adult Ensemble:
Kathryn Callahan, Casey Conley, Haley Conley, Adam Filiano, Maya Gallego, Gavin Gee, Joe Hovanesian, Tia Mills, Meg Peterson, Isabel Riches, Marccon Salib, Shelby Thomas, Claire Tigner, Ming Yen

Director: Jeff Paul
Costume Designer: Angela Irish and Julie Stevens
Set Designer: Chris Caputo
Lighting Designer: Peter Roche
Sound Designer: Kennedy Hobson
Hair/Makeup Designer: Celena DelPizzo-Howell
Choreographer: Ellen Prince
Music Director: Roxanna Ward