The turn of the century – it was an era exploding, a century spinning with everything from Henry Ford and his Model T, superstars like illusionist Harry Houdini and vaudeville tart Evelyn Nesbit, Booker T. Washington helping bridge the race divide, the vast richness of J.P. Morgan who could pay off the national debt, the vast new population of poor immigrants dreaming of such riches, and a new kind of music from Harlem called Ragtime. And in E. L. Doctorow's epic novel, they all intertwine for a beautifully and powerfully woven story that was turned into a remarkable musical with a book by Terrance McNally and music and lyrics by Stephen Flaherty and Lynn Ahrens. And thanks to Kidz Theater, it's now playing in the area where all the action takes place, New York City.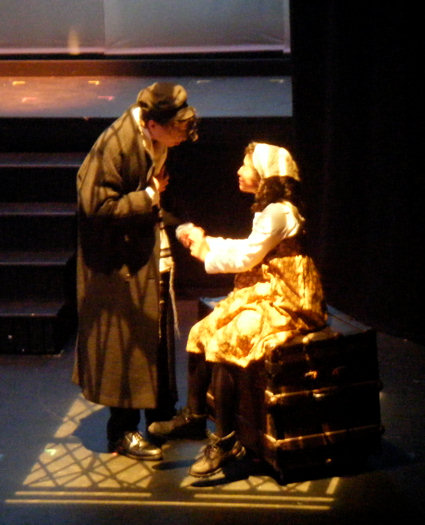 Up in New Rochelle, the Mother of an affluent white family is suddenly forced to make the decisions for the household when Father leaves on an expedition to the North Pole with Admiral Peary. Decisions that become much more complicated, and all the more important to her, when she discovers an abandoned infant buried in her garden and she takes responsibility for the child and his mother, a black washwoman named Sarah. While in Harlem, ragtime pianist Coalhouse Walker, Jr. is determined to bring Sarah back into his life and start a new life with her and their newborn son, beginning with the proud purchase of a Model T. And on the Lower East Side, Jewish Latvian immigrant and widower Tateh is trying to start a new life with his daughter through his cutting of people's silhouettes.
The Kidz Theater show is double-cast with a Lavendar-Pink and a Lemon & Lime group, of which I caught the opening-night Lavendar-Pink cast. That one is led by Anthony Sanchez as Coalhouse and Hillary Fisher as Sarah. Anthony is a proud and, later, remorseful Coalhouse who struggles against racism as he tries to woo his beloved Sarah and give their son a better world. Hillary Fisher is a sweet and vulnerable Sarah with a beautiful voice, the two of them shining in their big ballad Wheels of a Dream and a powerfully performed and staged Sarah Brown Eyes as the two are together but seemingly forever separated.
The New Rochelle family is led by Sarah Banning as Mother, coming down from Massachusetts to turn in an excellent performance as she grows from a woman who has always let the men in her life lead her, to a woman who realizes she needs to do what she feels is right no matter what anyone else may think, her patience sometimes wearing thin with her husband who can't change to the New Music stirring America's soul. It all comes to a head with her stirring (You Can Never Go) Back to Before solo, with Director Kristen Caesar adding a great touch by having chorus girls rip down the backdrop during the song, which cannot be undone.
Julian Sarria stars as Tateh, doing terrific work with the character as he tries to comfort his Little Girl (a wonderful Alexa Caban), fight for his dreams in a strange land, deal with the death of his wife, and enjoy some surprising success as his charismatic alter ego, performing such beautifully done scenes as Gliding with his daughter, Buffalo Nickel Photoplay, Inc. as a baron/director, and the wistful Our Children with Mother.
A few of the many other standouts include Rosie Barker as a humorously diverting vaudeville tart Evelyn Nesbit, a.k.a. "the girl on the swing" done with a great "Whee!" (the swing created by two guys carrying a board between them that Evelyn sits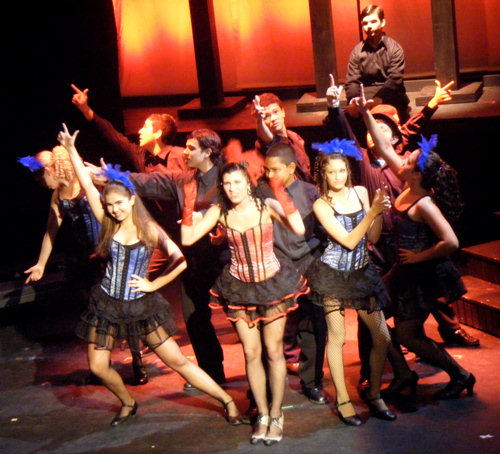 and swings on). Angel Valentin shines as Mother's Younger Brother whose passion/obsession for Evelyn Nesbit gets transferred to something bigger…and more explosive. Sarah Spangenberg is a genuinely tough and caring socialist activist Emma Goldman, determined in her fighting for the rights and concerns of workers. Brandon Essig is the Father who can't change his views as fast as the world is changing, and who shares a hilarious outing with his inquisitive, clairvoyant, and not-very-shy Little Boy (Brennan Spector) at the "civilized" game of baseball. Elsewhere, Jarrid Jones lends his prodigious vocal talent to the role of Booker T. Washington, DaVonne Bacchus is showy showman Harry Houdini, Lucas Brady is both Henry Ford and a cantankerous Grandfather happy to say whatever's on his mind, Trevor Kaplan-Newman is racist fire chief Willie Conklin, and Sam Adam is the wealthy, demanding J. P. Morgan.

The ensemble of whites, blacks, and immigrants thrives in many amazing scenes choreographed with great vision (even amongst the relatively small confines of the theatre space), from the big opening scene, the lively Getting Ready Rag as Coalhouse's friends get him ready to go re-courting Sarah, the vaudeville version of Evelyn's husband's trial in The Crime of the Century, the " civilized" baseball game, The Night That Goldman Spoke at Union Square in which Little Brother gets whipped up into a frenzy by Emma Goldman, a vacation getaway to Atlantic City, and an incredible cameo by Sarah's friend Tamara Daly leading the cast to end the first act in a stunning and emotionally wringing performance of Till We Reach That Day, capturing the spirit of this soaring and inspiring musical.

Performs July 31 - August 9, 2009

Rob Hopper
National Youth Theatre

~ Cast ~


Coalhouse: Anthony Sanchez
Mother: Sarah Banning
Tateh: Julian Sarria
Sarah: Hillary Fisher
Mother's Younger Brother: Angel Valentin
Emma Goldman: Sarah Spangenberg
Father: Brandon Essig
Little Boy: Brennan Spector
Evelyn Nesbit: Rosie Barker
Willie Conklin: Trevor Kaplan-Newman
Booker T. Washington: Jarrid Jones
Houdini: DaVonne Bacchus
Little Girl: Alexa Caban
Grandfather/Henry Ford/Whitman: Lucas Brady
J.P. Morgan/Conductor 2: Sam Adam
Sarah's Friend: Tamara Daly
Henson/Black Lawyer: Juadon Rafik
Sanford White/Man: Drew Miller
Harry Thaw/Admiral Peary/Policeman: Daniel DeZinna
Conductor 1: Michael Harper
Lawyer: Kaitlin McKendry
Evelyn Nesbit's Dancers:
Jackie Ellmauer
Bobbi Barricella
Kaitlin McKendry
Kiki Moran

~ Harlem Ensemble ~
Coalhouse's Men: Juadon-Rafik, Kyle Jack, Chris Cherry, Nathaniel Treadwell
Tamara Daly
Bria Chanel
Daejnae Lettman
Kennebrew Taylor
Shaunice Alexander

~ New Rochelle Ensemble ~
Kathleen/Clerk: Zoe Tchapraste
Brigit: Jessica Lieberman
Kaitlin McKendry
Kiki Moran
Mackensi Considine
Sam Adam
Daniel DeZinna
Lucas Brady
Drew Miller
Angel Valentin
Trevor Kaplan-Newman

~ Immigrant Ensemble ~
Bureaucrat 1: Isabel Plana
Bureaucrat 2: Jackie Ellmauer
Natalia Maccaroni
Naomi Ibasitas
Michael Harper
Joseph Velez
Bobbi Barricella
Andres Martinez
DaVonne Bacchus
Immigrant Children: Shereen Pimentel, Peggy Smith

Artistic Director: Kristen Ceasar
Musical Director: Jeremy Robin Lyons
Lighting Designer: Ashley Vellano
Assistant Director: Luzman Ortiz
Assistant Stage Manager: Elisa Fucich
Production Manager: Katie Gorum
Scenic Design: Andy Meeker
Sound Designer: Sara Clemens
Assistant Director: Patrice Christu