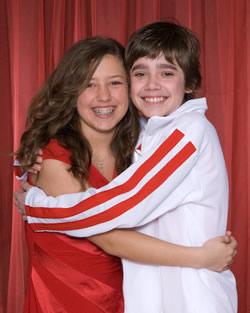 The Kids On Stage topped the charts with their renditions of Get Your Head in the Game, Keep the Status Quo, Breaking Free and other great songs in this Disney movie gone play.
The 5th through 11th grade Super Troupe's entire ensemble cast shined during their performance. The dancing and choreography was lively, entertaining and very well put together. The choreographer, Jenna Thomas, only 19 years old is an amazing talent herself and she taught these teens how to make the right moves on stage.
All the cliques at East High get shaken up when our heroes Troy (Wes Shenker) the basketball star and Gabriella (Ashley Machacek), the new brainiac at school, decide to try out for the high school musical, and everyone tries their hand at putting a stop to their romance and their "foolish ideas" of testing their newfound skills.
Gabriella and Troy's voices blend beautifully, especially in the song Breaking Free. Gabriella has a very lovely and full voice, and her poise as a young teenage actress is phenomenal. She belts out her songs with strong emotions that the audience can feel. Troy has this same ability with his duets and his acting, and he has a transparency that plays very well for his part as he tries to rise above what others expect and just go for what he wants out of life. The two actors perform very well together.
Ryan (played by namesake Ryan Teich) is the dramatic brother to Sharpay, the star of the high school drama club who will do anything to keep herself in a "starring" role. Ryan's dancing flows, and his Jazz steps are full of fun and personality, just like the character he plays so perfectly. He and his sister make a great team with plenty of dramatic flair and high dance moves, especially with Ryan jumping into Sharpay's arms instead of the other way around. They even have a fan club with signs like "Marry me Ryan" and "Ryan is my hero" and who offer much applause for both Ryan and Sharpay. Sharpay (Misha Trux) allows her personality to shine through as she acts her exaggerated role so naturally, playing to the audience with little looks here and there.
There are many little extras in this High School Musical that made it unforgettable. Even the dancing has a separate personality for different characters, including Chad (Colin Alsbro) whose moves are skillful and are accompanied by his excellent singing voice. He and Troy make a great team as best friends.
The lighting sets the mood for each scene and the set is simple yet very effective.

The solo dance of the cheerleaders gets an A as well as the short duet by the ensemble at the end of the play.

Many of the other actors like Zeke (Caleb Meyer) who has a very nice voice and an adorable personality, Chad, Kelsi (Jamie Kovich), Jack (Dylan Ford) and Taylor (Jordan Krieger) play their roles with competence and their costumes fit their characters – especially Jack who wears nothing that matches but looks great.

As the play goes along, the actors each bring out a very real person for their characters and at the end it is hard not to think of them as Zeke, Chad, Gabriella, Troy, Ryan, Sharpay, Taylor and so on and so forth.
Performed March 10 -11, 2007.
National Youth Theatre
~ Cast ~
Troy Bolton: Wes Shenker
Gabriella Montez: Ashley Machacek
Sharpay Evans: Misha Trux
Ryan Evans: Ryan Teich
Taylor Mckessie: Jordan Krieger
Chad Danforth: Colin Alsbro
Kelsi Neilson: Jamie Kovich
Jack Scott: Dylan Ford
Zeke Baylor: Caleb Meyer
Martha Cox: Sarah Wallsten
Ms. Darbus: Audrey Ballard
Coach Bolton: Andy Cleminshaw
Kratnoff: Kristen Deitrich
Jason: Josh Lane
Ripper: Jacob Stroud
Mongo: Nate Pagel
Cheerleader Captain: Allie Hoyt
James: Beck Williamson
Cathy: Danielle Fiskars
Cyndra: Madison Kemper
Susan: Ellie O'Connor
Basketball Players:
Clayton Kovich
Aubrey Risetter
Brian Spitters

Cheerleaders:
Meg Berndt
Elisa Herrman
Sammie Randall
Poms:
Payton Brock
Andrea Klingspon
Angela Sackett
Anna Zoschke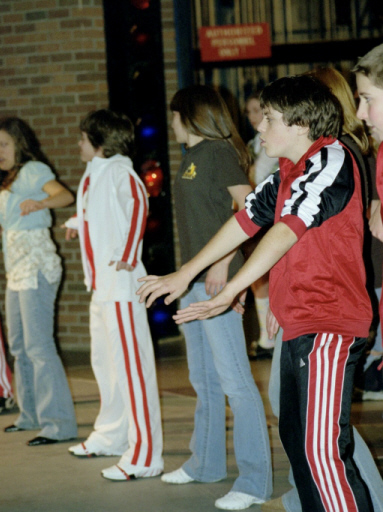 Skater Dudes:
Becka Bard
Sam Bard
Jennie Hartstein
Jamie Holmgren
Melany Hughes
Lauren Lahrman
Amber Mitowski
Hailey O'Brien
Laura O'Connor
Orion Thomas
Thespians:
Ashley Clark
Melanie Green
Guilia McCauley
Lena Miles
Corina Scott
Kaitlyn Szczypka
Maggie Van Winkle
Northern Williams
Tierney Williamson
Rebeccah Wisner
Megamix Soloists:
Sarah Conrad
Lena Miles
Director: Doug Fordyce
Assistant Director: Jeri Fordyce
Choreographer: Jenna Thomas
Production Assistants: Wendy Hoskins & Jennifer Meyer
Tech Director/Stage Manager: Alex Kerr
Set Design: Doug Fordyce
Set Construction: LHS Stagecraft & Theater Tech classes
Costume Coordinator Super Troupers: Laura Livrone
Costume Committee: Jacquie Blackwell, Lizzy Coulston, Susan Coulston, Tiffany Gano, Tammy Green, Lynette Hoyt, Kelly Matti, Kathy Ottmar, Natalie Rios, Karen Rooker, Joanne Shrock, Beth Scott, Janet Shenker, Jean Szczypka, Sarah Tedesco, Reta Trux, Donna Vavra-Musser
Props Coordinator: Lynette Hoyt
Set Coordinator: Suzanne Thursby
Stage Crew Coordinator: Reta Trux
Make-Up Coordinator: Eliza Ford
Volunteer Coordinator: Jamie Smith