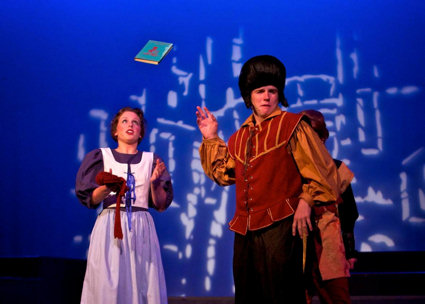 Great costumes...CHECK
Fun choreography....Check
Teamwork between kids ages 6 to 17...Check
Beautiful voices...Check
And Wonderful overall production...Check

It must be a Kids on Stage production in St. Joseph, Michigan. Doug Fordyce takes every young actor/actress who signs up and makes them a vital part of every play I have had the distinct pleasure of watching. Beauty and the Beast was no different.

The play starts with the staging of our 4 narrators telling the story while the Prince and the Enchantress dramatically yet silently act out the scene of how he became a beast. Throughout the play the narrators play a nice role of tying various parts together.

Ages 6 to 17 acted, danced, and sang their way into the hearts of the audience on November 5, 6, and 7, 2010. The choreography helped to make each student in each scene important whether in the village, the tavern, the castle or the forest. During the first scene we begin to see the wonderful acting and singing abilities of Belle played by Alyson Snyder as she skips through town greeting everyone while Gaston, played by Stuart Coulston, desperately tries to get her attention. The choreography continues to mesmerize as we see poor Maurice (Craig Wells) attacked by wolves with glowing red eyes. This scene particularly grabbed my attention with the unique choreography of dance and fighting combined, as well as later when the wolves return with their graceful moves to attack Belle and the Beast. Not to mention the castle scenes, watching the candle, clock, a teapot, silverware, dishes, etc. dance, displaying Megan Roth's brilliance as a choreographer.

As the play progresses we begin to see the true talent that each student has. Even the "Silly Girls" are not silly when it comes to their abilities. They are wonderful when they swoon and sing for Gaston. Their voices blend perfectly and the costumes are brightly colored, which just adds more pizzazz to their characters played by Hannah Davis, Sarah Green, C.J. Smith, and Katie Wright. Gaston won my heart with his tremendous singing voice as well and his wonderful characterization of the character. Lefou, played by Maddie Blaney, keeps up Gaston's spirits and has fantastic facial expressions as she tries to help him win back his own confidence with her singing in the tavern scene. Slowly but surely, Gaston is himself again and ready to plot his next dastardly plan to win Belle.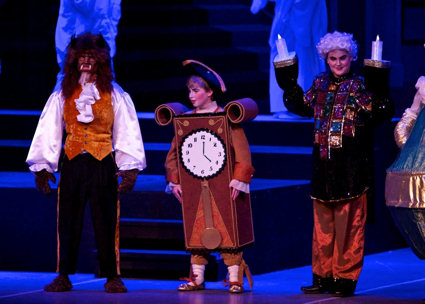 Meanwhile, at the castle, we discover about all the great talent found amongst the furnishings. Lumiere (Patrick Hill) and Cogsworth (Gavin Clarke) are wonderful comic relief in the emotional and scary castle. Their voices are fabulous and strong when singing, and they each have priceless facial expressions throughout the play. This play would not have been the same without these two teens. But the talent in the castle definitely doesn't end there. Savannah Lents as Mrs. Potts has an operatic voice and her friendly disposition and motherly actions towards the adorable Chip (Carmen Smith) and the rest of the "family" in the castle is very real. Samantha Randall, who played Madame de la Grande Bouche, also has an amazing opera voice and harmonizes very well when the group sings together. Babette, played by Grace Smith, adds some much needed playfulness in the castle, and the statues and other dancers add more atmosphere and life.

The Beast, Mitch Conrad, makes you truly believe he is an animal. He jumps into seats and eats like a dog, he is grumpy and has to keep remembering his manners. But as he gets to know the beautiful (inside and out) Belle, he softens. All of this develops very naturally. You feel like you are watching a true love story. More talent is shown as the beast sings and Belle does as well. Their voices are superb. I am not sure I have ever been to a youth play where every singer was so fantastic.

The ending of the play is emotional and beautifully done. All of the staging throughout this two-act play is astounding. The costumes are marvelous and the makeup miraculous especially Beast's make-up. We were in the very front row and his face was a beast, perfectly! I am impressed all the way around on this play. All aspects of a great play were seen here; amazing ensemble, great director, astounding production, breathtaking choreography, and extraordinary singing and acting. The group did such a fabulous job with all their roles. You cannot ask for anything more in a musical. Thank you Kids on Stage for all your hard work, it definitely paid off in huge dividends.

Performed November 5 - 7, 2010.

Roshelle Hall
National Youth Theatre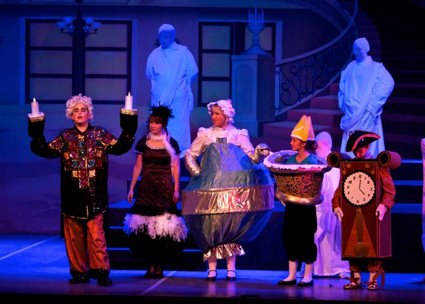 ~ Cast ~

Add Artist

NARRATORS:
Becca Brunner
Kate LaFrenz
Emily Mara
Alyssa Spafford
PRINCE: Nick Orlando
OLD WOMAN/ENCHANTRESS: Liz Conkin
BELLE: Alyson Snyder
BAKER: Tait Martinez
LADY WITH BABY: Hannah Miller
EGG MAN: Chase Knuth
CANDLE MAN: Erika Spafford
SAUSAGE CURL GIRL: Tabitha Hoskins
SHEPHERD BOY: Joshua Dixon
HAT SELLER: Natalie Rush
LADY WITH CANE: Courtney Rooker
MILKMAID: Lillie Orlando
FISH MAN: Myles Clark
ARISTOCRATIC LADY: Bethany Collins
BOOKSELLER: Emily Hodge
GASTON: Stuart Coulston
LEFOU: Maddie Blaney
SILLY GIRLS: Hannah Davis, Sarah Green, C.J. Smith, Katie Wright
MAURICE: Craig Wells
COGSWORTH: Gavin Clark
LUMIERE: Patrick Hill
BEAST: Mitch Conrad
BABETTE: Grace Smith
MRS. POTTS: Savannah Lents
CHIP: Carmen Lents
MADAME DE LA GRANDE BOUCHE: Samantha Randall
MONSIEUR D' ARQUE: Bryce McNeil
WOLVES: Myles Clark, Bethany Collins, Liz Conkin, Emily Hodge
STATUES/VILLAGERS: Isabel Blaney, Joshua Dixon, Tabitha Hoskins,
Chase Knuth, Tait Martinez, Hannah Miller, Eva Schley
DISHES/VILLAGERS: Breanne Blackwell, Abby Buller, Mya Dixon, Erin Lafrenz
SILVERWARE/VILLAGERS: Kielli Byers, Liam Clarke, Olivia McNeil, Madison Nutto, Lillie Orlando, Rachel Rantz
NAPKINS/VILLAGERS: Meg Farrington, Mallory Mishler, Amanda Morrison, Emma Niebrzydoski, Emily Waning
SALT &PEPPER SHAKERS/VILLAGERS: Lucy Arbanas, Zoe Burkett
DOOR KNOB/VILLAGER: Morgan Pope
CHEESE GRATER/VILLAGER: Farrah McNeil
ORIENTAL RUG/VILLAGER: Jaden Miller