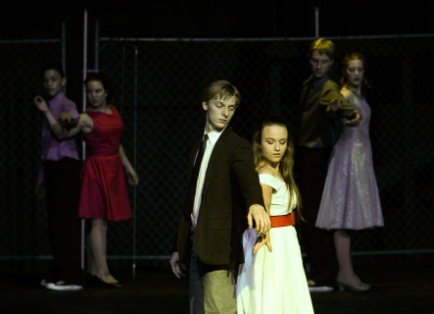 The biggest crowd in Justin-Siena's rich theatre history came out for this night of West Side Story – one of the greatest classics of American musical theatre created by Jerome Robbins, Arthur Laurents, Leonard Bernstein, and a young Stephen Sondheim. This modern, musical adaptation of Romeo and Juliet takes place in Manhattan as rival gangs of whites and Puerto Rican immigrants battle for turf, while the love between Tony and Maria will either bring the groups together or rip them even further apart.

Robert Francis is Tony, currently working legit for Doc's store, and recently retired from the gang he grew up in – the Jets (yes, the inspiration for the naming of the New York football team). Robert sings his ballads of hoped-for love, and then realized love, with desire in every lyric. The object of his desire is Maria, with Bridget Huston in the starring role, joining Tony in their romantic duets Tonight and an emotional One Hand, One Heart (their eyes glistening with tears and as they sing their vows). Bridget also shows off some good comedy as she praises herself in the giddy I Feel Pretty (while grossing out her friends), and she displays her strong dancing skills in a ballet version of Somewhere choreographed by Delaney Schmeling (a student and daughter of the main choreographer), nicely capturing the conflicted mixture of love, passion, anger, and sadness as the fates threaten their love.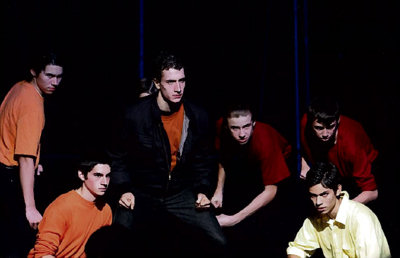 Leading the effort to keep them apart is Bernardo, the leader of the rival Sharks. Bernardo also happens to be Maria's brother, with Jeffrey Gerlomes as the confident, suave Bernardo trying to find his way in his new hostile environment of Manhattan. Jeffrey portrays the emotions of a protective and flustered older brother perfectly when he sees his younger sister Maria dancing with Tony, believing that Tony only wants her for one thing. Racquel Oropeza does well as Bernardo's girlfriend Anita who, in the big America number, leads the supporters of their new life on the island of Manhattan against Rosalia (Ali Owner) who waxes nostalgic for the island of Puerto Rico.
Meanwhile, the Jets are led by Tony's best friend Riff, with Michael Starr leading the Jets (and their eager tomboy hanger-on Chelsea Holifield as Anybodys) in their efforts to hold their claim of dominance in the streets, and keeping them focused as he does in the well-staged and performed Play It Cool. Many of the Jets also combine for the show's comedic highlight – begging mercy from Officer Krupkie (Dr. John Dyer), featuring hilarious choreography and performances as some seriously mentally disturbed individuals battle their variety of social diseases while "helped" by clueless adults.
The ensemble shines in their big dance numbers choreographed by Lisa Clark-Schmeling, from Play It Cool to the opening dance/fight scene to the big dance at the gym. And actually, the show's director shines in the gym as well. Matthew Teague Miller turns himself into The Glad Hand – a super-nerdy adult trying to make détente through a corny dance, and adlibbing something new each performance to try to throw his cast members a curve. This night it was a severe reprimand for a pickle juice incident involving an anonymous student at the Catholic high school and Sister Marguerite, with the sister passing word to the perpetrators via The Glad Hand that, "I'm going to hunt you down and hurt you…And God bless you all." Matthew captures the super-nerd persona a little too well, with great timing, posturing, and attempts to bridge cultural divides by being
bilingual – both talking bilingually and laughing bilingually. Or perhaps trilingually, as he encourages the students to participate in his walking/dancing game by saying, "walkie, walkie."

It was a production of West Side Story that brought Matthew Teague Miller to Justin-Siena as a student, under the direction of youth theatre guru Alex H. Urban. It's a show he clearly knows and loves well, bringing it all to a climactic and riveting conclusion.

Performs October 24 - November 2, 2008.

Rob Hopper
National Youth Theatre

~ Cast ~

~ Jets ~
Tony: Robert Francis
Riff: Michael Starr
Action: Eric Quast
?: Nick Bellomy
Baby John: Mark Morden
A Rab: Greg Zobel
Big Deal: Karsten Cayerbuab
Anybody: Chelsea Holifield
Velma: Kellyn Lopes
Graziella: Gabby Morrongiello
Minnie: Kayla Kruezburger
Claria: Gianna Bennetti
?: Natalie Straw
Jet Ensemble:
Bridget Abshear
Paulina Battegazzore
Ali Brown
Nicollet Ellis
Mercedes Flynn
Lindsey Grazer
Christian Greene
Cassidy Hopkins
Hailey Henderson
Anja Kueck
Deanna Maher
Annemarie Mendonsa
Maria Mulcahy
Katie Schloesser
Sarah Weakley
Shannon Wills
Stephanie Wills

~ Sharks ~
Bernardo: Jeffrey Gerlomes
Maria: Bridget Huston
Chino: Jose Basulto
Anita: Racquel Oropeza
Conseulo: Olivia Vera
Indio: Sean Campbell
Pepe: Chris Miller
Francesca: Cami Smith
Rosalia: Ali Owner
Luis: Liam Bell
Anxious: Josh Heine
Nibbles: Caleb Heine
Teresita: Chloe Fulton
Sharks Ensemble:
Drew Dorsey
Taylor Dorsey
Maria Guitierrez
Ciara Hanna
Stephanie Lovell
Lexie Martin
Lauren Orris
Natalia Pachote
Delaney Schmeling
Cameron Smith
Caroline Zaia

~ The Adults ~
Officer Krupkie: Dr. John Dyer
Lt. Shrank: Kevin Belton
The Glad Hand: Matthew Malden III
Doc: MTM (In Loving Memory of Robert C. Morrish)

Director: Matthew Teague Miller
Choreography: Lisa Clark-Schmeling
"Somewhere Ballet" Choreography: Delaney Schmeling
Lighting Design: Sean Hanna
Set Design: Matthew Teague Miller
Sound Design: Sound Expressions
Stage Manager: Danielle Schmidt
Assistant Director: Chelsea Holifield