This production of Little Shop of Horrors began long before it started. The evening began with a dinner served by cast and drama club members – a mostly vegetarian dish encouraging us to get a little revenge on the plants that would soon be eating us (with some Napa Valley wine, to help still our nerves for the man-eating horrors to come). We eat the plants again for dessert – or at least the soil they are potted in – soil that turns out to be chocolate mousse. But the show begins even earlier than that. In the lobby are numerous flytraps with several warnings not to feed the deadly plants. And even before the lobby we walk into the building a long a blood-red carpet…

Little Shop of Horrors is Howard Ashman and Alan Menken's hilarious cult musical spoof of the 1950s horror movies, a musical popularized by the film version starring Rick Moranis and Steve Martin. But Justin-Siena High School has a great cast of their own, including an impressive bunch of singers and several good comedians who really get this great musical's comedy.

Robert Francis is Seymour, a nerdy and amusingly meek flower shop assistant who finds a "strange and unusual" plant. Chelsea Holifield is Audrey, his sweet coworker who dates bad guys from "The Gutter" because she doesn't think she deserves nice guys like Seymour. Chelsea forgoes the completely over-the-top portrayal of Audrey, instead creating a believable Audrey who combines great humor with a personality that is so kind and vulnerable and unnecessarily down on herself that you just hope she finds the happiness she deserves and doesn't get eaten by some horrifying, man-eating plant. Together, their duet Suddenly Seymour is sensational – Seymour embarrassed but hopeful that Audrey may love him, and Audrey initially reluctant to believe she is deserving of Seymour's love, eventually hugging him with a thrill of relief. Her emotional journey during the lyrics of the song is beautifully portrayed.

And then there's her namesake, the Audrey II. Eric Quast provides the fantastic vocals for Seymour's "strange and unusual" plant that mysteriously appears during a total eclipse of the sun. While Eric's voice captures the plant's humor and the evil and the soulful personality, the body of the plant itself also breathes a lot of life into the creature, with plant designeer Sean Hanna and the puppeteers creating a plant that can move itself across the stage on its tentacles, at one point seeming to sit itself on the edge of the stage, comfortably in control of the world around him.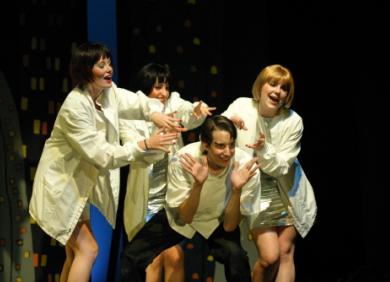 Other great costars include the swivel-hipped, high-stepping physical comedian Jeffrey Gerlomes as the sadistic dentist who finds books like Lord of the Flies romantic, goes into the audience to demonstrate the effects of a neglected mouth, and sends his patient up and down in the dentist chair while overdosing on laughing gas. As Seymour's selfish boss, Greg Zobel does some fast talking and even faster footwork to convince Seymour to be his son. Ali Owner, Elizabeth Rouse, and Ali Brown are our hip narrators who lead us through the story with style and leading such numbers as The Meek Shall Inherit. Another standout includes John Malin, the alternate for the role of the Dentist, who in this cast plays the first customer hypnotized by the power of the plant into buying flowers (so hypnotized he never makes eye contact with anyone) and as the added masochistic dental patient Arthur Denton – the Bill Murray character from the film who has a true passion for dull, rusty, un-Novocained dental procedures, driving the confused sadistic dentist beside himself with disgust. The ensemble kicks it off with a great introduction to Skid Row.

Costume Designers Janelle Korcheck and Morgan Wang have some fun with the glitzy outfits for the Doo-Wop narrators and the outrageously awful outfits that Audrey likes to wear. Lisa Clark-Schmeling's fun choreography shines in Mushnik and Son and You'll be a Dentist. Director Matthew Teague Miller's creative staging keeps us involved in the tale from the red carpet to the bows. The stage is set in the wall of the school's gym where the flower shop is located, but they also make great use of the sides and a small center stage in the middle of the gym that centers some of the pivotal scenes including the dental office and Suddenly Seymour. Other fun touches include Audrey and Seymour making the worst flower arrangement ever made (no wonder they need extra-terrestrial help to succeed!).

Performs October 26 - November 4, 2007.

Rob Hopper
National Youth Theatre

~ Cast ~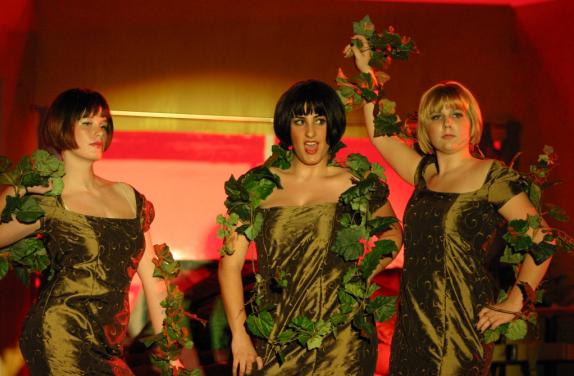 Seymour Krelborn: Robert Francis
Voice of Audrey II: Eric Quast
Audrey: Chelsea Holifield
Chiffon: Ali Brown
Ronette: Elizabeth Rouse
Crystal: Ali Owner
Orin: Jeffrey Gerlomes
Mr. Mushnik: Greg Zobel
Arthur Denton: John Malin
Customer: John Malin
Patrick Martin: John Malin
Berstein: Mark Marden
Mrs. Luce: Katie Paul
Skid Row Soloist: Monica Olsen
Disembodied Voice: Jeffrey Gerlomes
Skid Row Residents:
Taylor Adrian
Jose Basulto
Jennifer Bettencourt
Karsten Cayabyab
Mercedes Flynn
Morgan Fowler
Chloe Fulton
Kayla Kreuzberger
Stephanie Lovell
Monica Olsen
Natalie Straw
Stephanie Wills
Caroline Zaia

Direction and Musical Direction: Matthew Teague Miller
Lighting Design: Sean Hanna
Set Design: Kyle Johnsen
Sound Design: Sound Expressions
Costume Design: Janelle Korcheck and Morgan Wang
Plant Design & Construction: Sean Hanna
Stage Manager: Kyle Johnsen
Choreography: Lisa Clark-Schmeling