After a season of Disney plays, J*Company and Director Joey Landwehr now tackle the works of Rodgers and Hammerstein, beginning with the groundbreaking South Pacific. Based on James Michener's Tales of the South Pacific, Rodger and Hammerstein took the story of American forces engaged in World War II's Pacific theater and developed a musical featuring good comedy, powerful drama, and a direct confrontation with the bigotry of the time against interracial marriage. Doing so with a musical score that includes such standards as Some Enchanted Evening, I'm Gonna Wash That Man Right Out of My Hair, and Bali Ha'i.

The story primarily revolves around Ensign Nellie Forbush, a young, bubbly, cockeyed optimist nurse from Little Rock, Arkansas who has just met, and is just falling in love with local, middle-aged, widowed French plantation owner Emile De Becque. Until she is shown his two children from his deceased Tonkinese wife. Starring as Nellie is Danielle Smotrich, a young Andie MacDowell type who does hit the happy, cockeyed optimist personality and delivers some amusingly asked personal questions as she tries to inquire as to why Emile might have killed a man. That Emile is performed by Darien Sepulveda who plays off Nellie well as he opens up to her about his past and makes no excuses for it.

The other big storyline in the show is that of Lt. Joe Cable (Daniel Myers who impresses with his sensitivity and tremendous vocals), newly arrived on the island under command to hideout on a nearby island behind enemy lines and transmit critical Japanese naval movements. As his mission becomes sidetracked, he gets sidetracked by the young, sweet, and lovely Tonkinese girl Liat (Danielle Levin). Their matchmaker is the singular Bloody Mary, a local entrepreneur who gets determined to bring Joe and her daughter together, with Satya Chavez giving a standout performance with her humorous personality and beautiful, hypnotic singing of Bali Ha'i.
Elsewhere, Robbie Friedman wraps up his youth theatre career with a strong comic performance as Luther Billis, a too-clever-for-his-own-good sailor who wants to get to Balil Ha'i for business opportunities and female opportunities. He also does some quick thinking when a couple freshly washed clothes are dropped in the set's "sand" as he gives them to Nellie ("I'll wash those again later," he adds). His fellow Seabees join him in pining for dames (including some hilariously young men who are about eight years old), while the dames on the island try to wash the men right out of their hair with Nellie in one of the best scenes of the show.
Director Joey Landwehr had to pull double-duty for the last performance in the run, jumping into the role of Commander William Harbison. He commanded a good show that looked good as well, with a variety of nice costumes by Lisa Forrest and impressive sets by Heidi Atchinson. And the next set won't be too far away geographically speaking, heading to Siam/Thailand in December for Rodgers and Hammerstein's The King and I.
Performed October 15 - 25, 2009

Rob Hopper
National Youth Theatre
~ Cast ~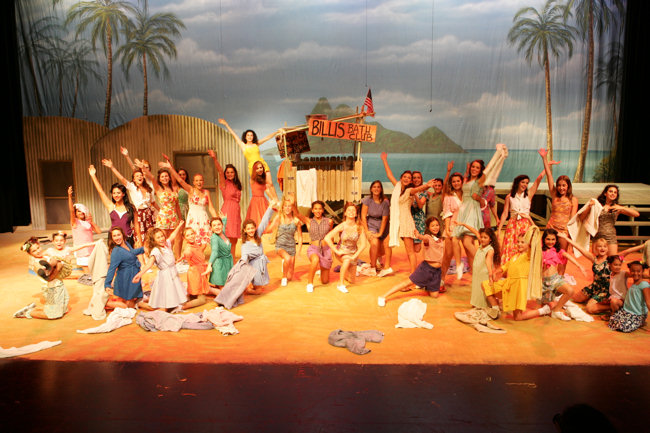 Emile De Becque: Darien Sepulveda
Henry: Zachary Herzog
Ngana: Mikayla Chang
Jerome: Cameron Chang
Ensign Nellie Forbush: Danielle Smotrich
Understudy for Nellie Forbush: Maddie Houts
Bloody Mary: Satya Chavez
Bloody Mary's Assistants:
Victoria Cone
Jenna DeQuesada
Gabriella Serrano
Sarah Wolfkind
Marcel: McLain Simpson
Liat: Danielle Levin
Lt. Joe Cable: Daniel Myers
Capt. George Brackett: Kevin McRee
Commander William Harbison: Joey Landwehr

~ Nurses ~
Ensign Dinah Murphy: Naomi McPherson
Ensign Janet MacGregor: Hannah Houts
Ensign Connie Walewska: Rebecca Myers
Ensign Pamela Whitmore: Kaydon Schanberger
Ensign Rita Adams: Maddie Houts
Lt. Genevieve Marshall: Ashlen Sepulveda
Ensign Lisa Minelli: Mackenzie Bath
Ensign Cora MacRae: Erica Malachowski

~ Marines, Sailors, Seabees ~
Luther Billis: Robbie Friedman
Stewpot: Scott Peterson
Professor: Conrad Mazur
Buzz Adams: Zachary Herzog
Bob McCaffrey: Ian Laughbaum
Tom O'Brien: Daivd Israel II
Morton Wise: Eli Rubenstein
Richard West: Julian Kalb

~ Nurses & Female Military Ensemble ~
Keila Ashkenasi
Talia Berkstein
Hallie Bodenstab
Sarah Bonavich
Julia Camilleri
Jesse Carpentier
Kaia Crusberg
Kendal Dastrup
Alanna DePinto
Rebecca Elster
Ilana Engel
Ilana Hirschfeld
Alexis Iannone
Talia Israel
Danielle Levin
Ashley Lynch
Lynda Morris
Rosie O'Brien
Rebecca Penner
Jenner Price
Zia Rose
Casandra Ramsey
Ashlen Sepulveda
Gabrielle Smotrich
Jacqueline Tullie
Samantha Tullie
Madison Wright

~ French Island Girls / Thanksgiving Follies Performers ~
Talia Berkstein
Jesse Carpentier
Alanna DePinto
Rebecca Elster
Alexis Iannone
Rosie O'Brien

~ Thanksgiving Follies Dancers ~
Erica Malachowski
Naomi McPherson

~ Male Military Ensemble ~
Kyle Fairbrother-Rota
Sebastian Mayer
Kevin McRee
McLain Simpson
Maxwell Starko-Jones

Director: Joey Landwehr
Producer: Elfreda Friedman
Musical Director: Jason Chase
Choreographer: Alyssa Schechter
Stage Manager: Jamie Gillcrist
Lighting Designer: Areta MacKelvie
Sound Designer: Ginger Cox
Costume Designer: Lisa Forrest
Scenic Designer: Heidi Atchinson