THE SHOW:
Fred Carmichael's play brings together five murder mystery authors hired to combine on a new television series. The authors include writers in the mold of Agatha Christie, Ian Fleming, the horror film variety, and murderers of the wealthy, sophisticated variety. The writers' professional and literary competitiveness leads to a frantic series of every clichéd mystery plot device imaginable during which the lines between the real world and the script world begin to blur, as well as who may or may not be dead.
THE PRODUCTION:
Elizabeth Oates directs this ode to the murder mystery genre, keeping the dialogue and crimes and twists and turns coming fast and snappy. Providing all the snappy dialogue is a strong comedic cast who give us a great feel for their characters with very little character development written in.
It's the sophisticated variety who we first meet, taking the last name "Olive" to go with their martini murders. As the two Olives, the hilarious Carly Evans delivers her clever one-liners with genuine ease and humor, with her husband Jacob Shore making her natural partner in crime and in wit. Amanda Cowell is the delightful Agatha Christie-type who uses her voice to terrific effect. Kyle Kercher is our young James Bond-ish writer Brad Benedict with a good quiet and observant, anti-Bond-ish personality. And Alexander Enriquez is the aging but highly enthusiastic master of old school horror, suspense, and monster tales. Trying to get them all onboard for a successful project is the eager and stressed Nate Briggs as Jason Summers.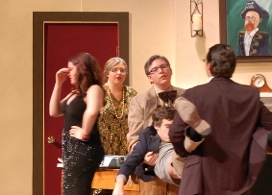 The rest of the cast does excellent work as the show's backstage workers and actors for the archetypal roles in the various murder plots. All the deaths takes place in Horizon's beautifully reborn theatre where, after several months of renovations that had their theater group performing in the facilities of neighboring schools, had its big ribbon-cutting ceremony on opening night.
Performed October 10 - 12, 2013
Rob Hopper
Facebook
Instagram

Executive Director
National Youth Arts
~ Cast ~
Add Artist Page


Jessica Olive: Carly Evans
Whitney Olive: Jacob Shore
Mildred Z. Maxwell: Amanda Cowell
Brad Benedict: Kyle Kercher
Rodney Duckton: Alexander Enriquez
Jason Summers: Nate Briggs
Stagehand/Man: Cade Frankson
George: Henry Carbeck
Martha: Maddy Molzahn
Girl: Juliet Wilson
Monster: Wesley Lewis
Stephanie Mildaur: Jaymee McCarthy
Secretary: Katie Backus
Gregory: Jordan Canning
Jane: Arielle Lipan
Production Assistant: Allye Moyer

Director: Elizabeth Oates
Technical Director: Franklin Cerne
Stage Manager: Natalya Upshur