In Neil Simon's hilarious comedy Fools, it can be awful tough to pick out the village idiot. For this little Ukrainian town has lived under a terrible curse for centuries, dooming everyone in it to stupidity. Can a teacher from outta town free them from this curse and make them all smart again? He'll have to work fast, as he's told he only has one day to do it before he falls under the curse as well. A risk he's willing to take when he falls in love with a sweet blonde. But yes, bless her heart, she's also a dumb blonde.
Director Jay Seller and his immensely talented students at Horizon High School in Thornton, Colorado had the audience giddy from the moment we are introduced to the lovable citizens of Kulyenchikov, which begins when the new schoolmaster and our narrator, Leon Tolchinsky, arrives in town (with Anthony Gianna as the straight man to the cast of crazy characters). The first person he runs into is sheepherder Snetsky (an amusingly droll Conner Pulliam) who talks to his lost sheep and tells the audience that he, too, can narrate to us, but he doesn't really have any thoughts to narrate.
Snetsky claims that the entire village is under a stupid curse, and Leon soon sees proof as he is introduced to other residents including the sweeping-challenged Slovich (Derek Miles) and the flirty flower seller who claims to be selling fish (Kellie Stern is a total hoot as flower/fish girl with her terrific body language and sense of humor).
Perhaps Leon just has to meet a more learned resident? Enter Dr. Zubritsky and his wife Lenya, and enter charismatic comedians Steven Rotramel and Catherine Chengery who take the show by storm with their hysterical physical humor, expressions, and timing – playing perfectly off each other whether they are marveling over Leon's odd narrations to the audience or being supportive parents to their dear, dumb daughter (they're proud when she "sits" correctly). Daughter Sophia, a.k.a. "cute little bundle of noodle brains," is played by Bethany Kelly with a nice, calm humor that speaks to her gentle nature and contrasts well with her parents. As well as contrasting with her melodramatically flamboyant suitor Gregor Yousekevitch (Paul Westerhold), Leon's rich rival for Sophia's attentions.

No fools were the designers who created the simple, effective, and aesthetically pleasing set as well as the variety of costumes that added much to the characters, the setting, and the laughter.

Performed April 20-21, 2006.

Rob Hopper
National Youth Theatre

~ Cast ~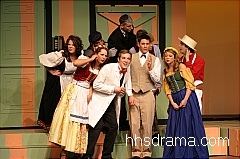 Leon Tolchinsky: Anthony Gianna
Snetsky: Conner Pulliam
Magistrate: Justin Wood
Slovich: Derek Miles
Mishkin: Niko Gonzales
Yenchna: Kellie Stern
Dr. Zubritsky: Steven Rotramel
Lenya Zubritsky: Catherine Chengery
Sophia Zubritsky: Bethany Kelly
Gregor Yousekevitch: Paul Westerhold

Director: Jay Seller
Director Assistant: Sara Cobb
Technical Director: Glenn Ashley
Lighting and Sound Design: Chris Hong
Stage Manager: Sam Varvir