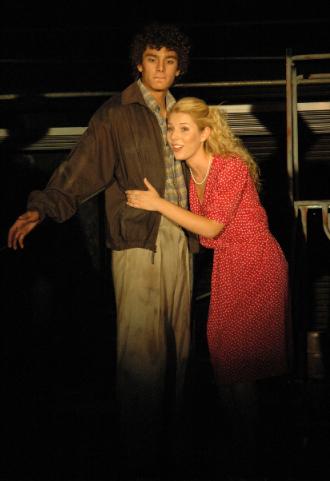 What is Urinetown? Urinetown is a place. And a euphemism. And a musical. And a really bad name for a musical. And, thanks to The Highland Players, it was in La Mesa, California where Director Gregg Osborn and his group at Helix High's little theatre took the audience on a most hilarious trip through the town where you have to pay to pee.

This clever satire is set in the near future, twenty years into a catastrophic drought that has put water at a fantastic premium. To conserve the precious resource, everyone has been forced to use public urinals, and the Urine Good Company has been authorized to collect ever-increasing fees that ostensibly go to helping find lasting solutions to the water crisis (but really just line the company's coffers). The punishment for urination outside official urinals is pretty brutal. You are taken into custody by Officer Lockstock and his trusty sidekick Officer Barrel, and you are taken to Urinetown. And you are never seen again [insert scary laughter].

When his father becomes the latest victim of a weak bladder, Bobby Strong (Jakob McWhinney) decides that it's time to do something, becoming the grassroots leader of the people who refuse to pay to pee and take over the local public urinals where Bobby worked. Which puts him in a difficult position with his romantic leading lady, Hope Cladwell (Caitlyn Schock), the daughter of the CEO of Urine Good Company.

Jakob does a nice job as Bobby, starting as a modest young man who, by the time he reaches the height of his glory, is winking and flirting with the women in the audience. He shares a great duet with Hope in Follow Your Heart, his reactions when she listens to his heart by putting her ear to his chest are priceless. Caitlyn is an outstanding Hope with a great variety of facial expressions and emotions (love, pride in her dad, confusion, fear, disgust, and, of course, hope) as she grows from naïve daughter to hopeful romantic to kidnap victim to a fearless and overly optimistic leader.
The cast is full of great comedians, led by the dynamic Kevin Koppman-Gue as our narrator Officer Lockstock – the chief enforcer of the tough new laws. Kevin has a great sense for the show's comedy, making for a leisurely ruthless cop with a slight nervous streak and given to painful bouts of jealousy, doing it all with great timing and dance moves. Maya Miesner is his young confidant, Little Sally, who asks a lot of insightful questions, doing it all with an innocent-little-girl voice and squint. Mia Bella Josimovic gives an exceptional singing and acting performance as Penelope Pennywise, the pragmatic public urinal supervisor who is equally amusingly convincing as a proud and adoring mother and as a hot-blooded mistress. As the cash-happy Caldwell B. Cladwell, Jason Ramirez is the object of that hot-blooded affection, plus lots more affection as his employees sing his praises. He manages an awkward dance spin just as his daughter shouts out proudly, "That's my dad!" and really shines in explaining to his daughter why she should be the mighty hunter and not "be the bunny."

The ensemble adds much from beginning to end, both as the happy employees of Urine Good Company and as the poor citizens who become an angry mob. We see the latter at their tops in the holy-rolling Run Freedom Run and the vindictive Snuff that Girl as they consider killing their affluent hostage – a number featuring Ian Lewis as a snarling Hot Blades Harry and Jenna Ingrassia as the very pregnant Little Becky Two Shoes who galvanizes their anger throughout with her glares and frustration and magnificent stage presence. Her big belly becomes a sort of lucky charm for her fellow revolutionaries, as almost everyone ends up patting it once during the show. But will that lucky charm be enough to give this badly named musical a good ending? Either way, The Highland Players make it a fun ride to the bitter end.

Performs August 3- 11, 2007.

Rob Hopper
National Youth Theatre

~ Cast ~

Officer Lockstock: Kevin Koppman-Gue
Penelope Pennywise: Mia Bella Josimovic
Bobby Strong: Jakob McWhinney
Little Sally: Maya Miesner
Hope Cladwell: Caitlyn Schock
Mr. McQueen/Robbie the Stockfish: Trevor Sanderson
Senator Fipp: Patrick Williams
Old Man Strong/Hot Blades Harry/Cop: Ian Lewis
Soupy Sue/Nurse/Cop: Melissa Farrior
Tiny Tom/Dr. Billeaux/Cop: Michael Sanchez
Little Becky Two Shoes/Cop: Jenna Ingrassia
Bootleg Betty/Cladwell's Secretary: Amanda Chase
Anxious Annie/Mrs. Millennium: Danielle Sanchez
Officer Barrel: Andrew Arguilez
Billy Boy Bill/UGC Assistant: Nate Howard
Jimmie Shoeshine: SeeJay Lewis
Josephine Strong: Brianna Wright
Caldwell B. Cladwell: Jason Ramirez

Director: Gregg Osborn
Musical Direction: Katie Wilson
Choreography: Perry Lee
Stage Manager: Bernadette Siscon