Film noir meets musical theatre in this unusual Tony Award-winning production put on by Helix High School's Highland Players in La Mesa, California – just a couple hours south of the setting of City of Angels. Set in the 1940s, a private detective named Stone gets handed a cast from a wealthy and sultry socialite who is looking for her missing stepdaughter, and soon finds himself being roughed up, misled, and seduced by a variety of people with interest in the case.

How will it all turn out? That depends on Stine, the screenwriter who created his alter ego Stone, and who is having trouble dealing with all the other real-life alter egos of his fictional characters.

Jakob McWhinney stars as the screenwriter who's battling marriage problems, an unscrupulous Hollywood producer, and himself – having to decide whether to sell his soul and his characters to producer Buddy Fiddler. Andrew Mena is detective Stone who handles his character with a perfectly tough, streetwise, but amusing average-Joe personality. Together they share a great duet You're Nothing Without Me, an argument between the two different but interdependent personalities that Stine ultimately ends by typing up Stone getting punched in the gut.
The show is a good ensemble piece that boasts a strong supporting cast of memorable characters. Mason Hale plays the sleazy, charismatic, wiseass Hollywood producer Buddy Fiddler who effectively talks through his singing, using humor for the notes he can't hit. Amanda Friel is a riot as the seductive Alaura Kingsley who pragmatically works her wiles on Stone, her stepson Peter (Daniel Mena), and any anyone else she thinks may be of help in her plans. Her double-entendre-filled Tennis Song with Stone is a hoot. Stephanie Packard is the sweet wife of Stine and a jazzy singer at a cocktail lounge who sings with good period vocals. And Kayla Lauzier delivers a fantastic performance both as Stone's fast-talking, wise-cracking receptionist and as Buddy Fiddler's receptionist who is a beautiful and clever person, but who sadly keeps falling for the wrong guy.

Other memorable performances include Gregory Shelby as Stone's rival and nemesis Lt. Munoz who becomes a Ricky Ricardo-like stereotyped Spanish singer backed up by castanet-clicking morgue workers in the hilarious All You Have to Do is Wait scene. Bridget Foley steams up the joint as Mallory Kingsley – the mission person who reveals herself to Stone. Patrick Williams is Alaura Kingsley's husband who spends his life lying on his back inside of an iron lung, whose face we only see reflected in a mirror. And Ian Lewis leads the Angel City chorus in a few period songs, including a mellow doo-wop tune that they sing as Stone gets pummeled by thugs.

Director Gregg Osborn's production demonstrates a great grasp of the show's humor and style, as do his actors who are dressed up in Gregg's and his mother Maxine's delightful costumes that enhance each character in this entertaining murder mystery musical.

Performs February 2 - 17, 2007.

Rob Hopper
National Youth Theatre

~ Cast ~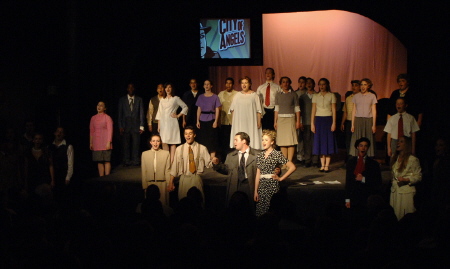 Stine: Jakob McWhinney
Stone: Andrew Mena
Gabby/Bobbi: Stephanie Packard
Donna/Oolie: Kayla Lauzier
Buddy Fiddler/Irwin S. Irving: Mason Hale
Carla/Alaura kingsley: Amanda Friel
Werner Kriegler/Luther Kingsley: Patrick Williams
Gerald Pierce/Peter Kingsley: Daniel Mena
Avril Raines/Mallory Kingsley: Bridget Foley
Pancho Vargas/Lt. Munoz: Gregory Shelby
Gene/Officer Pasco: John David Siscon
Grip/Mahoney: Andrew Arguliez
Cinematographer/Yamato: Marc Caro
Gilbert/Mandril: Evan Dowd
Jimmy Powers: Ian Lewis
Angel City Soprano: Kelsey Reilly
Angel City Alto: Melissa Farrior
Angel City Tenor: James Winchell
Angel City Bass: Jesse Cox
Studio Cop/Sonny: Taylor Morgan
Studio Cop/Big Six: Andrew Milholland
Ensemble:
Julie Brown
Amanda Chase
Taylor Chertkov
Alex Eatchel
Juliann Friel
Nate Howard
Chloe Liddell
Kevin McLoughlin
Hope Phipps

Director: Gregg Osborn
Musical Direction: John Lindhorst
Assistant Director: Kevin Koppman Gue
Scenic Design: Amy Reams and Gregg Osborn
Technical Direction: Paul Reams
Costume Design: Maxine Osborn and Gregg Osborn
Stage Manager: Carly Russell