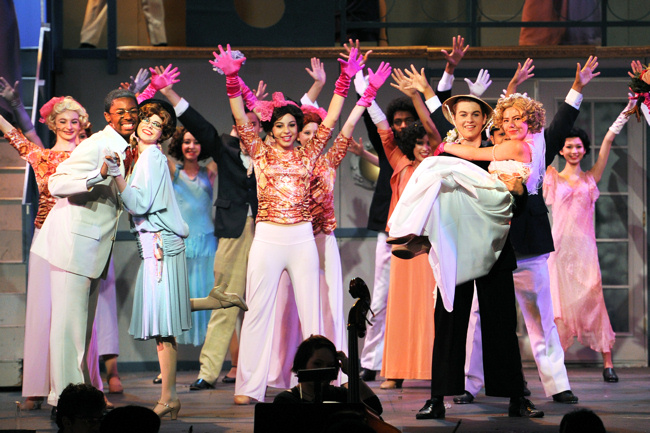 THE SHOW:
Music and Lyrics by Cole Porter, Book by Guy Bolton, P.G. Wodehouse, Howard Lindsay and Russel Crouse. Broadway debut in 1934.
When it comes to love, Anything Goes in Cole Porterís classic slapstick musical. This quest for love takes place on the high seas as Billy Crocker stows himself away on a cruise ship to try to stop debutante Hope Harcourt from marrying quirky Englishman, Sir Evelyn Oakleigh. Meanwhile, hot-to-trot celebrity Reno Sweeney would be willing to take Billy if Hope doesnít want him, but Reno is a good enough friend to help Billy make his dreams come true with Hope. Throw in machine gun-toting Public Enemy #13 Moonface Martin, and maybe Billyís got a shot. Along the Transatlantic crossing are sung such hits as Youíre the Top, Itís Delovely, Friendship, I Get a Kick Out of You, and the title tune.
THE PRODUCTION: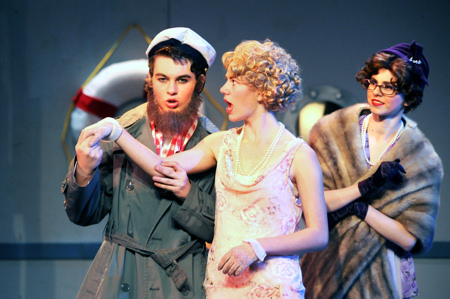 Chelsea Field directs and choreographs Hamilton Academy of Musicís big production of Anything Goes. The show sails along with strong and fun song-and-dance numbers featuring an impressive bunch of hoofers, all accompanied by the schoolís tip-top student orchestra conducted by Jim Foschia. And they do it all aboard a gorgeous ship deck designed by John Paul Luckenbach.
The role of Reno is double-cast between Emma Griffone and Gabi Nail. On this night it was Gabi as a cool, laidback Reno Sweeney, leading her band of angels with easy confidence, happily misbehaving with an amusing Jordan Segell as Sir Evelyn Oakleigh, and crooning out standards like I Get a Kick Out of You with excellent period vocals. Noah Mayer is Billy Crocker, charismatic and self-assured and mischievous as he tries to woo and charm the sweet debutante Hope Harcourt (Charlotte Robinson).
Coincidentally, Gabi Nailís ďBillyĒ from a third-grade production of Anything Goes is her Moonface Martin here, with Evan Dye as Public Enemy #13.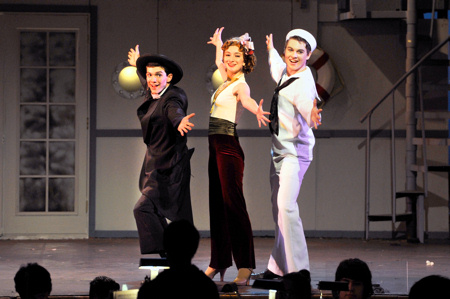 Evan is an entertaining Moonface, always ready for action (except when he has to exchange the real violin in his violin case for the machine gun from the orchestra pit), no reservations about trying to Be Like the Bluebird, and joining with friends Reno and Billy for a fantastic performance about Friendship.
The cast as a whole shines in many big numbers choreographed by Chelsea Field with tap choreography by Cheryl Baxter. These include those led by the fun, sailor-loving Bonnie (Selena Donayre) such as the Heaven Hop and Letís Step Out. While Reno and her angels lead the shipís dynamic cast and crew in to Blow, Gabriel, Blow, Take Me Back to Manhattan, and a stellar rendition of Anything Goes.
Performed February 6 - 22, 2014
Rob Hopper
Facebook
Instagram

Executive Director
National Youth Arts
~ Cast ~
Add Artist Page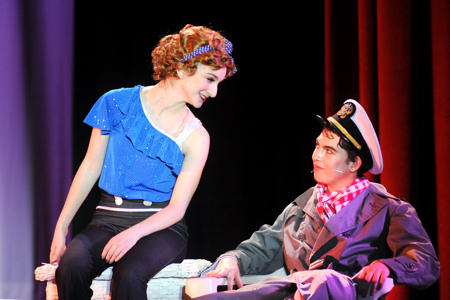 Elisha J. Whitney: Elisha J. Nealy
Steward: Kent Marshall Dylan Schaffer
Reporter: Erin Krinsky
Cameraman: Devin Weitz
Sir Evelyn Oakleigh: Jordan Segell
Mrs. Wadsworth T. Harcourt: Mayah Schwiebert
Hope Harcourt: Charlotte Robinson
Bishop: William Washington
Reno Sweeney: Emma Griffone / Gabi Nail
Billy Crocker: Noah Mayer
Moonface Martin: Evan Dye
Ching: Randy Lopez
Ling: Mohamed Zain Patel
Purser: Preston D. Parker
Bonnie: Selena Donayre
Captain: Duncan Brandel
Chastity: Ali Yankelevitz
Purity: Mia Bensimon

Virtue: Madison Nelson
Charity: Myko Lyric Campbell
Destiny: Hannah Knoll
Patience: Natalie Edelstein
Timmy Goodman: Tommy Goodkin
Jeff Daniels: Daniel Martinez
Marilyn McKathy: Chloe Ridolfo
Rose Fonteyn: Estrella Cortes
Layla Thompson: Daniella Zappacosta
Donna McKathy: Alexa Baruch
Lucy McKathy: Jazmin Pollinger
Jane Blakely: Kayla Berenson
Deborah Sue Miller: Rebecca Curci
Linda Lebowitz: Lauren Epstein
Margaret Murphy: Maggie Fitzgerald
Lee Samuels: Emily Hampton
Penny Johnson: Lindsay Hampton
Florence Foster Jenkins: Zahava lior
Piper Picket: Georgia Pettit
Betty Clark: Katherine Polanco
Millie Hartwell: Emma Studebaker

Director/Choreographer: Chelsea Field
Assistant Director: Emma Studebaker
Tap Choreographer: Cheryl Baxter
Musical Director: Kelci Hahn
Technical Director/Set Designer: John Paul Luckenbach
Assistant Set Designer: Dylan Ulaner
Scenic Artist: Susan Luckenbach
Production Manager: Gail Chorna
Stage Manager: Orly Raveh
Lighting Designer: Rob Fritz
Costume Designer: Kim Overton
Wigs/Hair: Michael Herrera