THE SHOW:
Based on the novel by John Buchan and the film directed by Alfred Hitchcock, adapted in 2005 by Patrick Barlow.
When a woman is murdered in his apartment, Richard Hannay finds himself chased from London to Scotland by both police and mysterious assassins. It all has something to do with a cryptic reference to "The 39 Steps." While simultaneously on the run and trying to solve the mystery that could exonerate him, he ends up literally handcuffed to Pamela – a woman who previously tried to have him arrested – resulting in both their lives and their sanities hanging in jeopardy. This adaptation is an over-the-top comedic take on the original tale including several classic Hitchcockian references to his other films. It was originally performed by just four actors filling all the various roles, but the number of cast members is usually largely increased for schools and youth theater productions.
THE PRODUCTION:
Director Sam Toffler guides us through this fast-moving, entertaining murder mystery romp with about twenty cast members from the Hamilton Academy of Music in Los Angeles. August Robinson is our everyman hero Richard Hannay, and he's got a natural, understated sense of humor that works great in the role as danger swirls around him. He also shines when feeling affection and sympathy for a young and lonely wife, when being there for a dying man, and as ambivalence melts into attraction for Pamela.
Emily Hampton is terrific as said Pamela, cool and intelligent whose calm and controlled exterior begins to get shaken as she begins to feel the danger, develops some feelings for Hannay, and witnesses the violence when the show reaches its climactic scene. Not to mention an amusing scene when things supposedly go wrong in the production of their play and Emily briefly transforms into an annoyed, modern, diva-ish actress whose prim English accent gives way to that of an agitated valley girl.
Elsewhere, Zander Ayeroff threatens our heroes and world peace with glee as a divertingly melodramatic Professor Jordan. Ryan Simpkins is beautifully genuine as the sad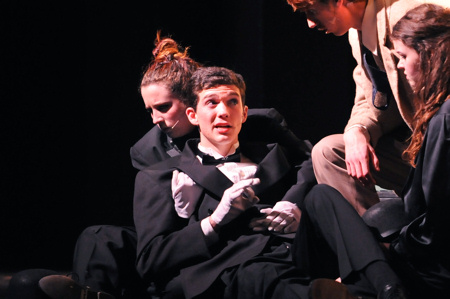 and lonely wife to her boorish husband (Ethan Robarts). Maya Schwiebert and Megan Morey show off comedic skills and thick Scottish accents as innkeepers Mr. and Mrs. McGarrigle. And Evan Dye delivers an exceptional performance as the odd sideshow savant Mr. Memory with a nice mixture of computer and human personality traits. While the rest of the cast does great work, often with multiple characters and accents, as vaudevillian performers, quirky train passengers, police, spies, and assassins all tripping up Hannay along his race to save the world and himself by discovering the secret of The 39 Steps.
Performed October 10 - 19, 2013
Rob Hopper
Facebook
Instagram

Executive Director
National Youth Arts
~ Cast ~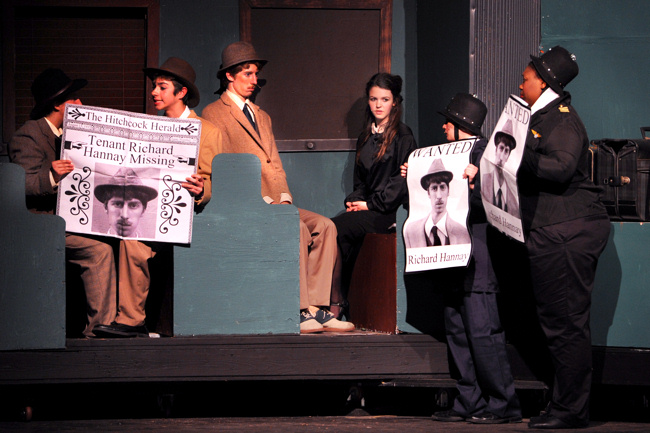 Add Artist Page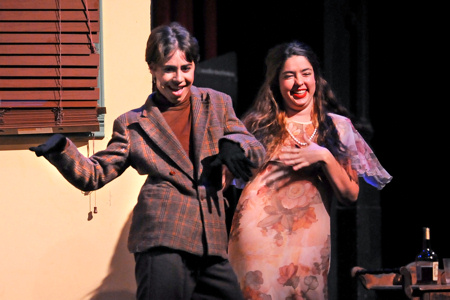 Richard Hannay: August Robinson
Compere: Natalie Richards
Mr. Memory/Pilot #1: Evan Dye
Annabella/Heavy #1: Chanel Wiggins
Milkman/Mr. McGarrigle/BBC Radio Announcer: Maya Schwiebert
Mrs. Higgins/Mrs. Jordan: Jordan Kirby
Salesman #1/Chairman McQuarrie: Tiffany Gonzalez
Salesman #2/Dunwoody: Ethan Harris-Riggs
Paperboy/Mrs. McGarrigle: Megan Morey
Policeman #1: Kristina Schriver
Porter/Chief Inspector: Stephanie Omuson
Policeman #2: Raine Pass
Pamela: Emily Hampton
John McTyte/Pilot #2/Chief Inspector Albright: Ethan Robarts
Margaret: Ryan Simpkins
Professor Jordan: Zander Ayeroff
Sheriff: LewaNana Pickney

Heavy #2: Morgan Sudduth
Announcer/Unicyclist: Samantha Silver

Director: Sam Toffler
Producer: Leah Saffir
Executive Producer: Marlene Zuccaro
Technical Director/Set Designer: John Paul Luckenbach
Stage Manager: Talia Bacharach
Jitterbug Choreography: Chanel and Chantel Wiggins